By Seth Eggert, Associate Editor
A focus on handling rather than speed allowed Hailie Deegan to match her career-best finish in the NASCAR Craftsman Truck Series in Saturday's SpeedCash.com 250 at Texas Motor Speedway.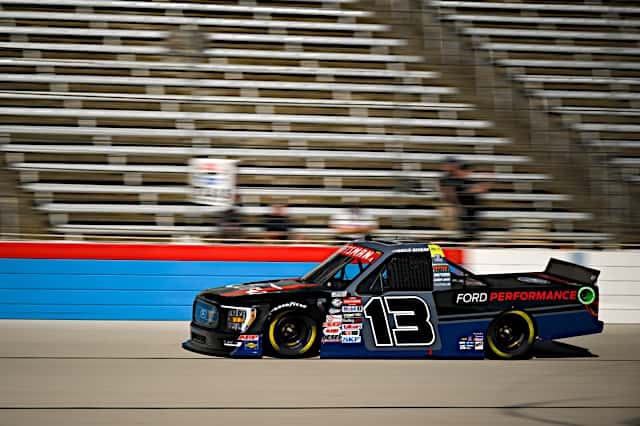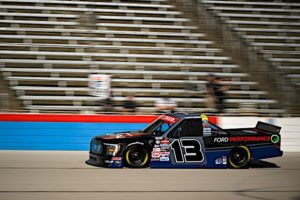 As the race shifted from one with lengthy green flag runs to one of survival, Deegan found herself in the thick of the action. The driver of the No. 13 Ford Performance Ford F-150 drove through the field on the restart following the first big wreck of the 250-mile race.
Deegan restarted in 20th. By the time the field reached Turn 4 on lap 145 she put her ThorSport Racing entry in 12th. The hard crash involving Dean Thompson, Matt Mills and others breaking out behind her.
After a red flag and another restart, Deegan this time had to avoid a wreck that wiped out her teammate, Matt Crafton. While others were breaking loose and spinning, the Temecula, Calif. native's truck was stable. Opting not to trim the truck out for pure speed put crew chief Rich Lushes' driver on better footing than others in the tight late-race fight.
On the final restart, Deegan battled with rookie Jake Garcia for eighth. Coming to the white flag she went through the grass but maintained control. She rejoined the track just as the three leaders wrecked ahead of her. As the caution waved, Deegan initially took the checkered flag fifth before NASCAR's review of finishing order at time of caution dropped her to sixth.
"That was awesome, it feels great to finish (inside the top-10), we hung in there all day," Deegan explained. "My team gave me a really fast truck. I feel like we just needed to do a little tweaking on it during the race and we had that opportunity to keep working on it and making it better, more to my liking. I was super, super happy with how it turned out.
There was a lot of big ones that we had to avoid, and we were able to make it through all of them."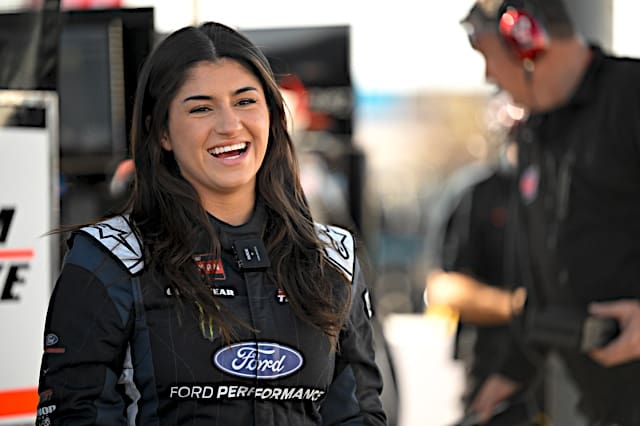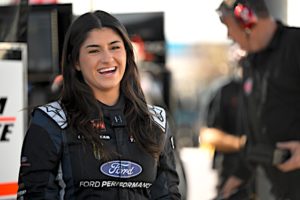 The sixth-place finish marked Deegan's third consecutive top-20 finish. The recent run of finishes shows the strides that she has made with ThorSport Racing. As she works to shake off fan criticism of her performance in recent years, Deegan remains focused on the momentum she's built.
"Racing no matter what has bad days and good days," Deegan admitted. "You're going to have more bad days than good days. There's one guy that wins and then there's all of us down pit road that don't. There's one winner out of this and you do everything you can to be that one winner every so often. You just keep pushing, keep chipping away at it.
"I think that we're just getting the ball rolling this season. We gained some tracks that we're lifting a little bit more than others. That's really going to help us a lot. We started off a little bit slower this race … I just wanted to keep this momentum going, had a couple good finishes the last few races, have a clean truck. We want to work on them and make them better, not rebuild them."
Having opted for a setup focused more on handling, Deegan qualified 25th at the No Limits, TX track. Early race contact with Matt DiBenedetto nearly sent her spinning on the frontstretch. However, the lack of pure speed versus handling, combined with long green flag runs, kept Deegan outside the top-10 at the end of the first two Stages.
The sixth-place finish was Deegan's fourth career top-10 finish and her first in the 2023 season. It matches her career-best from Talladega Superspeedway last year.
The top-10 moves Deegan up to 16th in the points standings, 110 behind leader, and teammate, Ty Majeski. She is 43-points behind the playoff cutline currently held by Nick Sanchez.
Next for Deegan is the Pinty's Truck Race on Dirt at the Bristol Motor Speedway Dirt Track. In two starts at 'Bristol Dirt,' her best finish is 18th last year.
The only dirt track race for the Truck Series is scheduled for Saturday, April 8, at 8:00 p.m. ET on Fox Sports 1. The race will also be broadcast on the Motor Racing Network and SiriusXM NASCAR Radio, channel 90.