By Vincent Delforge, special to KickinTheTires.net
At 20 years-old, second-generation driver from Stratford, WI, Derek Kraus will begin his third season in the NASCAR Camping World Truck Series with McAnally-Hilgemann Racing on February 18. The team is led by Bill McAnally, Bill and Mona Hilgemann. MHR moved to the Chevrolet fold for this new season in partnership with GMS Racing.
Because since 2017, Derek Kraus has been evolving within the Bill McAnally Racing team.
Kraus was Rookie of the Year in 2017, then last champion of the West Series under the aegis of NASCAR in 2019. It was named NASCAR K&N Pro Series West at the time, before entering the fold of ARCA in 2020. Kraus has accumulated the successes with 10 wins, 29 top-fives, 34 top-10s and eight poles in 43 races. Without forgetting, during the same years, his successes in the NASCAR East Series with the same cars, three wins, 12 top-fives, 15 top-10s and two poles in 18 races.
A look back at his time in the West Series before discussing his NCWTS debut and we'll end with a few questions about the upcoming 2022 season.
The West Years
Vincent Delforge: How do you remember your very first test with a K&N West car in December 2016?
Derek Kraus: "My first test was good and fun, I was able to learn a lot from Bill McAnally and all of the guys that were there helping me (note: including three-time West champion Eric Holmes). I was able to take what I learned from that test into my first season with Bill McAnally Racing."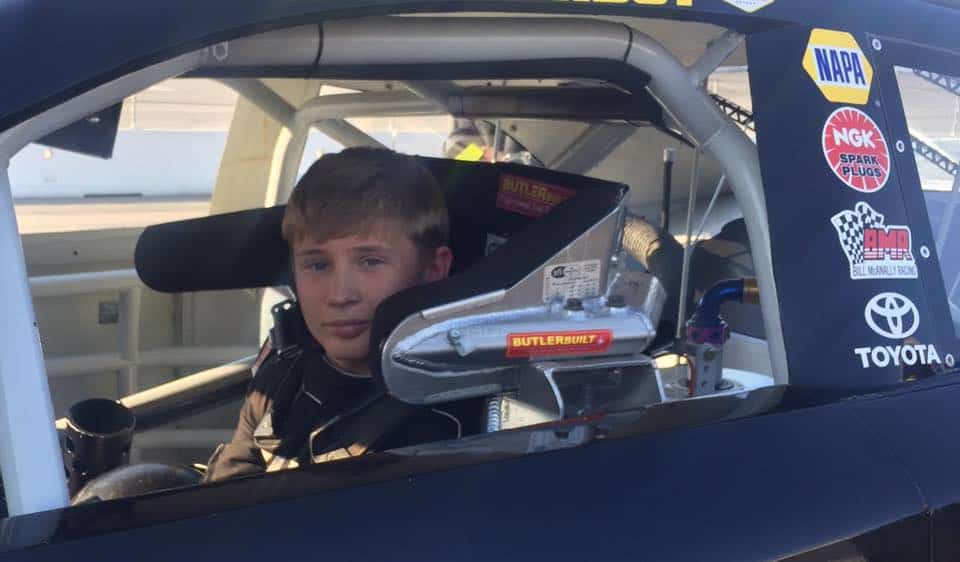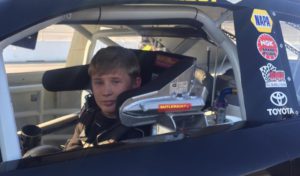 VD: In 2017 for your rookie season, you have to learn, prove yourself within BMR surrounded by the last two West champions in 2015 and 2016. Working alongside them must have been stimulating, formative but also frustrating because they were engaged in a fierce battle for the championship. What have you been able to learn from them that has allowed you to develop your driver skills?
DK: "Racing with Chris Eggleston and Todd Gilliland was great. No frustrations, you want to give your best. Riding with top riders helps you increase your riding level. I was able to learn how to run a full clean race and keep my tires underneath me, so that I could have them for the end of the race. The management of tire wear in the lower series is not at all the same. The type of tire, more or less hard. This kind of thing that makes the difference to win."
VD: From your first race, you finish third in New Smyrna. You will then obtain several second positions and end the season with a superb victory at Kern. What memories do you keep of this first Victory Lane?
DK: "The memories I had was having the relief of winning my first K&N race with Bill and then seeing how happy everyone was in Victory Lane was cool also."
VD: Speaking of Kern County, you're going to reign supreme there for three seasons. A second position then four consecutive victories. What was your secret? More seriously, how do you explain such osmosis with this track?
DK: "Kern was the track that I first test on so right away I really enjoyed that track. So, I don't really know what my secret was or why it was so special. But we were always fast there."
VD: Also in Kern, a highlight of 2018 will get a lot of talk in the media about you. Your famous battle with Kevin Harvick. Did beating the native child, Cup Series champion, on his land have a special flavor?
DK: "I think beating Kevin Harvick was really cool just because of who he is. He's very talented racecar driver, a former West and Cup champion (note: 1998 West champion, 2014 Cup Series champion but also a two-time Xfinity champion in 2001 and 2006) and just to be able to race against him was cool and then we were able to beat him and that just made it more special."
VD: 2018 was a good year from an accounting perspective. You had the most victories (four), the most poles (five) but the title will be for another Derek, Derek Thorn. Due to a lack of consistency and chance. A disappointment but also lessons to be learned. Does it allow you to come back stronger?
DK: "Yeah 2018 was tough because we either won or something happened in the race and that prevented us from winning or having a good run. That just made the next year even more special. We didn't give up and we concentrated on being consistent in each race."
VD: The Deegan / Kraus rivalry will be even stronger in 2019. On the track but also in the media. The exuberant Californian on the one hand and the placid guy from Wisconsin on the other. But this time in addition to getting the most wins (five), you will also be extremely consistent in the top-five or the top-10. And that will be the consecration.
How did you live this 2019 season? Because you had the pressure. You absolutely had to win the title. And what does becoming a NASCAR champion mean to you?
DK: The year we won the championship was really fun. I was able to rack up a couple wins and a lot of solid runs. We just kept the momentum rolling throughout the whole year and our confidence was up also. So that helped everything on and off the track. Becoming a champion quickly makes you forget the less good results!"
VD: I know you want more than that, but whatever happens your name is and will forever be etched in the NASCAR Hall of Fame in Charlotte. Proud?
DK: "Yes having my name in the NASCAR Hall Of Fame is very cool and an accomplishment I'm proud of."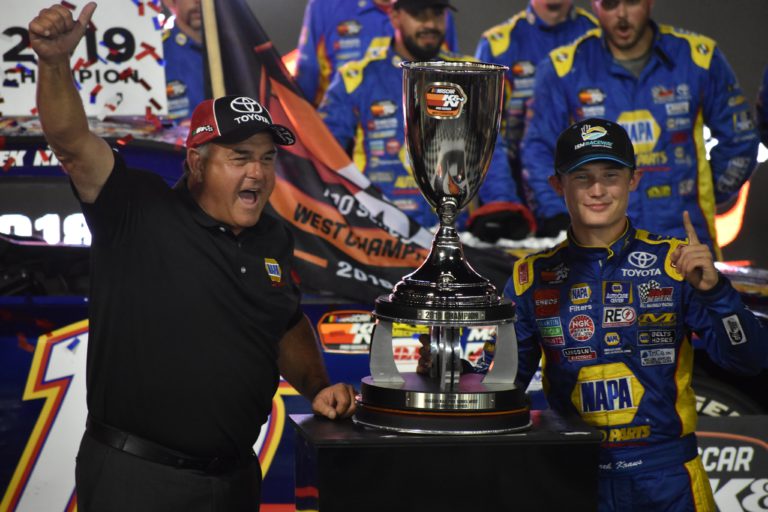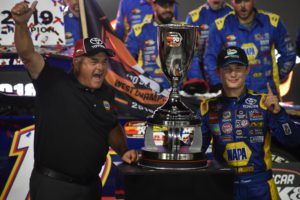 VD: John Camilleri in K&N West, Kevin Bellicourt in your NCWTS rookie season or Mark Hillman last year, not to mention the others. The crew chief – driver relationship is one of the keys to success in NASCAR. How do you experience this collaboration when you are a young driver and how does this relationship evolve as you gain experience? Learning to communicate, understand and trust each other, is it difficult?
DK: "Learning to communicate with my Crew Chief Is very key. Learn to trust each other, to listen to each other. Each one having brought a different way of seeing things. We keep the best of all this to improve again and again. And I feel like once I am able to get comfortable with the new crew chief that I have this season (note: Shane Wilson) we will work together very good."
NCWTS
VD: Just like your debut in K&N West, your first race in Phoenix at the end of 2018 in the Truck Series was impressive. Top-10 in qualifying and in the race, with a beginner team too. Honestly, did you expect such a result?
DK: "I didn't really know what to expect going into Phoenix with it being my first race. New team, new truck, everything was new to me. I was happy with the run that we had."
VD: After a few races in 2019 to perfect your Truck Series learning, 2020 marks your first full season. A rookie season heavily disrupted by the COVID-19 pandemic. However, without a practice or qualifying session, on tracks that you did not know, you had a great rookie season. Fortunately, nowadays, there are simulators. But between the simulator and the real track, the difference must be huge?
DK: "The sim and real life are as close as you can get. The clean or dirty air is something that you just have to learn when you are on the real racetrack but other than that they are very, very similar. It was the same conditions for all the rookies. And the more experienced drivers did not necessarily take advantage of it."
VD: One of the highlights of your rookie season is your second position at Darlington. You came so close to victory that day. The strategy, the track position, everything was going well until that little slip coming out of the Turn 2. Frustrated with the result? Or on the contrary, happy, because you had proved to yourself and everyone that winning was possible?
DK: "I was very happy with that result because of how we ran for the majority of the race. We played the strategy, and we were able to get farther up then what we would have if we pitted. Very close to win."
VD: The first part of the 2021 season was complicated. Still no practice… Change of crew chief after five races… And chronic bad luck. Mechanical problem, in the wrong place at the wrong time with accidents you weren't responsible for. Having a hard time? Doubt is setting in your mind at the time?
DK: "2021 the first part of the season was tough. Really the whole season was tough on me. But Joe Dirt* once said…. 'But you gotta keep going, what am I gonna do, quit? That's not an option, you gotta keep on keeping on. Life a garden dig it, you make it work for you. You never give up.' We get up and we try again."
*Note: The movie Joe Dirt, played by David Spade, was released in 2001.
2022
VD: This year you will be entering your third full season in NCWTS with MHR. Big change however, it is no longer under the fold of Toyota but of Chevrolet that the adventure continues. What are your goals for 2022? And what do you think of the rule changes regarding practice and qualifying?
DK: "My goals for 2022 are to get good consistent runs going and hopefully get a couple wins. Many changes with our new technical partnership with GMS Racing. New chassis, a two-truck team, we will be stronger. And I think that having practice and qualifying back even in a different format will be a huge help for the team, my teammate (note: Colby Howard) and I."
VD: Let's talk for a moment about Bill McAnally and more generally about the McAnally family (BMR / MHR). You have become a professional driver within BMR / MHR and you continue your rise in the world of NASCAR with them. How would you define this relationship?
DK: "His whole family has been super nice to me and kind of accepted me into their family. I've been with them for so long, so I've been able to get to know them well and I think it's fun to hang out with them."
VD: Last question for the fun. What chance in a million was there that you and once again Hailie Deegan would have the Hillman brothers that same year as crew chief? Mike for Hailie and Mark for you?
DK: "Not sure what the odds were. Mark is an important part of our team since last season and will be the team manager of MHR this year (Note: and the crew chief of Derek's teammate Colby Howard).
Kraus will sport the red and black colors of Shockwave Marine Suspension Seating on his No. 19 Chevrolet Silverado for the third year in a row at Daytona. His best finish at Daytona is his fourth-place finish in 2020. In 50 NCWTS races, he has four top-fives, 19 top-10s and two poles. His best result is a second place at Darlington in 2020.
Kraus' other sponsors in 2022 are NAPA, Gates Hydraulics, Incredible Bank and Kafka.
The 2022 NASCAR Camping World Truck Series season will feature 23 races from February through November. See you at the season-opening race in Daytona Beach, FL on February 18 for the NextEra Energy 250 at Daytona International Speedway, which will be broadcasted live on FS1 at 7:30 PM (ET).
Featured Photo Credit: Photo by NKP / NKP Photo.