By Seth Eggert, Staff Writer
After starting from the rear of the field Matt DiBenedetto rebounded to score a top-10 finish at Kansas Speedway.
The veteran driver started at the rear of the field due to unapproved adjustments. An issue with the brakes forced the Rackley W.A.R. team to make the adjustments between NASCAR Camping World Truck Series qualifying and the race.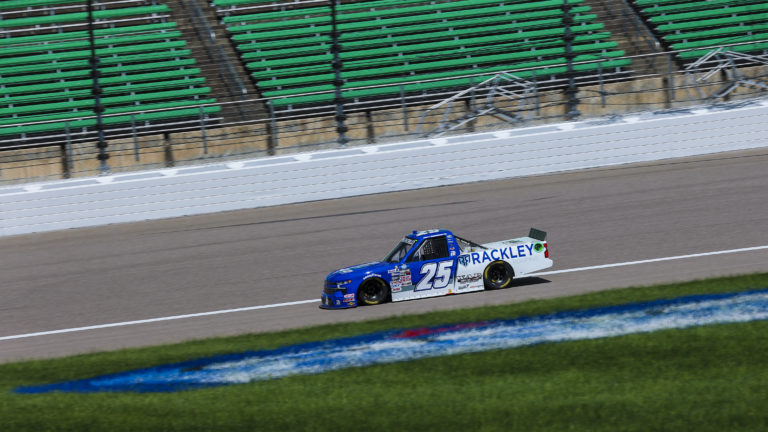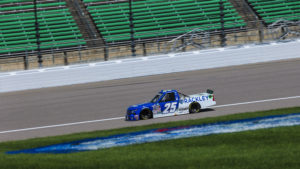 DiBenedetto didn't break into the top-10 in the Heart of America 200 until the final Stage of the race. A late-race caution with 12 laps to go gave the Grass Valley, Calif. native a chance to climb further up the running order. However, a slow restart for John Hunter Nemechek in the outside lane hampered DiBenedetto's No. 25 Rackley Roofing / W.A.R. Shocks Chevrolet Silverado.
In the mad scramble for position, the 30-year-old picked up a couple of spots. DiBenedetto snuck by Truck Series veteran Matt Crafton, as well as fellow Chevy Racing driver Derek Kraus to take seventh. When the checkered flag waved, he was just behind Nemechek.
DiBenedetto started the race 34th after qualifying 12th. Two other drivers also started from the rear of the field, Stewart Friesen and Tate Fogleman. Friesen missed practice and qualifying due to travel delays while Fogleman, like DiBenedetto, had unapproved adjustments made to his truck.
In a caution-free Stage 1, he moved up to 21st. By the time a caution-free Stage 2 ended, he had moved into 14th. However, being outside the top-10 in both stages meant that DiBenedetto earned zero Stage points.
The seventh-place finish is DiBenedetto's third career top-10 finish in the Truck Series. It's his 36th top-10 finish across NASCAR's three National Touring Series.
Despite the top-10 finish, DiBenedetto remains 15th in the championship points standings. He is 153-points behind leader Ben Rhodes. DiBenedetto is 66-points behind the playoff cutline, currently held by Crafton.
Next for the NASCAR Camping World Truck Series is the SpeedCash.com 220 at Texas Motor Speedway on Friday, May 20.
Featured Photo Credit: Photo by Rachel Schuoler / Kickin' the Tires.