By Jacob Seelman, Kickin' the Tires
TALLADEGA, Ala. – The first lap led of Matt DiBenedetto's NASCAR Camping World Truck Series career gave him one of the biggest rewards of his racing life Saturday at Talladega Superspeedway.
In a grinding, chaotic, overtime finish at the 2.66-mile Alabama oval, DiBenedetto secured his maiden NASCAR national series victory as the caution waved in the Chevy Silverado 250 just feet from the finish line.
After Corey Heim slapped the wall in the tri-oval coming to the checkered flag and careened down into the pack – sparking a multi-truck accident – it was DiBenedetto who was declared ahead of defending series champion Ben Rhodes and home-state favorite Bret Holmes at the moment of caution.
Though Holmes edged out DiBenedetto by .002 of a second at the start/finish line, the yellow flag waving just before the flagstand led to a reversal in the thrill of victory and the agony of defeat.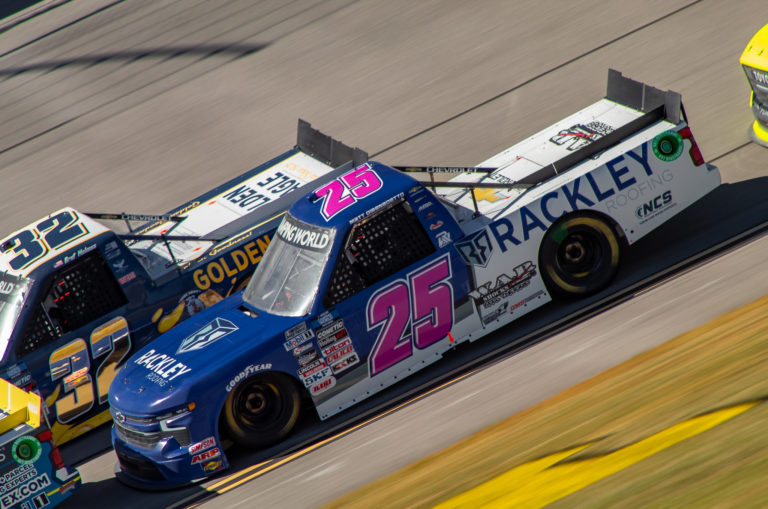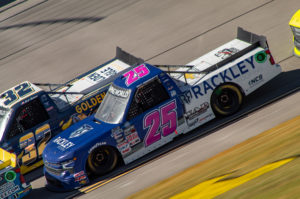 "Oh man, this has been such a long time coming," an emotional DiBenedetto said on the frontstretch, earning the breakthrough victory in his 21st Truck Series start. "All glory to God. Thank you so much. I've been so thankful – this team has stayed with me through so much … me being a reckless human being at times. I'm so thankful to be able to do this. I'm out of breath. I was more nervous waiting here for the outcome."
It took NASCAR officials several minutes to determine the official winner, during which time both Holmes and DiBenedetto waited at the entrance to pit road in hopes of being able to celebrate.
In addition to DiBenedetto, Saturday marked the first win for Rackley W.A.R. as an organization, as well.
"My spotter, Doug Campbell, is awesome. We've worked together so well. I think that we've led here twice at the white flag in the Cup Series," DiBenedetto added. "I owe a lot to him. At the end, we were committed to staying on the bottom and pushing. This thing pushed well, so I was committed to staying low and pushing whoever was in front of me. I'm so excited, so thankful.
"This is amazing, and this team deserves it."
Holmes, a past champion of the ARCA Menards Series from nearby Munford, Ala., found a lane through the chaos on the far outside and thought he might have stolen his first Truck Series score in an upset.
Unfortunately for the driver and team owner, it wasn't to be, despite leading three times for six laps throughout the day.
"It's tough, to lose one that close," admitted Holmes, who was officially scored third at the finish. "I think we lost an ARCA race here that close, as well. We probably lost it closer today, though. I want to win here so badly that I can't stand it. I had so many people here from my hometown … friends and family … and I grew up racing at the dirt track across the road.
"It would mean the world to me to win here; we've been right there. It's just super tough," Holmes added. "I hate we couldn't pull it off for everyone. I wish that race had ended at the finish line, because if it had, we'd have had it. We had a fast truck. Every line we were in advanced forward, and we pushed really well. We just couldn't finish it off."
Behind DiBenedetto, Rhodes and Holmes, Ryan Preece and Christian Eckes – who was pushing ThorSport teammate Rhodes on the final lap before the tri-oval crash began – filled out the top five.
Sixth through 10th were Hailie Deegan, Chase Purdy, Colby Howard, Parker Kligerman and Tyler Ankrum.
Playoff contenders had a rough day at Talladega, with only Rhodes and Eckes scoring top-10 finishes. Chandler Smith (14th), Zane Smith (17th), Stewart Friesen (20th), Ty Majeski (23rd) and John Hunter Nemechek (24th) all finished deeper in the field due to various issues, including the last-lap melee.
Grant Enfinger, who won the Round of 10 opener at Lucas Oil Indianapolis Raceway Park, was torn up in a lap-79 crash in turn three that also involved Johnny Sauter, Austin Wayne Self and Tanner Gray.
Enfinger finished the day a lap down in 29th.
The scariest moment of the day came two laps from the end of stage one, when Jordan Anderson's truck suffered an engine failure and caught fire in turn two, before slamming into the inside wall on the backstretch as Anderson was scrambling to escape the driver's seat.
Anderson, a South Carolina native, was transported by helicopter to a Birmingham-area hospital for further evaluation.
The NASCAR Camping World Truck Series season continues Oct. 22 at Homestead-Miami Speedway with the running of the Baptist Health 200. The Championship 4 will be determined during that event.