By Jacob Seelman, Kickin' the Tires
TALLADEGA, Ala. – Amid the chaos of a wild last lap, which produced a first-time NASCAR Camping World Truck Series winner, Chase Purdy drove to a season-best seventh place finish Saturday at Talladega Superspeedway.
Purdy, who has struggled through a rough sophomore campaign in the Truck Series after joining Hattori Racing Enterprises, raced among the leaders for much of the afternoon with his No. 61 Toyota Tundra TRD Pro and survived a green-white-checkered sprint in the Chevy Silverado 250 as much of the lead pack crashed around him.
The Meridian, Miss., native – who was the fifth driver across the finish line as the yellow and checkered flags waved from the flagstand – was eventually moved back two positions after a lengthy video review.
It was a banner performance for the 22-year-old, who carried the powder blue, navy and maroon colors of his alma mater – Ole Miss, the University of Mississippi – on his truck at the 2.66-mile Talladega oval.
"I don't really know [what was happening]," Purdy told Kickin' the Tires after the race. "All I know is that everybody was wide open for that green-white-checkered [finish]. I mean, people were just going everywhere … crossing lanes, doing what they had to do.
"My spotter wanted me to stay on the bottom – which we thought would be a good idea, staying in line while everybody was moving around – but we ended up going to the middle and it worked out for us," he added. "I don't know where we restarted; I think it was, like, 12th or 13th … and then we took the checkered and they said fifth [originally], so I'll take that."
Purdy attended Ole Miss for three years before restarting his Truck Series career in 2020, running a part-time schedule that season before returning to full-time status last year with GMS Racing.
Saturday marked Purdy's fifth top-10 finish in the Truck Series and his second for owner Shige Hattori.
"Hats off to all my Hattori Racing guys on a great day, and it was really cool to have Ole Miss on board," Purdy noted. "I think they're winning right now with a minute left [in football], so hopefully we'll both have a good day!"
Fourteenth-ranked Ole Miss did, in fact, defeat the previously unbeaten Kentucky Wildcats Saturday in the minutes following the Truck Series finish, moving to 5-0 overall in the team's SEC opener.
That wasn't why Purdy was winded when he made his way to meet the media after the race, however.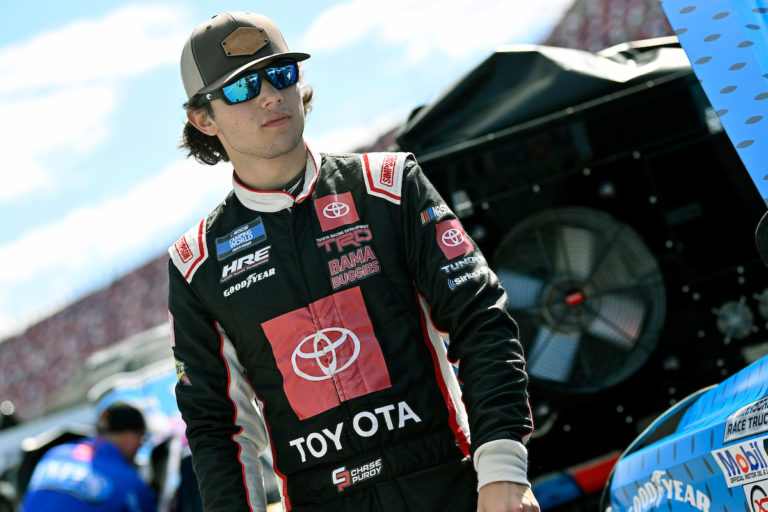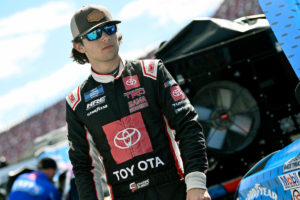 "They took me all the way over to the garage, and then I had to run all the way back over [to the media bullpen], so I'm a little out of breath," Purdy said with a chuckle. "Really, really proud of all my guys, though. They worked so hard on this truck, being that this is my home race.
"We'll take this."
Despite leading six laps and spending time at the front of the field through the first half of the race, Purdy had to rally later on after being caught out by an ill-timed caution just after he'd hit pit road.
The yellow dropped Purdy outside the top 25, but the unpredictable Talladega draft played to his strengths as the race wound into its later stages.
"Anything can happen here," Purdy tipped. "My crew chief just told me to keep my head in the game, because there was a long time in the race left [at that point], and that's exactly what we did."
With another top-10 finish in his pocket, Purdy's focus for his final two starts of the year is on building for the future, as he looks to maintain his place in the Truck Series field going into the 2023 season.
"I think [the whole year] has been a humbling experience for me," Purdy admitted. "I've really had to force myself to work harder than I ever have before in my career. Really, things I haven't done before, I've had to learn how to do in order to be better. I've been constantly watching film and going back to the drawing board.
"I think that each and every week that we've been getting better, even though the results might not show the speed that we've had," he continued. "I think we're improving, we're making strides, and we're building what we need to here as a team. We're just going to go to the next two races and try to finish out [the season] strong."
Purdy and Hattori Racing Enterprises will have a shot to build on their Talladega momentum in three weeks, when the NASCAR Camping World Truck Series returns to action at Homestead-Miami (Fla.) Speedway for the Baptist Health 200.
Coverage of the penultimate Truck Series race of the season will be on FS1, the Motor Racing Network and SiriusXM NASCAR Radio, channel 90.