By Seth Eggert, Staff Writer
Second-generation driver Layne Riggs bounced back from a disasterous early pit stop to score a top-10 finish in his NASCAR Camping World Truck Series debut.
Rookie Miskates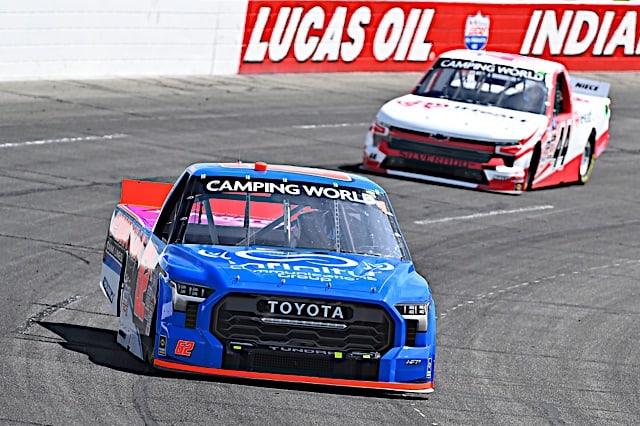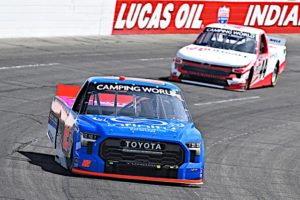 In the first Stage of the TSport 200, Riggs moved up through the field. The CARS Tour Late Model driver maneuvered his No. 62 Puryear Tank Lines Toyota Tundra TRD Pro into the top-15 by the end of the Stage. However, it appeared that the 20-year-old's race was about to come undone on pit road. A mistake cost Riggs a lap, trapping him in the back of the field for much of the remainder of the second Stage.
Once back on the lead lap, the Bahama, N.C. native once again surged forward. Riggs followed NASCAR Camping World Truck Series Playoff drivers Chandler Smith and Zane Smith as they worked their way forward. The Halmar-Friesen Racing driver found himself inside the top-15 once again in the waning laps at Lucas Oil Raceway Park. A late caution provided an opportunity.
Opportunity Strikes
As the field lined up with two laps to go, Riggs lined up fifth. Opting to stay out for the sprint, he held station as another caution pushed the race into overtime. With much of the field on newer tires, Riggs was among those vulnerable on old tires. In the mad scramble on the flat 0.686-mile oval, he slipped back to seventh when the checkered flag waved.
"I'm just so thankful for Puryear Tank Lines, Infinity Communications, Halmar Racing," explained Riggs. "They gave me this opportunity to run this one-off race and I couldn't be prouder. Today in qualifying, I hung it out trying to be a dirt racer. It bit me and I was down in the dumps about it. I was upset. I felt like I was out of the race. I got there on the start and then got messed up on pit road and lost a lap. I thought we were over but did everything perfect after that.
"I made all the track position that I could. I did all I could on pit road and made smart moves and got all the way back up to seventh. It feels like a win to me in my first ever race. If you would have told me three hours ago, I would have finished seventh, I would have given you a hug."
Like Father, Like Son
In qualifying Riggs was 25th fastest in the first Truck race at Lucas Oil Raceway Park since 2011. He was moved up to 23rd on the grid after two drivers ahead had their lap times disallowed.
Layne Riggs' Truck Series debut came at the same track as his father, Scott Riggs. The elder Riggs made his debut at Lucas Oil Raceway Park in 1998. Scott Riggs qualified seventh and finished 19th, two laps down.
Post-race, Riggs took to social media to thank his fans. He also implied a second Truck Series start coming at Richmond Raceway in a couple weeks.
P7 in our first ever @NASCAR_Trucks start. Thanks to @puryeartank and all of our supporters for making it possible! We'll see you at Richmond! #HFR #infinitycommunicationsgroup pic.twitter.com/vYi7JIx7Hk

— Layne Riggs 🇺🇸 (@LayneRiggs99) July 30, 2022
The Worldwide Express 250 for Carrier Appreciation at Richmond Raceway can be watched on Fox Sports 1 on Saturday, August 13 at 8:00 p.m. ET. The race can be heard on the Motor Racing Network at SiriusXM NASCAR Radio channel 90.
Featured Photo Credit: Photo by NKP / NKP Photo.