By Seth Eggert, Staff Writer
The speed in Ryan Truex's Toyota GR Supra didn't show until the closing laps of the United Rentals 200, however it was too little too late for the Joe Gibbs Racing driver.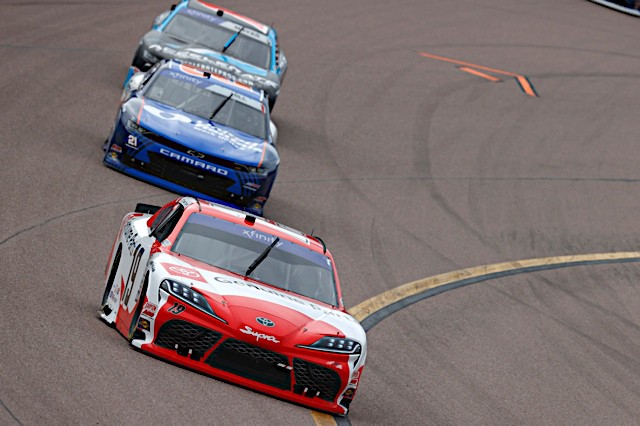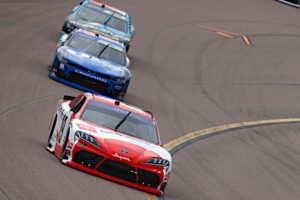 Truex didn't enter the top-10 until final Stage of the 200-lap race. His No. 19 Toyota Genuine Parts Supra slowly picked off the competition one by one. The Mayetta, N.J. native jumped into the top-five on the final restart.
With only 15 laps to go Truex had a hard-fought battle with Kyle Busch, Austin Hill, and Chandler Smith. That battle cost the 30-year-old crucial time to his teammate and race leader, Sammy Smith.
"I think the track just changed a lot more than I expected it to," Truex explained. "That long run we were really bad – I was just hanging on. Jason (Ratcliff) and these guys let me complain on the radio and we made the right adjustments. That was a good restart at the end; I'm glad at least I could try to make it exciting."
The veteran journeyman driver was the fastest on track in the final 10 laps. That allowed Truex to close in to just under half a second behind his Toyota Racing compatriot. However, the speeds equalized with three laps to go.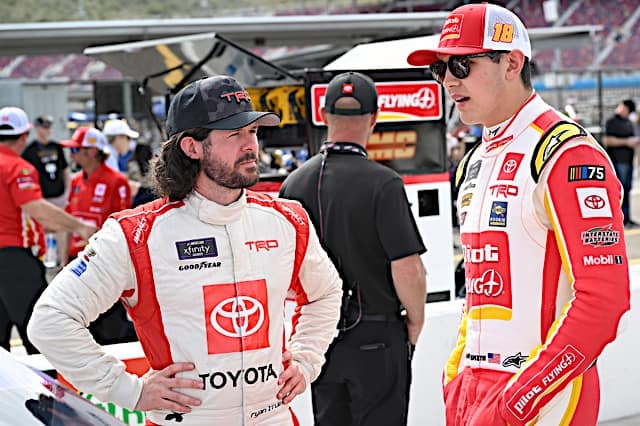 Ultimately Smith increased his lead in the final two laps. Truex settled in to finish runner-up for the third time in his NASCAR Xfinity Series career.
"Congrats to Sammy and I think he was the class of the field all day," Truex admitted. "His car looked so good, and he could do what he wanted. Just thankful to be here. Thank you to Toyota Genuine Parts – it was as fast as Xfinity 10 G – but I think that Sammy was just a little bit faster. I'll try again next time."
Though he was strong in practice and topped the charts in several categories, Truex qualified 12th. In part due to strategy he did not finish inside the top-10 in either of the first two Stages and did not earn any Stage points.
The race at Phoenix Raceway was the first of Truex's six scheduled starts in Joe Gibbs Racing's third Xfinity entry. The runner-up finish kept the No. 19 Toyota 10th in the Xfinity Owner's Points standings, just 10-points above the cutline.
The second-place finish was Truex's sixth career top-five in the Xfinity Series. It was also his 28th top-10 finish.
Next for the Xfinity Series is the RAPTOR 250 at Atlanta Motor Speedway on Saturday, March 18 at 5:00 p.m. ET on Fox Sports 1. The race will also be broadcast on the Performance Racing Network and SiriusXM NASCAR Radio, channel 90.