By Cole Cusumano, Staff Writer
AVONDALE, Ariz. – While most high school sophomores spend their final days of spring break prepping for the next semester and making the most of their last moments of freedom, 16-year-old Bradley Erickson made his ARCA Menards Series (National) debut at Phoenix Raceway.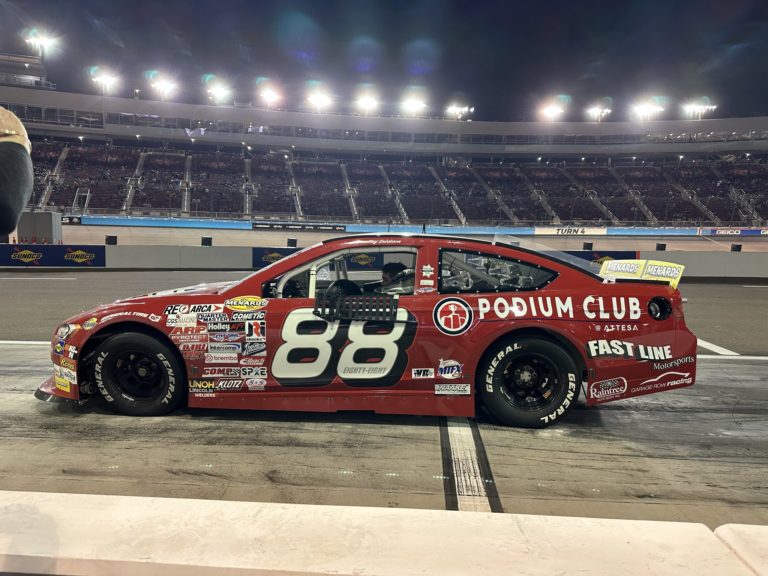 As a third-generation driver, racing hasn't only been in Erickson's blood since birth, but it's also a family affair. Following in the footsteps of his father, Shannon, and both grandfathers – who competed in everything from the American IndyCar Series to Formula B – he put the NASCAR developmental division on notice thanks to a culmination of their wisdom and support.
Erickson, who prides himself as a calculated and savvy racer, displayed just that during the General Tire 150, which was very much a war of attrition and survival. In a wild race that spawned a record 13 cautions, he kept the nose of his No. 88 (relatively) clean en route to a third-place podium finish at his home track in his ARCA Menards Series debut.
The 16-year-old raced like a seasoned veteran; maneuvering around countless wrecks, running inside the top 10 all night after starting 13th, and ultimately putting himself in position to win.
Coming to the first green-white-checkered attempt, Erickson was third and charging for the lead below the apron of the dogleg, when leader William Sawalich threw a block on the No. 88 to defend his position. Carrying a head of steam, and justifiably unwilling to lift, the Joe Gibbs Racing No. 18 went around off the nose of the red Ford.
"We had a really good race car," Erickson told Kickin' the Tires. "We had a shot to win it there. I felt like the 18 made an aggressive block. I was there to his inside and I wasn't going to lift. I race to win – nothing else. I want to come here and win."
Before he was contending for ARCA victories, Erickson was introduced to the world of racing at the young age of four years old, where his father helped mold him into the person and competitor he is today.
Since turning laps for the first time at a dirt track in Buckeye, Arizona at four, the Phoenix-born driver had an insatiable desire to race. Being too young to race competitively, he was pacified after his father built him a simulator to practice on until he was old enough to compete, which he spent endless hours on.
Erickson's racing career began with the Valley of the Sun Quarter Midget Association the following year, where his father served as crew chief. From there, Shannon oversaw all of his son's racing operations until he graduated to more intricate forms of motorsports.
"He's very disciplined," Shannon said of his son's on-track demeanor. "He's like a machine. He just goes out there, turns perfect laps, doesn't make any mistakes, and does the same thing lap after lap."
Off the track, Erickson is a calm and collected teenager with a good head on his shoulders. Whereas many racers his age let education take a backseat to their passion, the high school sophomore is the complete opposite.
Erickson is enrolled at Desert Vista High School in Ahwatukee, Arizona, where he's not only taking five honors classes but maintaining a 3.7 GPA – all while pursuing his dreams.
Between having a 16-year-old son seemingly on the fast track to success in ARCA and another named Jeffrey, who just hit his adolescence and is planning to race pro late models in the Spears SRL SouthWest Tour Series, it can be stressful on parents – specifically, mom.
"It's very nerve-racking," Erickson's mother Amy said regarding his ARCA debut. "It seems like the faster he goes, the more nervous I get. But I know he's doing something that he loves doing – something that he was born to do – so that justifies the stress that I feel."
As for former racer, crew chief, and full-time father Shannon, he can't get enough of watching his sons pursue a career in motorsports with family by their side.
"The most rewarding thing for me is watching them excel and do everything on their own," Erickson's father said. "It was really rewarding in the early years when I did my job and they did theirs and we brought home wins. There was nothing like it. I feel so blessed that I've had two kids that we've gone and traveled the country with and had so much fun together."
With a third-place outing already in the books, Erickson has his eyes set on running a full ARCA schedule this year – minus certain high-speed tracks due to his age. Next up is Irwindale Speedway on April 1. He'll also compete in the Spears SRL Pro Late Model Series around California to log as much seat time as possible.
"I feel like if I can race these guys and be just as competitive as them, I can be just as good at any short track," Erickson said. "I feel like we have really good shots to win this season and I think we're going to have a great year."