The defending NASCAR Xfinity Series champion will no longer be fighting to defend his crown after a valiant effort to recover from early incidents of the Drive for the Cure 250.
On Lap 3 of the race, Daniel Hemric slid off course in Turn 5 of the Charlotte Motor Speedway ROVAL. Heavy contact with the outside wall gave the No. 11 Kaulig Racing Chevrolet a steep uphill battle for the remaining 64 laps of the race.
"Just made a mistake that you can't make," Hemric shared at race's conclusion with a 17th place result.
Hemric crashed from the third position, a spot that gave him a healthy points margin in the Playoff elimination race. But he lost it all when he immediately came to pit road where his team assessed the damage to make repairs. His crew changed just right side tires, and was able to get him back on the track without losing a lap.
"Just gotta be better than that, and wasn't good enough," he said. "When you're not good enough, you get beat and that's what happened."
It was quite a charge from the 31-year old. His goal shifted from a safe race to extreme aggression. A few laps later, a timely caution gave his AG1 – Athletic Greens Camaro a glimmer of hope when Kris Wright crashed to bring out the first caution of the race. That allowed Hemric to catch back up to the rest of the field.
But the two tire stop early on would eventually catch up to his efforts. With NASCAR's rule book limiting the total amount of fresh tires for each team, Hemric was stuck with a final pit stop of just two fresh tires and two scuffs, older tires used earlier in the weekend but still with some life left. That imbalance of fresh rubber hurt his chances of making a late race charge to gain valuable positions he would need to advance.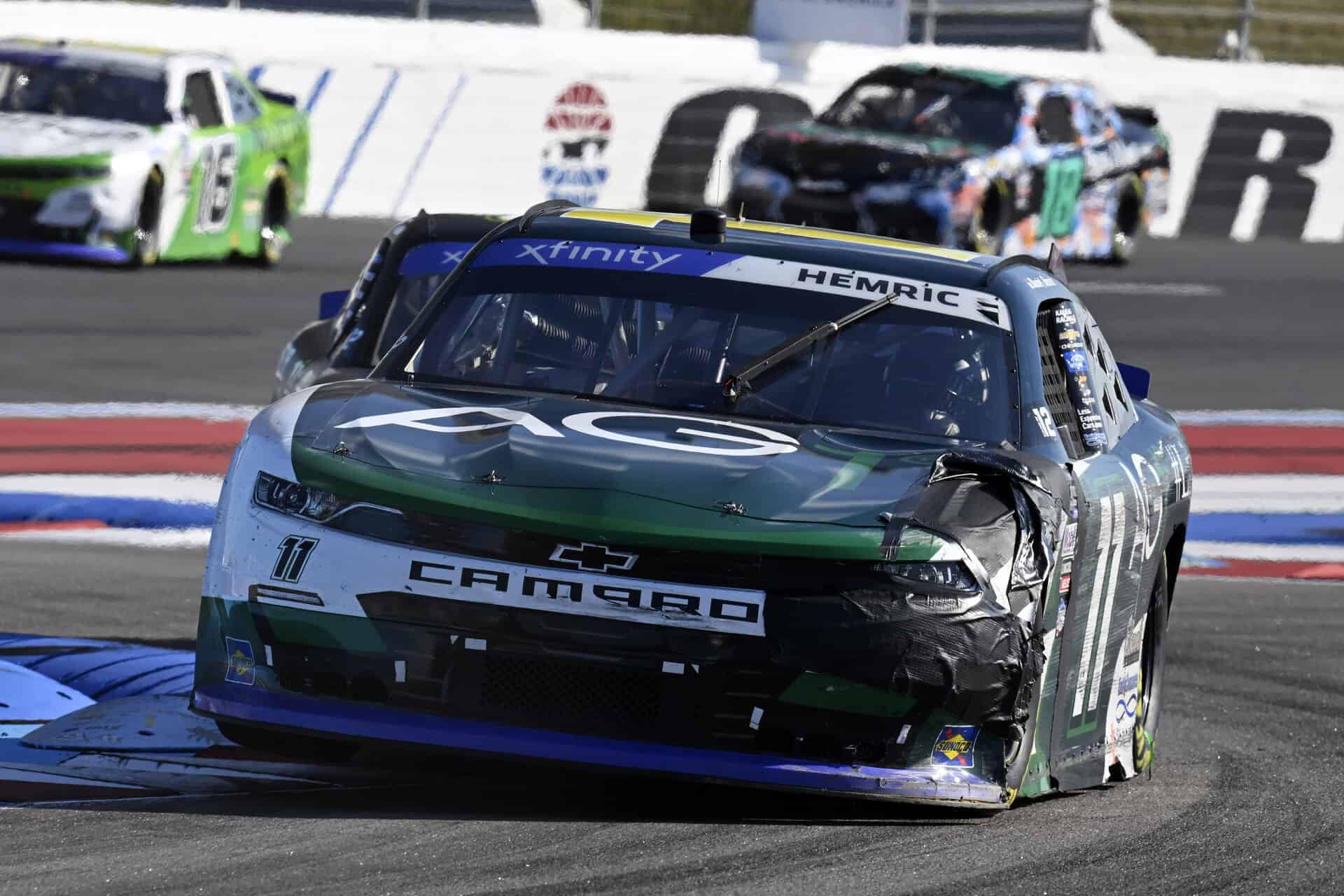 "If I don't hit the fence, then I won't be in a situation where I have two new tires and two old tires," Hemric explained to Kickin' the Tires. "That's what ultimately sealed our fate there at the end. We went through all of our tires trying to fix damage and trying to keep ourselves in it. We didn't have a set to put on. When we did put our last set on – I don't know when it was, 20 to go – even that set already had a run on it, five or seven laps, something like that. I took off and went, 'Uh, these aren't stickers.' And they were like, 'Uh, no.'
"Obviously, the way the cautions fell, it let everybody with 10 or 15 to go come and get tires. You're doing all you can. You're gouging, but when you're in that situation, you're kind of a sitting duck."
Not all hope is lost for Kaulig Racing. After Landon Cassill missed the Playoffs and Hemric now eliminated, their final teammate, A.J. Allmendinger, moves on to the Round of 8 with back-to-back wins coming off his regular season championship. Hemric's goal is to do everything he can to ensure Allmendinger has a spot in the Championship 4 race at Phoenix Raceway.
"(Our goal is the) same as every other week," he stated. "Show up, do the best you can, try to build and be better and cheer on this 16 to win the championship."
But looking back as a representative of the sport by being the defending champion, this race is the one he knows he'll look back on with a series of what if's for his career.
"Tried to leave it all out there, just wasn't enough."