By Seth Eggert, Staff Writer
The last time the family-owned Brandonbilt Motorsports and its driver, Brandon Brown, competed at Auto Club Speedway in Fontana, Calif. was February 29, 2020, when an engine failure ended the day early for the team. Returning this Saturday, the 28-year-old Woodbridge, VA native has a new car, a new engine program and is walking a little taller as he looks to continue on his successful start of the 2022 NASCAR Xfinity Series season.
The COVID-19 Pandemic restrictions forced NASCAR to cancel its 2021 Auto Club Speedway Xfinity Series events. So, February 26, 2022, will mark the first race back at the five-wide, 2.0-mile speedway since "Leap Day," February 29, 2020.
Brown said one thing he does have to be mindful of going into the race is protecting his equipment. NASCAR is requiring teams to use the same chassis, engine and transmission for its traditional West Coast swing.
"Since we haven't raced at Fontana in the last two years, it almost feels like we're going to race at a brand new track," Brown said. "I've only had two previous starts at Auto Club, so after a two-year hiatus, I am eager to get back and put on a great show for our California fans."
"The playing field feels a little more even being that none of the teams have been there in the past two years."
Brown enters Auto Club Speedway coming off of a 10th-place finish at Daytona International Speedway after pacing the field for 12 of the 120-lap race and running in the lead pack for the entire day. Brown sits eighth in the championship standings, nine points above the Playoff cut line.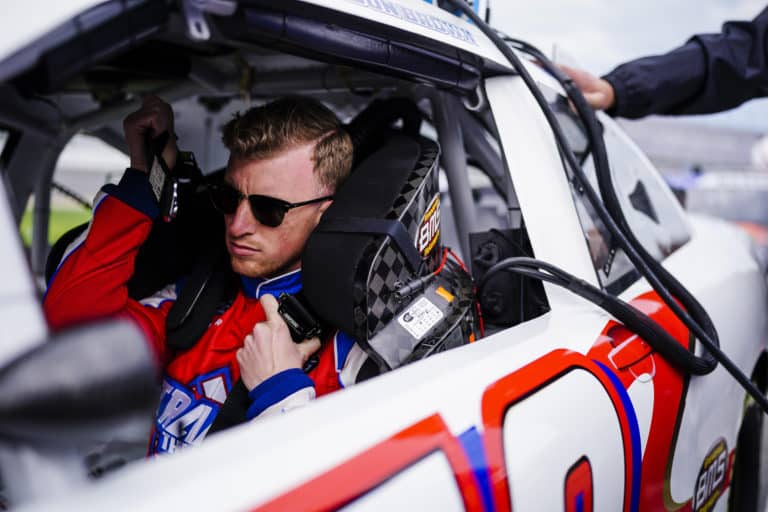 Brandon's Thoughts
Since it's been two years away and you feel a little bit like a rookie going back, does that make it easier especially with the track having resin applied and ground down smoother backstretch?
"I'm excited that they did the grinding on the backstretch because it felt like motorcycle whoops, like dirt bike racing going down the backstretch. On a serious note, I'm excited because we got sim time for it. I feel confident heading into Fontana this weekend. Adding a little bit of resin will be good, because this track reminds me of the speedway version of Darlington. It's a lot of pedaling the car to be fast. That's a good thing for me and for our team as we head into the weekend, just knowing that it's not going to be solely equipment-dominated. It's going to be a lot of driver management."
What are your goals this weekend?
"Our goals week in and week out are to keep the cars in one piece. After we run this car at Fontana, we have to seal it up in the trailer and take it to Vegas. We want to perform well, obviously want to go out and win the race, but a top-10 would be a great day in our book. Just as long as I, as well as my team, hit our marks and do what we need to do, keep all four corners on the car and at the same time have speed. If we're able to come out of it with a top-10 and get points like we did at Daytona, I think that we'll all be fairly happy."
You ran with a blank hood on the car at Daytona, can you discuss the partner news coming up, soon?
"As we move forward with our season and our race program, having the primaries open back up is a fun opportunity. It's exciting because we know that it's an opportunity that a lot of people will take advantage of. We're getting ready to announce a partnership for Atlanta, so that will be a lot of fun. Our team now has a dedicated sales staff that's really putting their nose to the grindstone in regards to finding potential partners, as well as circling back with partners that we have worked with in the past."
What are the benefits and difficulties of having to use the same car from Auto Club throughout the entire West Coast swing?
"The difficulties are going to occur while out on track, weighing in the risk versus reward aspect. Is the position in front of you worth it? It's like, what are you going to have to do out on track to get the lead? Or to get to the Top 5? It's a lot of determining what's going to be worth it and what's not. It might play into our favor, because I've been racing with that mindset forever. When racing on a limited budget in the past with limited staff and available cars, it made things much more difficult. However, with now having to use the same car for the entire West Coast swing, it brings back that same mindset. We'll have to manage expectations and see how much we're willing to push the envelope to find success."
Featured Photo Credit: Photo by Daylon Barr / Barr Visuals.