By Seth Eggert, Staff Writer
A return to Daytona International Speedway for the Wawa 250 Powered by Coca-Cola marks a chance for Brandon Brown to flex his superspeedway muscle with a returning sponsor, Larry's Hard Lemonade, to make the NASCAR Xfinity Series playoffs.
Reunited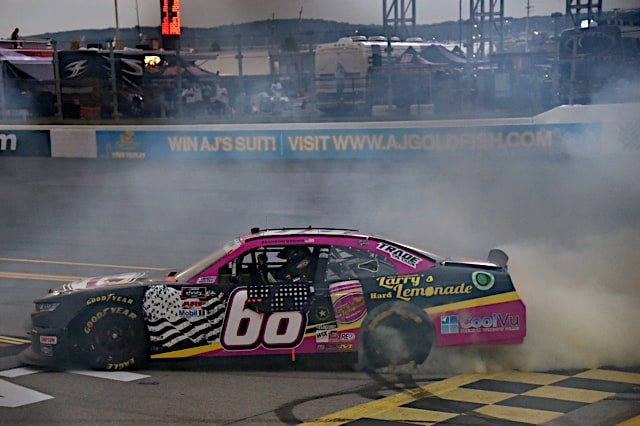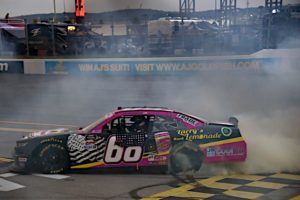 It was at Talladega Superspeedway that returning sponsor, Larry's Hard Lemonade first went to victory lane. Prior to this weekend's race at Daytona, the company last sponsored Brown in the Martinsville Speedway Playoff race last year.
"It feels good to have Larry's Lemonade come back," explained Brown. "It's good to be able to mend the relationship and move forward. It's great to be able to work with people that I've been comfortable working with for a few years, someone that we've found success with, people that have been a part of building the dream and have been part of the journey, for both the growth of myself and Brandonbilt Motorsports. Just great to have partners like that back because they know everything that there is to know about myself and the team. It makes life way easier working with them."
Sponsor Stats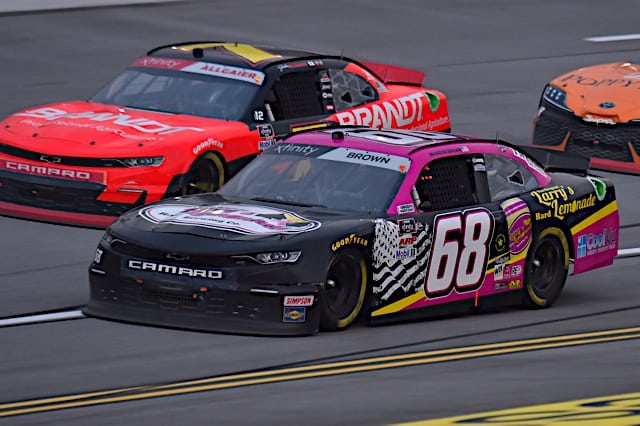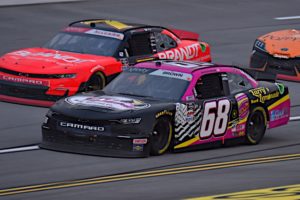 To date, Larry's Lemonade has sponsored Brown in 15 NASCAR Xfinity Series races. Together, the pairing has earned one victory, two top-fives, and seven top-10s. That accounts for over one-third of Brown's top-10 finishes, making the partnership with Larry's Lemonade the most successful for the veteran Xfinity driver to date.
"I sure hope that we can recreate the magic from Talladega," reflected Brown. "That's the only way we can make the playoffs. I feel like that's our best shot."
Though Larry's Lemonade briefly sponsored a competing team, both the company's owner, Vic Reynolds, and Brown remained friends.
"It's great to be able to work together again, and have our friendship completely back intact," continued Brown. "To have Vic back in my corner is awesome. He's been more of a partner to this team and to myself. He's always been a friend, someone that I could go to for advice, and was always willing to lend an ear.
"I show up to races with more confidence when I'm working with partners that really want to see you succeed. With somebody that is as supportive as Vic, it's hard to fail when he's in your corner."
Brandon Brown's Stats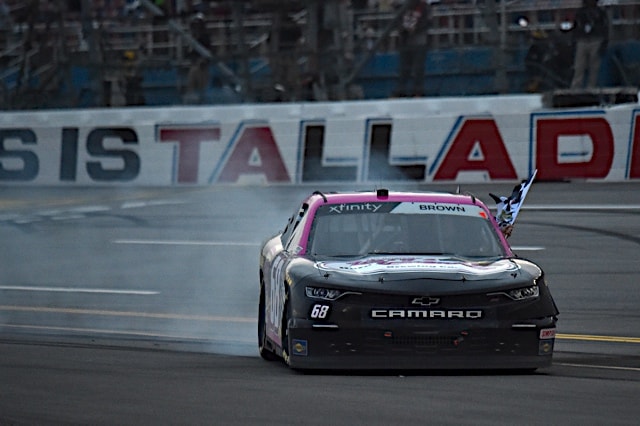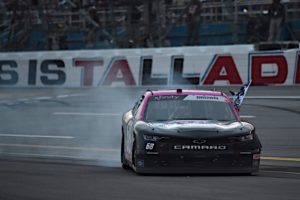 Brown has nine starts at Daytona with four top-10 finishes. His best finish at 'The World Center of Racing' is sixth, twice. The driver of the Brandonbilt Motorsports No. 68 Larry's Hard Lemonade Chevrolet Camaro SS also has six starts at Talladega Superspeedway with one win, one top-five and three top-10s.
Of the four top-10 finishes at Daytona, only one has come in the night race for the Woodbridge, VA native. That was Brown's first top-10 at Daytona back in 2019. The hectic nature of the final wildcard race before the playoffs is one of the factors.
"I'm going for the win," admitted Brown. "We've got to the win because of the situation we've been put in when it comes to the playoffs. It's going to be critical that I do make the playoffs that I pull off a win too. I've always wondered why the night race gets so much crazier. Truly, in all those races we're just victim of circumstance. We want to change that around, especially this time."
Playoff Outlook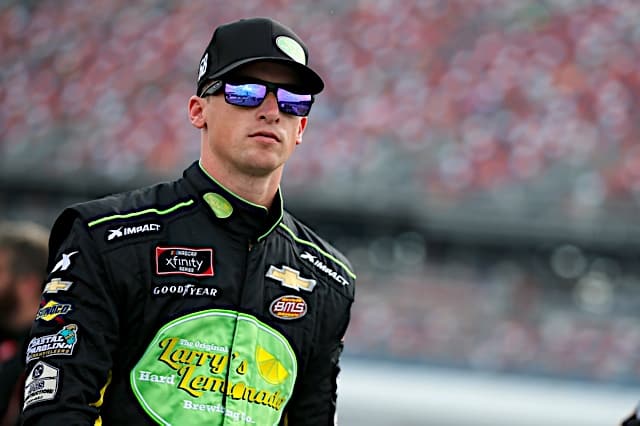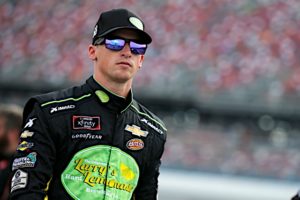 Entering Daytona, Brown is 15th in the championship points standings. Though there are four races remaining before the NASCAR Xfinity Series playoffs, the 28-year-old is 106-points behind the cutoff, held by Ryan Sieg. While that points gap is manageable, only a victory can truly secure Brown a spot in the playoffs.
The wildcard nature also makes the race an opportunity for many. With the pack racing, some smaller teams are able to contend more easily. Part-time drivers that run only superspeedways also make their one appearance each season.
"This is a wild card chance for anybody to get to the playoffs," explained Brown. "I think that everybody drives way harder and there's cars and drivers that you don't normally see, drivers that just come in just for superspeedway races, and they're trying hard to make moves. We'll try to make moves and it usually just leaves everybody else in a bad spot. Every team is throwing a Hail Mary. There's a lot of really good cars in the playoffs, and then there's a lot of really good cars not in the playoffs."
The Wawa 250 Powered by Coca-Cola at Daytona is scheduled for Friday, August 26 at 7:30 p.m. ET on the USA Network. The race will also be broadcasted on the Motor Racing Network and SiriusXM NASCAR Radio Channel 90.
Featured Photo Credit: Photo by NKP / NKP Photo.