By Jerry Jordan, Editor
DAYTONA BEACH, Fla. – After missing five races since being injured in a hard crash during qualifying at Pocono Raceway, Kurt Busch announced Thursday that he would not compete in the regular-season finale at Daytona International Speedway and would not move forward in his bid for a 2022 NASCAR Cup Series Championship.
According to information released by 23XI Racing, for which Busch drives the No. 45 Monster Energy Toyota, the former NASCAR champion continues to experience concussion-like symptoms stemming from the Pocono crash. The team confirmed that Busch, "will miss the start of the 2022 NASCAR Cup Series playoffs as he continues to recover from an injury sustained at Pocono Raceway. Kurt's health and well-being continue to be of utmost importance to 23XI and the team fully supports his decision to focus on taking the time to get better. Busch had secured his playoff spot with a win at Kansas Speedway in May.
"The decision will also result in the team withdrawing the medical waiver that was requested for Busch to remain eligible for the NASCAR Cup Series Playoffs, should he have been cleared to return to competition in time."
The decision takes the pressure off Busch regarding when he will return and lets him heal on his own timeline rather than jumping back in the car too soon and risking further injury.
"As much as I wanted and hoped to be able to get back in the No. 45 car to make a playoff run with our team, it's still not the right time for me," Busch said. "In addition to not being cleared to return to racing, I know that I am not ready to be back in the car. I respect the sport of NASCAR, my fellow drivers and the fans too much to take up a playoff spot if I know I can't compete for a championship this season. The decision was not an easy one, but I know it is the right thing to do. I will continue to take time to heal and strengthen as I prepare to be back in the car and will do all I can to help 23XI continue the success we have had this season."
Multiple sources have confirmed to Kickin' the Tires that behind the scenes, Busch is adamant this is not the end and he will be back behind the wheel of a racecar when he has fully recovered. "I will be back," he has been quoted as saying.
https://t.co/Lt5hg7Lyzg pic.twitter.com/aa7xy2dVoh

— Kurt Busch (@KurtBusch) August 25, 2022
Reaction to Kurt Busch Announcement
In response to the news, both NASCAR and Toyota Racing Development USA released statements of support for Busch's and 23XI's decision. Although Busch won't be running for a driver's championship, the No. 45 team will be competing for a NASCAR Owner's Championship title.
"Kurt Busch has managed this difficult situation like the champion that he is," states a release from NASCAR. "Working closely with his doctors, every decision made has been in the best interest of his health, his competitors and the sport. Kurt has NASCAR's full support as he continues to heal, and we look forward to seeing him return to the race car.
"23XI Racing has informed NASCAR that it is withdrawing Kurt's medical waiver request. Per the NASCAR rule book, a spot has been made available for the 2022 NASCAR Cup Series Playoffs. The No. 45 car will continue to compete for the 2022 Owner Championship."
The news also has additional implications because it directly impacts the NASCAR Playoffs and could help put Martin Truex Jr. in the Round of 16. Heading into this weekend's Daytona event, Truex is locked in a heated battle for the final spot in the playoffs with Team Penske driver, Ryan Blaney. If any of the previous winners take the checkered flag Saturday night, then both Truex Jr. and Blaney get in the playoffs. If someone new wins, then Blaney holds the edge over Truex Jr. If Blaney or Truex Jr. wins then they both advance.
It is also important for Ty Gibbs, who has been subbing for Busch since his injury, because his being behind the wheel of the No. 45, which will continue this week in the Coke Zero 400 at Daytona, could affect his Cup Series rookie of the year status going forward.
A request for further information from Joe Gibbs Racing on their Xfinity Series driver's continued involvement at the 23XI Racing satellite program had not been received prior to publication.
Following the announcement, David Wilson, President of Toyota Racing Development USA, said the most important thing is Busch's well-being. Putting playoffs implications aside, the focus from Toyota has been to support Busch in his bid to get better.
"Toyota's priority for Kurt Busch since the moment the accident took place at Pocono has been his health and recovery. Not his recovery to get back in a race car, but his recovery overall," Wilson said. "TRD has been working directly with Kurt to support him on his recovery journey, but ultimately this decision was Kurt's and we support him completely. While we're disappointed that he won't get the chance to compete for the 2022 championship by missing the start of the Playoffs, his well-being is the only thing that matters to us. We know Kurt will still be a big part of our championship efforts this season through his support and his extensive racing knowledge that he can share with his team and fellow Toyota drivers.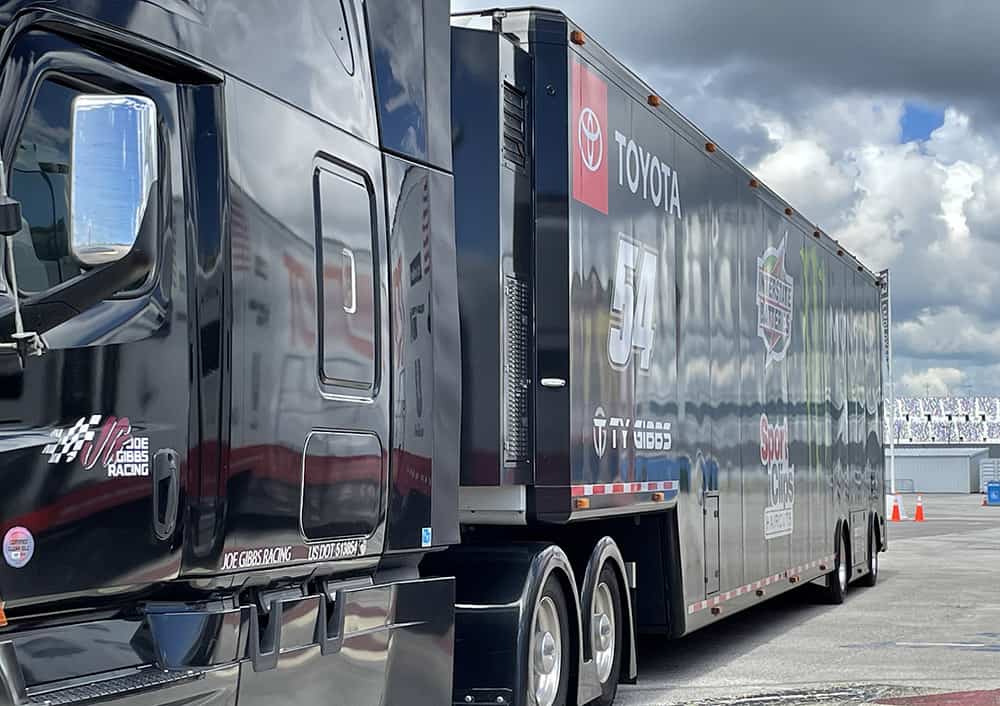 Several weeks ago, when 23XI Racing co-owner and NASCAR driver, Denny Hamlin announced the organization had hired Tyler Reddick to drive for them in 2024, he said Busch had a job for as long as he wanted.
"Yeah, and he will, there is no question about that, we're going to have Kurt for as long as Kurt wants to be a racecar driver, we want to have him," Hamlin said, on July 12 during the surprise Reddick announcement. "That's pretty much the end of that and then once he's done driving, he's going to have a nice, cushy office job at 23XI, so he is going to be part of our future well beyond his driving days.
"We constantly are in dialogue on what his plans are but you never know, things could change and Kurt could want to race until he is 48 years old and if he does, we are going to field a car for him."
That sentiment seemed to be even stronger in the 23XI Racing press release as the team president, Steve Lauletta, reiterated Busch's importance to the organization. He stressed Busch wasn't going anywhere and his involvement at 23XI Racing has made everyone better.
"Kurt has elevated our entire organization this year," said Lauletta. "Although Kurt will not be competing for a championship this season, he will continue to play a vital role in the organization as he works with our competition group to keep improving and strengthening the team."