By Jerry Jordan, Editor
In a huge surprise to most everyone participating, Tyler Reddick was named as a future driver for the 23XI Racing team beginning in 2024 on what was slated to be a routine, mid-week press videoconference with President of Toyota Racing Development, David Wilson, NASCAR driver/team co-owner Denny Hamlin and 23XI team president, Steve Lauletta.
As Hamlin finished answering a reporter's question, Toyota's spokesperson, Lisa Hughes Kennedy, broke in and interrupted the call when she saw Reddick, who currently drives a Chevrolet for Richard Childress Racing (RCR), appear on the screen.
"I hate to interrupt you but I think we have … Tyler, I appreciate you joining our availability, man, but I think you I think you might be, I think you might have entered the wrong media availability session," Kennedy said, as members of the media laughed in the background.
Well, the joke was on the media because the entire Toyota contingent was obviously in on the ruse.
The Surprise
"Ahhh, actually, I don't think that he did," Hamlin quipped. "I'd like to announce to the media that today, I would like to formally announce Tyler Reddick as part of and a future member of the Toyota racing family starting in 2024, so, hi buddy."
Reddick had been on his cell phone but walked into the frame of Hamlin's camera and sat down next to his future boss at 23XI to take questions from a stunned group of media. It was at that point that the roughly 15 media members on the call began posting the news on social media. Within a few minutes, the number of media members on the call ballooned to 28 as others saw their Twitter feeds blowing up. "Reddick" was trending 13th on Twitter in the United States during the hour following the announcement, according to trends24.in.
Hamlin explained he and Reddick had chitchatted more than a year ago but he knew he wanted the two-time Xfinity Series Champion in one of his cars. Hamlin said the recruiting process was never formal and that racing Reddick in the Cup Series each week showed him all he needed to know about how good he was behind the wheel.
"These conversations started a long time ago, very casually in the sense of, really, Tyler just reaching out when we started the team saying, 'love what you are doing. It looks like you guys are pushing the limits and doing things a little differently and it's good to see,'" Hamlin said. "From that point, we just started some conversations and obviously I've seen his talents for a very long time and after a while, I realized, I started asking him this, kind of, an important question about his future and then I asked, obviously, permission from the OEM, 'Can I pursue this individual?' and they wholeheartedly agreed this was a good direction for us."
Wilson joked that he knew at the beginning of the season that Reddick was the next driver to be named to the Toyota camp.
"I admit, I rode up the elevator with Tyler, he probably doesn't even remember it, at the Clash at the Coliseum, coincidentally, and that was when I knew the deal was done," Wilson said. "Kidding, just kidding."
The comments brought laughter from several people on the call as Reddick fired back, "I remember. You saw what I was eating right, I was eating one of those ridiculous Torchy hotdogs, had just got done with my heat race and I was riding up the elevator to watch from up top and I am just downing this ridiculous-looking hotdog and that was the selling point, right?"
Wilson confirmed that was the moment he knew.
"I am really excited about this opportunity that is coming ahead in 2024, you know, the team is very young but it has been going in a very positive direction from Day 1 and it's been obvious," Reddick said. "I am just really excited to get it out there and that, you know, it is front of everybody, and that 23XI can go to work and that myself and RCR can go back to work and continue to be as competitive as possible but also know that the future is set in stone and I know what lies ahead … for me and 23XI."
Richard Childress Racing Fallout
Although Hamlin, Reddick, Lauletta and the Toyota group were excited about the announcement, as word broke online, RCR released a statement wishing Reddick the best but there were no joyous remarks about the announcement being made more than a year in advance of him going to his new team.
"We're proud of the success Tyler Reddick has found at Richard Childress Racing. We're focused on winning a championship in 2022 and 2023, although the timing of this could not be any worse," the RCR statement read.
Reddick responded that he thinks the timing was actually better now than down the road. Another point would have been how long the secret could have been kept as rumors began spreading through the garage. Would team members, drivers and others be able to keep the contract a secret for nearly 18 months? Would Reddick and Hamlin be distracted by, no doubt, the continuous questions from media members and their racing colleagues?
"It's always a difficult thing whenever two partners or a relationship is going to come to an end but I feel like it gives everyone time to figure what is the next step, where do we go from here," Reddick said, of the RCR statement. "So, for me, in my opinion, it is better to do it now than in the playoffs, there's no reason to kick the can down the road. We know what lies ahead and we all know what's in front of us and we know what we need to do.
"For me, nothing changes. My commitment to the team is as strong as it's ever been. I'd almost argue that now that I know the window I have with them is coming to an end, I feel like I have more pressure on myself to give them everything I have with the time that we have left. And that lies ahead, you know, we have two opportunities to go out and have great years and. We have the rest of this year and we have the rest of next year. For me, nothing changes, I am going to keep giving RCR everything I have and it's good to know what lies ahead in 2024 and on."
Wilson added, "From Toyota's perspective, from an OEM perspective, we are doing this the right way. We are treating all involved parties with a tremendous amount of sensitivity and respect as we have said over and over, again. We are ripping the Band-Aid off now and we are celebrating the future that we know is coming but we are going to get back down to business and not let this be a distraction.
For Lauletta, whose duty it is to run 23XI and ensure the team is successful, attracts sponsorship and can perform on the track, the announcement is just another aspect of big-time auto racing. Tough decisions are made, drivers, sponsors, crew members and employees come and go; sometimes those things are in a team's control and sometimes they aren't. From a business aspect, Reddick is a lame-duck driver despite his promises of being dedicated to RCR through 2023.
"That question reminds me of a famous quote from my old boss, Chip Ganassi, who said, 'this is the life we have chosen.' You get good things and you get bad things and you get surprises and you get things, in this business, you are always reacting to these kinds of things and they are not always on your timeline and they are not always positive," Lauletta said. "Everybody just puts their head down and reacts to it and, you know, in this case, thankfully, we have the time to react in a way that we are not chasing a shortened timeframe but we have a little more lead time, which for 23XI, Denny and I, it is the first time we have been able to do that."
Current Drivers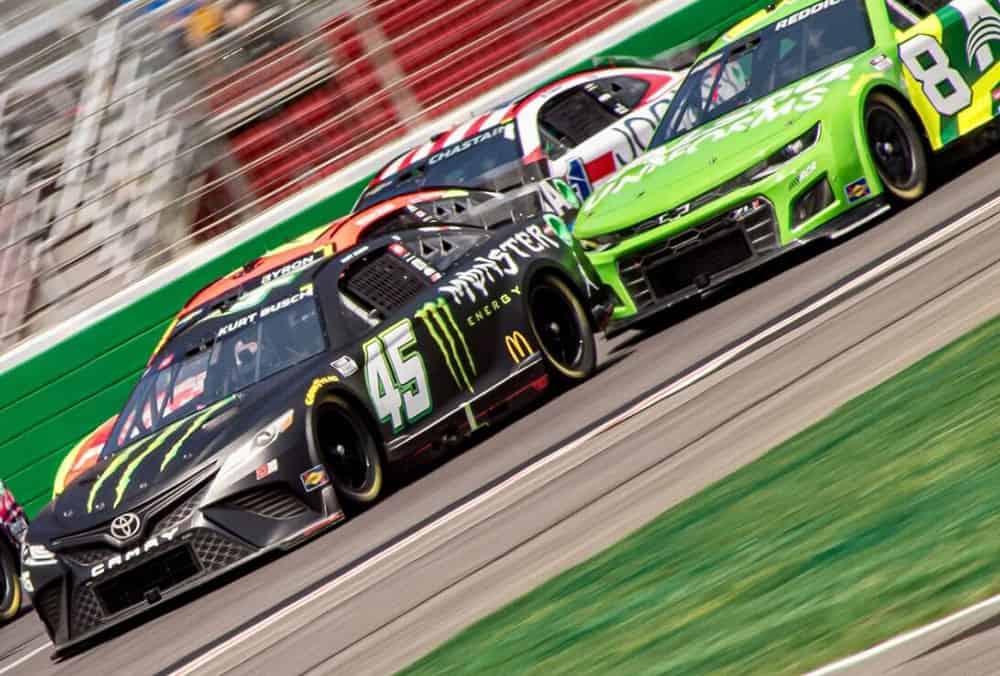 Currently, 23XI has two drivers in Bubba Wallace and Kurt Busch. Both drivers are signed through, at least, 2023 and Hamlin said there is no solid plan on whether the team stays with two cars or goes to three. Wilson remarked that he'd love to see a couple more Toyota Camrys on the track. Hamlin also was adamant that Busch would be with the team until he didn't want to be.
"Yeah, and he will, there is no question about that, we're going to have Kurt for as long as Kurt wants to be a racecar driver, we want to have him," Hamlin said. "That's pretty much the end of that and then once he's done driving, he's going to have a nice, cushy office job at 23XI, so he is going to be part of our future well beyond his driving days. We constantly are in dialogue on what his plans are but you never know, things could change and Kurt could want to race until he is 48 years old and if he does, we are going to field a car for him."
Regarding Wallace, who was the first driver at 23XI and who scored the team's first win in 2021 at Talladega Superspeedway, Lauletta said there are no intentions of letting Wallace go. In fact, Lauletta said Wallace has been an integral part of the organization and he doesn't feel 23XI has lived up to some of its responsibilities to get Wallace back to victory lane.
"Look, Bubba was the foundation we built this team on and we have plans for him to be part of the 23XI team for a long time," Lauletta said. "We've got a lot of progress that we've made this year and we have delivered for him in every instance that we could as a team. Then there's been a few times that he would tell you the responsibility lies on him, like in every driver, team scenario. So, our partners are as engaged with him and this team as well as Kurt and the 45. So, again, this is really about what we can do with a talented driver like Tyler Reddick joining this organization to continue down that five-year path of being a front-running organization, week in and week out trying to get to the last race of the season and win a championship."
FOR PREVIOUS COVERAGE OF 23XI RACING: CLICK HERE