By Seth Eggert, Staff Writer
LAS VEGAS – With a late-race strategy call, Hailie Deegan made history in her NASCAR Xfinity Series debut at Las Vegas Motor Speedway.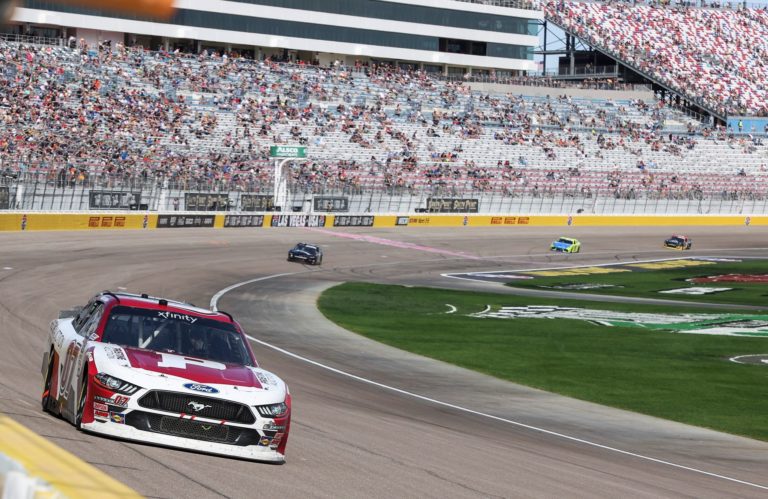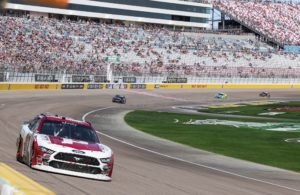 Deegan was 15th in the No 07 Pristine Auction Ford Mustang when the final caution waved with 40 laps to go. Her SS-Greenlight Racing team opted to keep her on track. Deegan took the wave around to move back onto the lead lap.
The NASCAR Camping World Truck Series regular restarted in 16th. She quickly picked up a spot from former NASCAR Playoffs competitor Jeremy Clements. The 21-year-old then swept by A.J. Allmendinger as he pitted with two loose wheels.
In the closing laps of the Alsco Uniforms 302 Deegan battled with Kyle Weatherman, who also took the wave around. She snuck by the Chevy Racing driver to take the checkered flag in 13th, on the lead lap. Deegan was the best finishing Ford Performance driver.
"(My Xfinity Series debut) was awesome, so much fun, just a great experience," Deegan admitted. "All I wanted out of today was a good clean race, complete all of the laps, and take in as much information as I could. We were able to do that, the guys gave me a great car, and we were able to do something with it. I can't thank Pristine Auction and Ford enough for putting this together."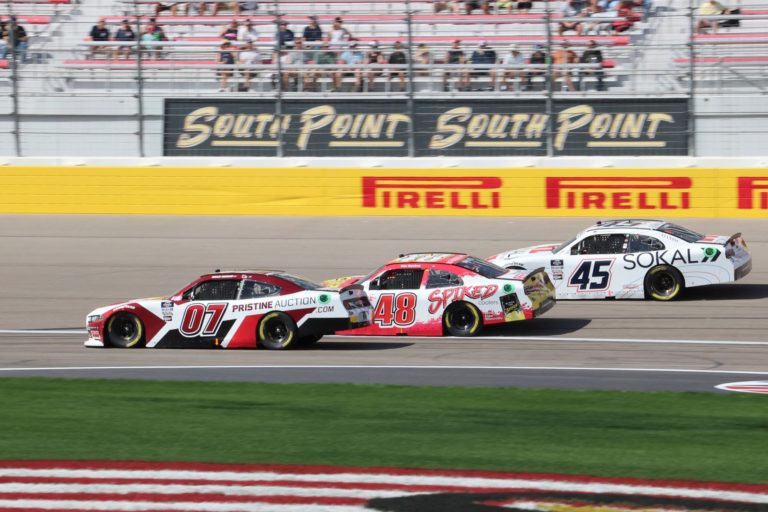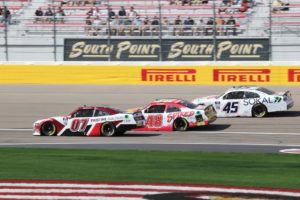 After running 16th fastest in practice, Deegan qualified 20th for her first Xfinity Series race. The Temecula, Calif. native quietly ran 18th in Stage 1 and 16th in Stage 2. The only time she fell out of the top-20 was on the initial start of the second Stage.
"Once we got into the second Stage, that's when I started feeling a lot better about it," Deegan stated. "We made one change that was great, but it put us back a little bit with a bad pit stop. Once we were able to overcome that, get back around people that we were running around before, feel out how the car was transitioning, that's where we started learning a lot.
"Third Stage we started up too free, but I was able to notice that. With in-car adjustments I was able to band-aid it and we had a good run."
Deegan's 13th-place finish breaks the record for best finish by a woman in her Xfinity Series debut. That was set by Shawna Robinson in 1991 at Orange County Speedway. Robinson finished 15th in the Roses Stores 300.
The David Gilliland Racing driver has also set records in the Truck Series. At the Mid-Ohio Sports Car Course Deegan became the first woman with multiple top-10 finishes in series history. She earned her third top-10 and career-best finish at Talladega Superspeedway.
The Ford Performance driver is the latest to experience the difference between the Xfinity Series and Truck Series.
"I think there's a lot of different factors, the way people race you, maybe the equipment, there's so many pieces to the puzzle," Deegan explained. "I put so much work into it, I put a lot of work into every Truck race, do a lot of sim time. I put a lot of good people around me. Sometimes with different pieces to the puzzle, sometimes things work out better.
"The Truck Series I feel like is very deep for equipment. That also plays a huge factor in it. It is very dependent on equipment because of tracks you go to you're wide open in qualifying, almost wide open in the race. Meanwhile in the Xfinity car you can run three-quarter throttle, stab the gas or ease back into it, use the brake, do your stuff in the car to make it better."
It's that difference between the aerodynamics, adjustments, and power that Deegan pointed to that stood out to her.
"I feel like there is so much more potential in the car," Deegan said. "Meanwhile when you hold the Truck wide open, there's not much you can do. A lot of it is out of your control. (In Xfinity) there's a little more that's put back in your hands because you're having to do more in the car."
Currently, Deegan does not have any more scheduled Xfinity Series races. Her next Truck Series race is the Baptist Health 200 at Homestead-Miami Speedway on Saturday, October 22.
The Baptist Health 200 will be broadcast 1:00 p.m. ET on Fox Sports 1, Motor Racing Network, and SiriusXM NASCAR Radio, channel 90.