By Seth Eggert, Staff Writer
RIDGEWAY, VA – Run over by his Joe Gibbs Racing teammate while in a must-win situation and leading the race, Brandon Jones was eliminated from the NASCAR Playoffs.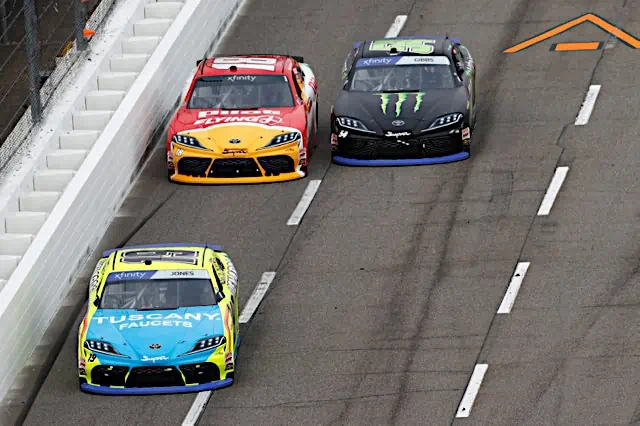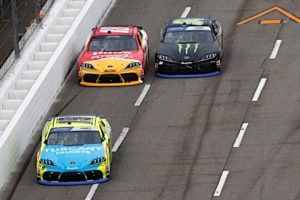 The driver of the No. 19 Menards / Tuscany Faucets Toyota Supra traded the lead back and forth with Ty Gibbs in three separate attempts at overtime. The NASCAR Xfinity Series drivers moved one another out of the way for the top spot.
Gibbs, the grandson of the team owner, clinched a spot in the Championship Four shortly after the start of the final Stage of the Dead On Tools 250 at Martinsville Speedway. Despite already being locked in, the duo were racing each other hard.
"I expected to get moved around a little bit," Jones explained. "I figured I could cover it deep enough to where he could just hit me square and just shoot me up the track some. I thought I had a good enough runoff Turn 4 to where I wasn't going to be in a position like that.
"We were being aggressive with each other. All day we were in those restarts, and I'd get behind him and not wreck him, but by getting to him moving up all the way. I think that's what you have to do here to go win the race."
The repeated overtimes helped and hindered Jones. They gave him more opportunities to retake the lead. It also provided Gibbs the chance to repay the favor. The cautions also ended the chances for a win from Joe Gibbs Racing's other driver, Sammy Smith.
In the first overtime attempt, contact from Gibbs sent Jones into Smith. That cut Smith's left rear tire, sending the No. 18 Toyota spinning in Turn 4.
"I needed that to go green," Jones admitted. "I got another opportunity (after another caution and restart). I was happy that he got in front of me because I knew I'm like this. The only way you're going to win this race is someone going to, you know, move somebody to win."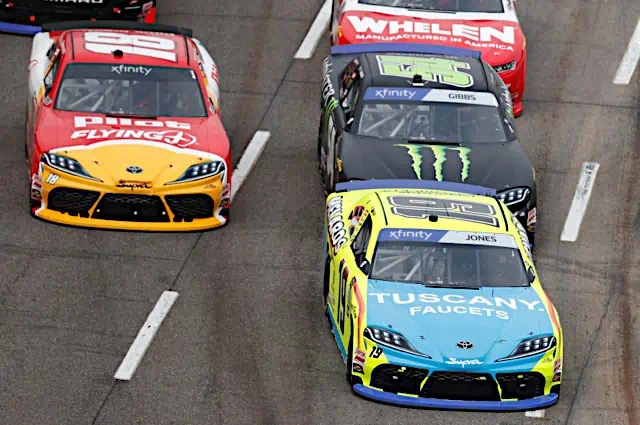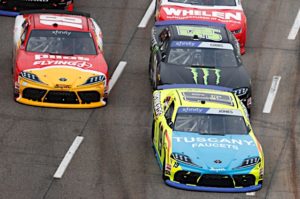 On the final attempt at overtime, Jones moved Gibbs out of the way for the lead once more. After the white flag, the No. 54 Monster Energy Toyota Supra punted the polesitter out of the way. Jones spun into the outside wall as a race-ending caution waved.
Jones and Gibbs have been friends. However, the 'dump and run,' has changed the 25-year-old's view. Jones is ready to end the season and move on to JR Motorsports.
His future teammates, Justin Allgaier and Josh Berry stopped to support Jones post-race. JR Motorsports' outgoing driver, Noah Gragson, and Stewart-Haas Racing's Riley Herbst also offered support to their friend.
"Ty and I have always been friends, but I lost all respect today," Jones reflected. "I know a lot of guys on pit road have lost respect for him too. I'm looking forward to getting first to Phoenix and trying to win that race, but then transitioning over to up to JRM next year.
"I think that Ty probably doesn't care that that wrecked us. That's his mentality. He's aggressive, extremely hard to beat at any racetrack you go to, and it's probably because of that mentality, that's what's gotten here so far. He needs to own that and not hide behind it too much. If that's how he wants to be that aggressive, then then we've all we've all seen it on the racetrack there. He should own that for sure."
Although Jones is ready for the season to end, there's still the season finale at Phoenix Raceway to come. He's confident that he can rebound and win at the 1.0-mile oval. His confidence, combined with the fact that Ty knew his situation, makes the incident sting that much more for Jones.
"I think (the fact that Ty is a friend and a teammate) does make it sting more," Jones stated. "Just everything that's led up to it. I think everything that pointed towards he was already being locked in, him understanding my position. I'm sure he doesn't want to see me in Phoenix. He knows how good I am. He knows I can beat him and win there. I can still go next week and beat him."
The Atlanta, GA native was ultimately classified 23rd when he took the checkered flag. The best that Jones can finish in the Xfinity Series championship is now fifth.
Ultimately, his frustration, and that of others, boils down to one thing the on-track etiquette, or lack thereof.
"It's just racing etiquette," Jones said.
The NASCAR Xfinity Series Championship Race is scheduled for Saturday, November 5, at 6:00 p.m. ET on USA Network.
The race will also be broadcast on the Motor Racing Network and SiriusXM NASCAR Radio, channel 90.