AVONDALE, Ariz. – JR Motorsports had a 3-to-1 bid to win the NASCAR Xfinity Series championship.
But Ty Gibbs captured the checkered flag to win the big trophy for Joe Gibbs Racing.
"Great job to JR Motorsports, but the 25 percent won," Gibbs said after winning the 2022 title.
It was an exciting race, to say the least. Noah Gragson and Justin Allgaier both led laps with battles on the track and down pit road made for a finish that came down to the closing laps. As Gibbs reclaimed the lead, navigating lapped traffic proved to be a struggle as Gragson closed in. There wasn't enough time, however, as Lap 200 reached its conclusion to give the Toyota Racing driver his first title.
"I felt like today I had a good race, felt like I made some good moves," Gibbs shared. "Me and the 7 (and the 9) were racing really hard. I felt like hopefully we put on a great show for you guys, the fans, and thank you for all that you guys do."
Josh Berry was the third JR Motorsports driver competing in the Championship 4. Early struggles made for an uphill battle from the drop of the green flag, but found his No. 8 Chevrolet as high as third late in the running. A mistake in Turns 1 and 2 resulting in heavy contact with the wall ended his chase for the championship.
Allgaier pulled many veteran moves to try to achieve the title for his first time, but also came short after finishing third behind Gibbs and Gragson.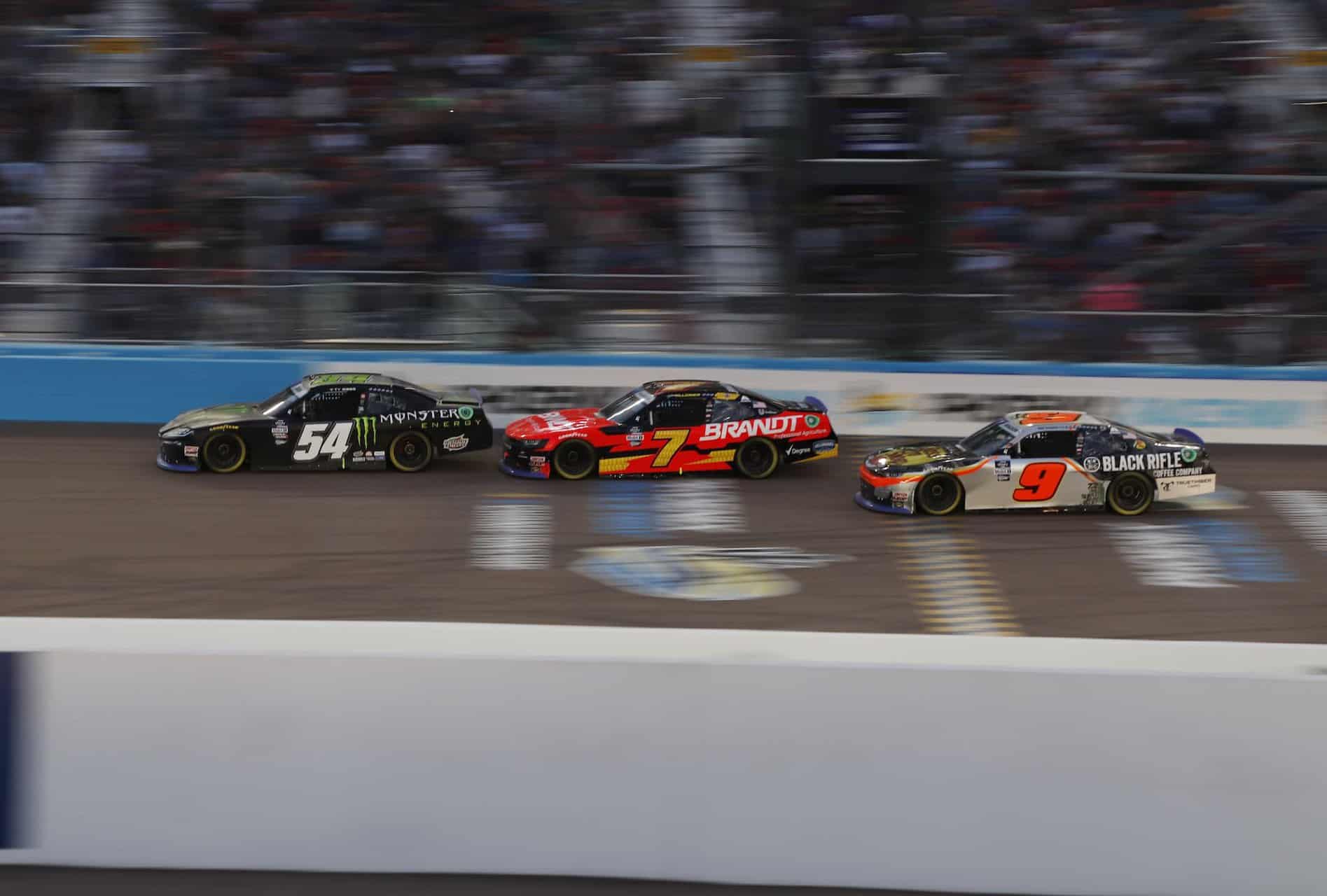 However, the real adversity for Gibbs to fight against began before the green flag waved. A controversial move at Martinsville Speedway last weekend caused his teammate to crash into the wall en route to Gibbs' then sixth win of the season. An enormous burnout celebration was met by a roar of boos from the 40,000 in attendance.
"I don't want to be the guy that gets booed," responded Gibbs.
But he was, and the roars continued in the western deserts of Arizona. As Gibbs celebrated his seventh win and championship title at Phoenix Raceway, the crowd reminded him they hadn't forgotten what he did at "The Paperclip." His father, COO and vice chairman of Joe Gibbs Racing, shared his struggles of seeing the thumbs down reactions from the outside.
"Obviously it's heartbreaking to go through tough stuff and watch — it's actually more heartbreaking to watch him go through it," Coy Gibbs shared after the race. "I don't give a rip; I'm old and don't care. In fact, I've been racing with Chris since we were like 23 or something, so I've known him forever. We've kind of gone through a bunch of stuff in our life. But to see a kid hurting — and he knows he screwed up; and to go through all that, it's tough. It's tough as a parent for sure."
What a difference a week makes.
Ty Gibbs arrived with a newfound spirit and focus on selflessness in the understanding of how many people actually got him to where he was in contention for a championship. That change didn't go unnoticed.
"Watching it today, just to see his determination," Coy Gibbs continued. "I think he's got skills and he's determined. It definitely made me proud. I think it made my wife — we were both proud, just because he just hammered down and did his job. If he wants to do this for a living, he's going to learn how to do that."
One race isn't a cure-all moment, and Ty Gibbs recognizes that it will be a long road to prove himself: to his team, to his competitors, to the fans, and to his family.
"I'm the one that put myself in that position," admitted a heartfelt Ty Gibbs. "But I don't want this championship to be remembered for boos; I want it to be remembered for hard work and our team. Thank you to the fans, even though I don't have that many of them. Hopefully I earned some respect back, and we'll move on."
And as a father to his son, Coy Gibbs is hoping his son can learn and apply what it truly means to be a champion.
"It's just a process. They make mistakes," explained Coy Gibbs. "They do stupid things. Sometimes it happens to you, sometimes you're doing it to someone else. Obviously doing it to your teammate was awful. But I think that's why they're running Xfinity. The Cup guys still make mistakes, that's for sure. I see that every weekend sometimes.
"And you can talk all you want, but you'd better do the right thing down the road. That's kind of what I tell him."
Maturity comes with time, and as is true with all sports, athletes make mistakes all the time. It will be a test of time with Ty Gibbs to see how he responds personally and professionally from his 2022 season, and dad is hoping his actions tell the truth behind his son's efforts.
"Just got to learn from it. It's your actions."