By Seth Eggert, Staff Writer
In an uncharacteristic shift, Josh Berry was a non-factor in the NASCAR Xfinity Series Championship race at Phoenix Raceway.
The JR Motorsports driver was fourth on the final restart of the 200-lap race after he chose the outside. Berry attempted to swing wide entering Turn 1 in the No. 8 Tire Pros Chevrolet Camaro SS. However, he went too far up the track.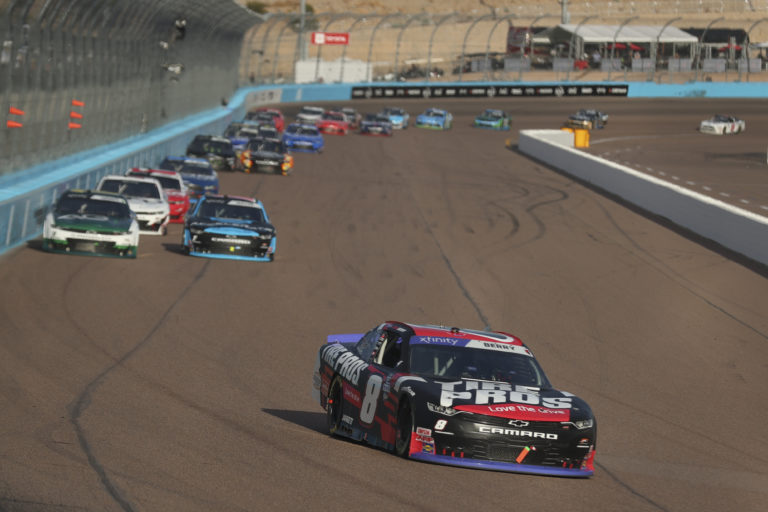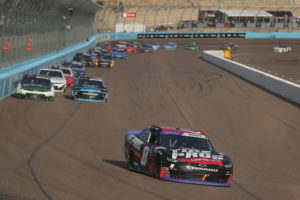 Berry struggled for traction, losing grip off the corner. After tagging the outside wall, he slipped outside the top-20. With 20 laps to go the Hendersonville, TN native had climbed back into the top-15. However, with no cautions insight, Berry ran out of time.
He took the checkered flag in 13th, fourth in the 2022 Xfinity Series standings.
"Just a tough situation right there," Berry said. "I think the restart before the AJ got to my right rear and got by me on the outside up there and it seemed to be widening out. I made a mistake there and got too high, but I had full intentions of running up there to try to create some momentum for the run down the backstretch.
"We had a long day today, long weekend really. I just felt like maybe if we could get a good restart, get up front, maybe we could make something happen, but obviously that didn't work out. I wish I could have that one over again, but it's hard. We just didn't do what we needed tonight."
Berry's struggles didn't start on the last restart, however. Throughout the entire weekend his team fought a loose condition on his Chevrolet. Of the Championship Four drivers, he qualified third, ninth overall, just ahead of his teammate Justin Allgaier.
In Stage 1 Berry moved forward. He finished the Stage in fourth. The Mike Bumgarner-led team slowly fell behind on adjustments. As the handling worsened, Berry slipped down the running order. In turn, his hopes for his first Xfinity championship faded away.
"We just struggled all weekend being just really, really free, just hanging on," Berry explained. "The first stage went alright for us. We worked our way to 4th. Some of those guys had pitted, but then lost some track position on pit road and just got mired back in 10th. Then we made a pretty big swing at it.
"Finally, we were just behind on adjusting all day. We should have just been more aggressive on adjusting it even from yesterday and just didn't have it there when it counted. Got up there to fourth a couple of times but we were just hanging on to those guys."
Overall, the 2022 NASCAR Xfinity Series season was still a career year for Berry. In his first full-time season he scored three victories, 11 top-five and 20 top-10 finishes. Berry also scored his first career pole position.
Recently Berry extended his contract with JR Motorsports. He'll once again drive the No. 8 Chevrolet Camaro SS full-time in the Xfinity Series for JR Motorsports in 2023.
Next up for Berry is a trade in rolls. He'll serve as Dale Earnhardt Jr's Late Model Stock Car crew chief in the South Carolina 400 at Florence Motor Speedway on November 19.
The next time Berry will be behind the wheel is scheduled to be the Thanksgiving Classic at Southern National Motorsports Park on November 27 in the same Late Model Stock Car Earnhardt will drive one week earlier.
The 2023 NASCAR Xfinity Series season is scheduled to start with the 'Beef. It's What's for Dinner. 300' on Saturday, February 18 at Daytona International Speedway.