By Seth Eggert, Staff Writer
At NASCAR's Throwback Weekend at Darlington Raceway, Ryan Vargas will honor a driver he was a fan of, NASCAR Hall of Fame driver Mark Martin.
Vargas will drive the No. 6 Monarch Roofing Chevrolet Camaro SS in the Steakhouse Elite 200. The Monarch Roofing Chevrolet is designed to resemble the 1994 Valvoline Ford Thunderbird that Martin drove. During his dominant 1994 season, the Batesville, AR native finished second in points in the NASCAR Cup Series points standings. The opportunity to honor Mark 'The Kid' Martin was a match made in Heaven for 'The Rhino.'
"I am super excited to welcome Monarch Roofing into the sport in a big way by representing them on our Mark Martin throwback paint scheme at Darlington," admitted Vargas. "Monarch does anything and everything in the roofing industry and are continuously looking to grow. I am proud to help bring their name to many fans and companies on the track.
"Growing up, I was a big Mark Martin fan. So, getting the chance to bring this iconic paint scheme back to life is a huge honor. I am thankful to Monarch Roofing for allowing our team to do so in their first ever race."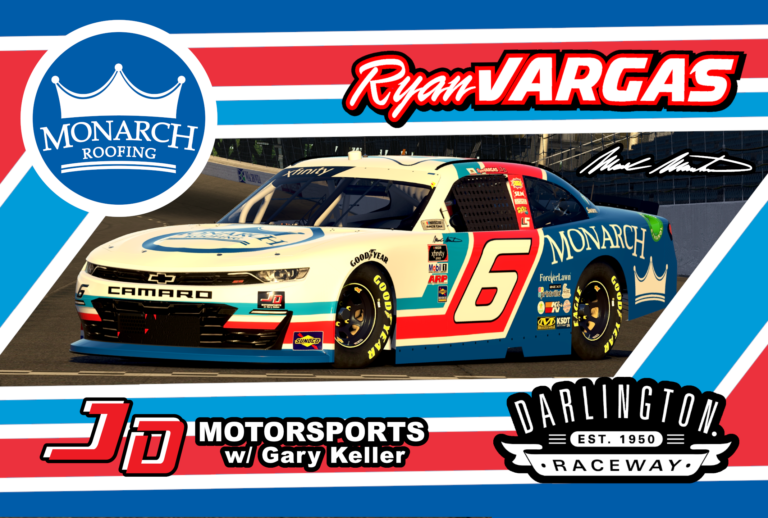 Vargas has one career start in the NASCAR Xfinity Series at Darlington last season. He ran inside the top-20 at 'The Track Too Tough to Tame' until he, along with several others, hit oil on track. As a result, he slid into the outside wall. The damage to his JD Motorsports with Gary Keller machine dropped Vargas' Jimmie Johnson throwback to 25th in the running order.
Monarch Roofing debuts on Vargas' car this weekend at Talladega Superspeedway. The company will be an associate sponsor on his Chevrolet in the Ag-Pro 300.
"Ryan has a lot of heart and passion for what he is doing," Monarch Roofing GM Rob Clemons explained. "t is incredible to see the amount of dedication that he puts towards this sport and his goals. The values that Ryan presents align with what we believe in at Monarch which made it an easy decision to support him and his team."
The La Mirada, Calif. native is the only full-time Rookie-of-the-Year candidate that has competed in every Xfinity Series race this season. Mechanical woes have plagued the NASCAR Drive for Diversity and NASCAR Next alumni's rookie campaign. The season opener at Daytona International Speedway marks the site of Vargas' best finish, 18th, so far this season.
Vargas is third in the rookie points standings, 67 behind leader Ty Gibbs. He is 59-points behind Josh Berry. In the overall points standings, Vargas is 10-points outside the top-30, and 107 behind the playoff cutoff. The 20-year-old likely needs a win to secure a playoff bid.
"We are so proud to sponsor Ryan and JD Motorsports in honoring Mark Martin at Darlington for Throwback Weekend in his rookie year as a full-time NASCAR driver and to have the opportunity to ride alongside the 6 team at Talladega," stated Monarch Roofing Operations/PR Manager Mady Finley. "We are excited to begin this partnership and watch Ryan grow as a driver throughout this season."
In 19 career Xfinity Series starts, Vargas has one top-10 finish, last fall at Texas Motor Speedway.
The Xfinity Series Steakhouse Elite 200 at Darlington is on Saturday, May 8.
Feature Photo Credit: Photo by NKP / NKP Photo