By Jerry Jordan, Editor
BAYTOWN, Tx. – A few weeks ago, I was asked by a good friend (no she didn't threaten me) at Toyota Racing Development if I would be interested in attending the NHRA event in Baytown, checking out their teams and seeing what drag racing was all about. The track may be called Houston Raceway Park but it is technically in Baytown, a suburb of the largest city in Texas and it's "my home track" since it is located 77.7 miles from my hometown. I swear I didn't make the number up – Google it.
It was either cover an event in my backyard or fly to Alabama and cover the NASCAR action at Talladega Superspeedway. Since Kickin' the Tires already had writers and photographers scheduled to be at Dega' it was a no-brainer.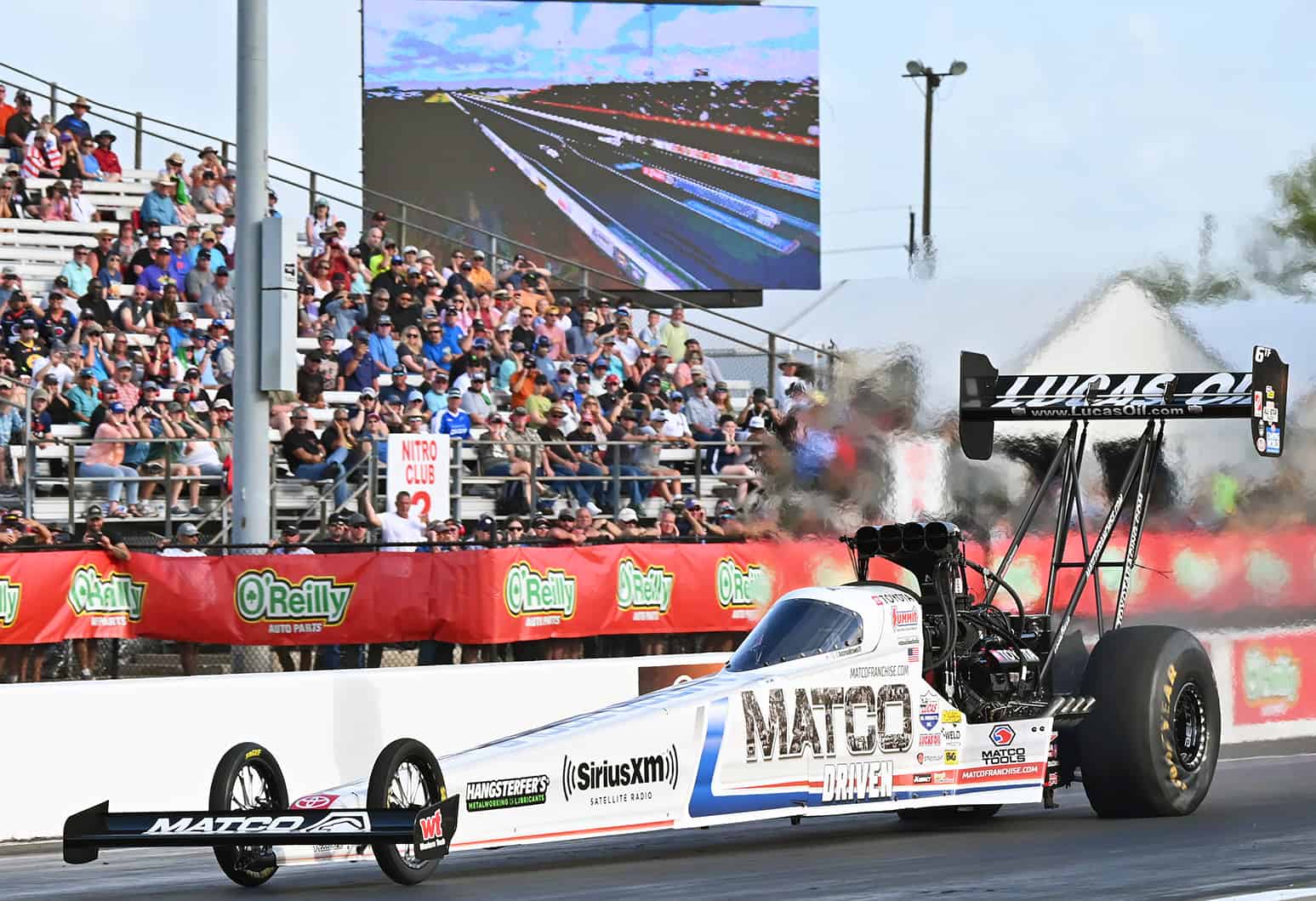 Toyota's roots in racing run deep. They, or their affiliates, have entries in NHRA, NASCAR, IMSA, FIA WRC (World Rally Championship), FIA WEC (World Endurance Championship), Formula Drift, and they have previously been in Formula 1 and IndyCar. In other words, they are good for racing and they are a friend to race fans. Oh yeah, they are pretty damn good to the racing media, as well.
When Tony Stewart announced in October that he was forming Tony Stewart Racing Nitro with Leah Pruett and Matt Hagan as his drivers, it made me wonder what was happening in the world of drag racing. Then, Toyota doubled down on their NHRA commitment with their announcement of the new GR Supra Funny Car body in November. By the time Toyota made that announcement, I had decided Kickin' the Tires would begin some occasional coverage of NHRA if anyone from the staff wanted to go and if the NHRA would have us. Obviously, there had been a lot of buzz about drag racing making a comeback and I received several emails from fans asking why we didn't cover it. It's a long story but times were different.
As it happens, this is the final race for the NHRA at Houston Raceway Park. The track has been sold to a Dutch company, Katoen Natie, and will become an industrial warehouse facility. Honestly, it sucks because just when I decided we'd begin covering NHRA, the closest track to me is shutting down.
A lot of fans may not know what goes into covering a race but it starts several weeks ahead of the event with requests for credentials, parking, etc. I am an NHRA rookie and I wasn't sure what to expect because I had never actually covered an NHRA event before but I had seen them on television. If you don't know, it's like staying at a Holiday Inn Express compared to actually being at the racetrack. You think you know what it's like to see cars go 1/4-mile down a racetrack really fast but until you see, feel, hear and smell it in person, you're just a pretend expert. As for credentials, it was really simple. A day after my request was submitted, I was approved and had an email offering assistance in getting content, tips on storylines and was added to the upcoming press conference Zoom call with NHRA drivers Erica Enders, Alexis DeJoria and Tony Schumacher.
I know we are welcome and treated well in NASCAR, IndyCar and IMSA but after 20 years of coverage they know Kickin' the Tires is dedicated to providing great racing content and telling different storylines about what is happening in the sport. It's a sure bet the NHRA wasn't familiar with Kickin' the Tires and probably wouldn't even know if we showed up. Oh boy, I was wrong. From the very first moment, everyone I corresponded with or spoke to was interested in having us involved.
After the Zoom call, I received an email asking if I would be interested in having lunch with defending NHRA Funny Car Champion Ron Capps at Dan's Pizza and Wings, an area restaurant where he would be recording his "Wingin' with Ron" video podcast. If you don't know, I am a big guy and food is my friend, so I was down for eating hot wings and talking about racing with a champion. I've known Capps for several years because he's been involved in some NASCAR crossover work with his longtime sponsor NAPA and he races in the iRacing Monday Night Racing League that was originally sponsored by Kickin' the Tires.
Ron was already there with his crew and after we ate, he recorded his podcast. Then we chatted and did an interview about eating hot wings and drag racing. It was great. Now, it was off to the track.
Let's fast forward a bit – the parking was about 50-feet from the media center, which was amazing, there were zero issues with my credentials, I had a spot in the media center and the NHRA staff answered my questions about where I was able to go. The answer? Pretty much, anywhere.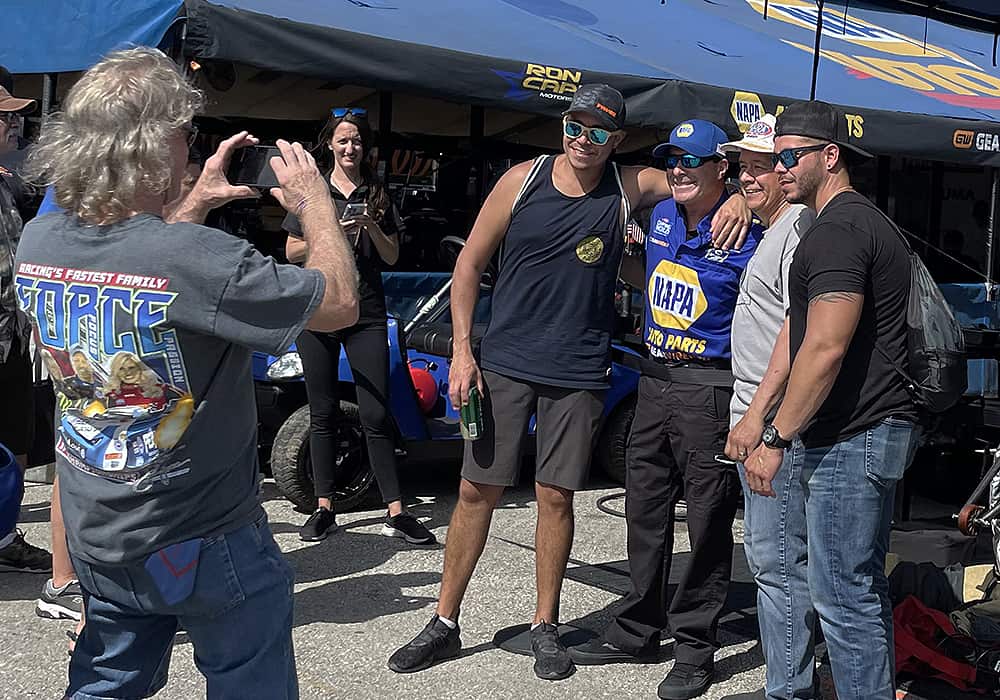 For the first 20 minutes, I walked around the pit area and just took it all in. Honestly, I was worried because I didn't have any special access pass, hard card or placard hanging from a lanyard around my neck. There were lots of fans carrying cameras, so if I hadn't been holding a microphone and wearing a Kickin' the Tires shirt, no one would have known I was part of the media. I fully expected at any moment, to be told I was not allowed in an area or that I couldn't be near the rope line where the crews were working on the cars. To my surprise, several people recognized the KTT logo and asked why I was at NHRA instead of NASCAR. It was surreal in a sense because I saw drivers just walking around and talking with fans. Greg Anderson, who drives the Henrick Cars Pro Stock Chevrolet Camaro recognized someone walking by and went over so they could take a photo. Legendary racer, John Force, had a crowd around his pit area and thousands of fans milled about. Capps, who I had just had lunch with an hour before, was posing for photos with fans. I guess he got over trying the Inferno Wings.
Eventually, I walked over and met with Lisa Kennedy at the Toyota Gazoo Racing North America hauler. She is also my Toyota contact in NASCAR but over there it is Toyota Racing Development. Several of the Toyota drivers and crew saw me with her and walked over to introduce themselves. I met J.R. Todd, Shawn Langdon, Doug Kalitta and I saw Alexis DeJoria stop and pose for a photo with a couple of fans when got off a golf cart to go into her hauler. But what stood out was that every single driver welcomed me to NHRA and said, "if you have any questions or need something" let them know.
I don't want to take shots at anyone in particular but there may be a few NASCAR drivers, who should adopt this level of openness and communication. I watched crews member stop working on the cars to talk with some fans who had a question. When I asked about the similarities between NASCAR and NHRA, Langdon laughed and said, "they both have tires and they both have wheels" that's pretty much the similarities.
Of course, they also have an engine, brakes, throttle, steering wheel, safety equipment and stock-ish bodies – at least on the Funny Cars – but that is about the end of the similarities. However, even the similarities are different. The wheels and tires are either much bigger or much smaller. The brakes are different and include a parachute as a stopping aid and the engine produces 11,0000-plus horsepower. In the NASCAR Cup Series, the engine has a paltry 670 horsepower. No wonder NASCAR drivers complain about their engines, they have horsepower envy.
Lisa had a meeting to attend and I was back on my own for a while. If you don't know Lisa, then you are missing out on knowing one of the most passionate people I know in racing. If she is involved in something, it's going to get done and done right. That is why it was so easy to see the respect she has NHRA. Yes, she is a Toyota rep but probably everyone from every team at the top level of the NHRA knows who she is and she is making a difference in getting the word out about drag racing.
Alone, in a strange land, surrounded by racecars and breathing in methanol, I meandered over to the Dodge camp where I saw the Tony Stewart Racing Nitro teams. Tony and his wife/driver, Leah Pruett, were signing autographs and laughing with fans. They truly looked happy and were having fun. And when Tony had to walk away for a minute, the fans didn't harass or chase after him, they let him conduct business without constant interruption. That doesn't happen in NASCAR. There seems to always be someone who doesn't understand the difference between work time and free time.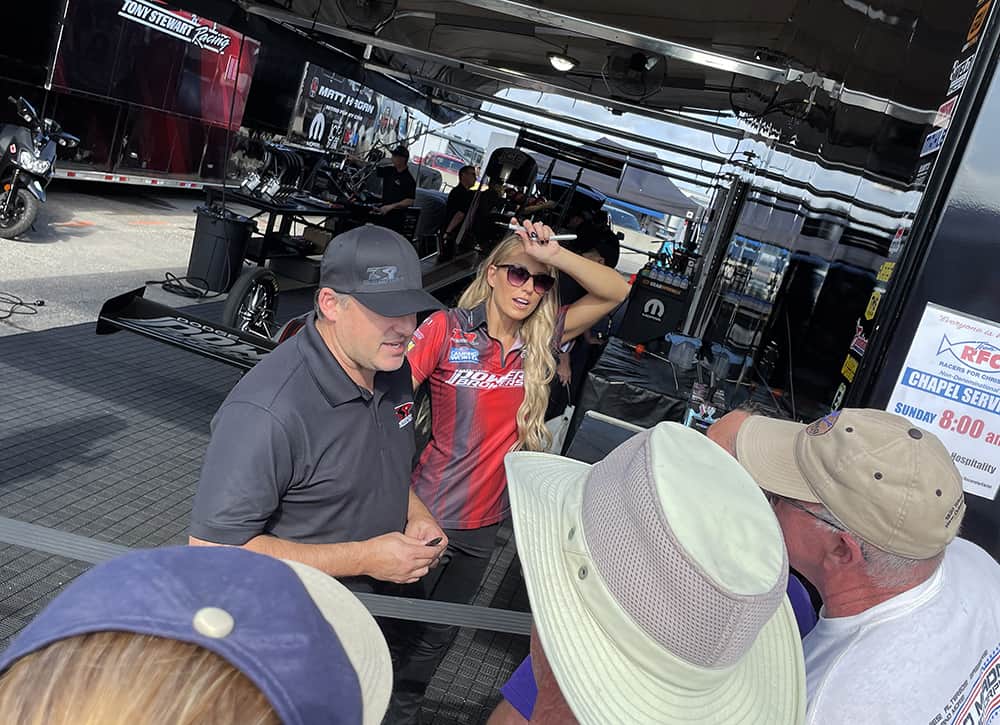 After a few minutes, I walked over and Tony told me to come into their hospitality area because the crew was about to tune the engine on his Funny Car driver, Matt Hagan's, car.
NHRA on television is one thing but standing 20 feet away from an 11,000 horsepower engine at full-throttle is something completely different. I watched as crazed fans stood behind the car trying to fan the nitro exhaust towards them. For me, my eyes were watering and my nose was burning. Whatever the nitro/methanol fuel mixture is, it is great for clearing your sinuses. I wasn't sure whether to cover my ears, wipe my nose or close my eyes but the fans were loving every second of it. Until that point, I hadn't bothered with earplugs because unless the engines are running, the ambient noise in the pit area wasn't that loud.
Tony was incredibly relaxed, much different than when he is at NASCAR. We talked a bit and then he met with a couple of sponsors before I headed off to the staging area with the Toyota teams.
As I walked past a line of dragsters being towed to the track, I had no clue what was about to happen. I joined up with J.R. Todd's DHL Toyota Funny Car team as other cars were on the starting line. In the staging area, I was about 20 feet behind when Todd hit the throttle for his burnout to warm up his tires. It was pretty intense. I, sort of, knew what to expect because of being near Hagan's car in the pits but it wasn't exactly the same feeling and I was glad I had my earplugs in.
I would watch as DeJoria, Capps, Hagan, Cruz Pedregon and Robert Hight make their first-round qualifying runs.
It was a different feeling than being on the starting grid for a NASCAR race or even when crews were tuning engines in the garage but it was about to get to an entirely new level of insanity. Earlier when I mentioned the NHRA staff said there was essentially unlimited access for the media, it didn't include where I was about to be taken without getting pre-approval. "Someone" decided it would be a great idea to actually let stand just behind the NHRA officials near the starting line as Leah Pruett squared off against Billy Torrence. Her speed was 328.54 mph with a .067-second reaction time. She won that qualifying run but it only matters because I have no clue what happened to me over the 3.719 seconds it took her to get from Point A (the starting line) to Point B (the finish line).
Yes, there is a video of her run posted to my Twitter feed but I am pretty sure when I was standing between those two 11,000-plus horsepower monsters that one, or both, of them, reached over and grabbed my heart. If you have ever seen the original 'Mortal Kombat' movie from 1995, I think I've figured out how they created Kano's "heart rip" fatality move – they stood between two dragsters at an NHRA event.
It all happened too quickly and too abruptly for me to even flinch and I am still alive but my heart did stop for a second, or at least it felt like it. The impact of the sound vibrations was unlike anything I have ever experienced before. I didn't know sound could be that extreme and hit you like a punch in the gut. I could feel the bones in my jaw vibrate, I could taste the fuel and feel my eyes burning. For a second, I thought my nose was bleeding but it was just my new sinus medication working wonders – nitro/methanol. Maybe, I won't be on the starting line the next time I am at the track but even from the grandstands, when the Top Fuel and Funny Cars hit the throttle, it is an experience like none other I have had in racing.
It took me a second, or two, to regain my senses but I knew I had to make it back to the pits because I wanted to watch the teardown on Doug Kalitta's Top Fuel Mobil 1/MAC Tools Toyota dragster. The Kalitta Motorsports team had invited me into their hospitality suite so I could document how long it took to go from complete engine to full teardown – and they said I could record it – on VIDEO. This is unheard of in the NASCAR garage, where even taking a photo of the engine compartment can come with severe consequences. In fact, there are weekly warnings to photographers about having their credentials pulled for violating the competitive nature of the teams.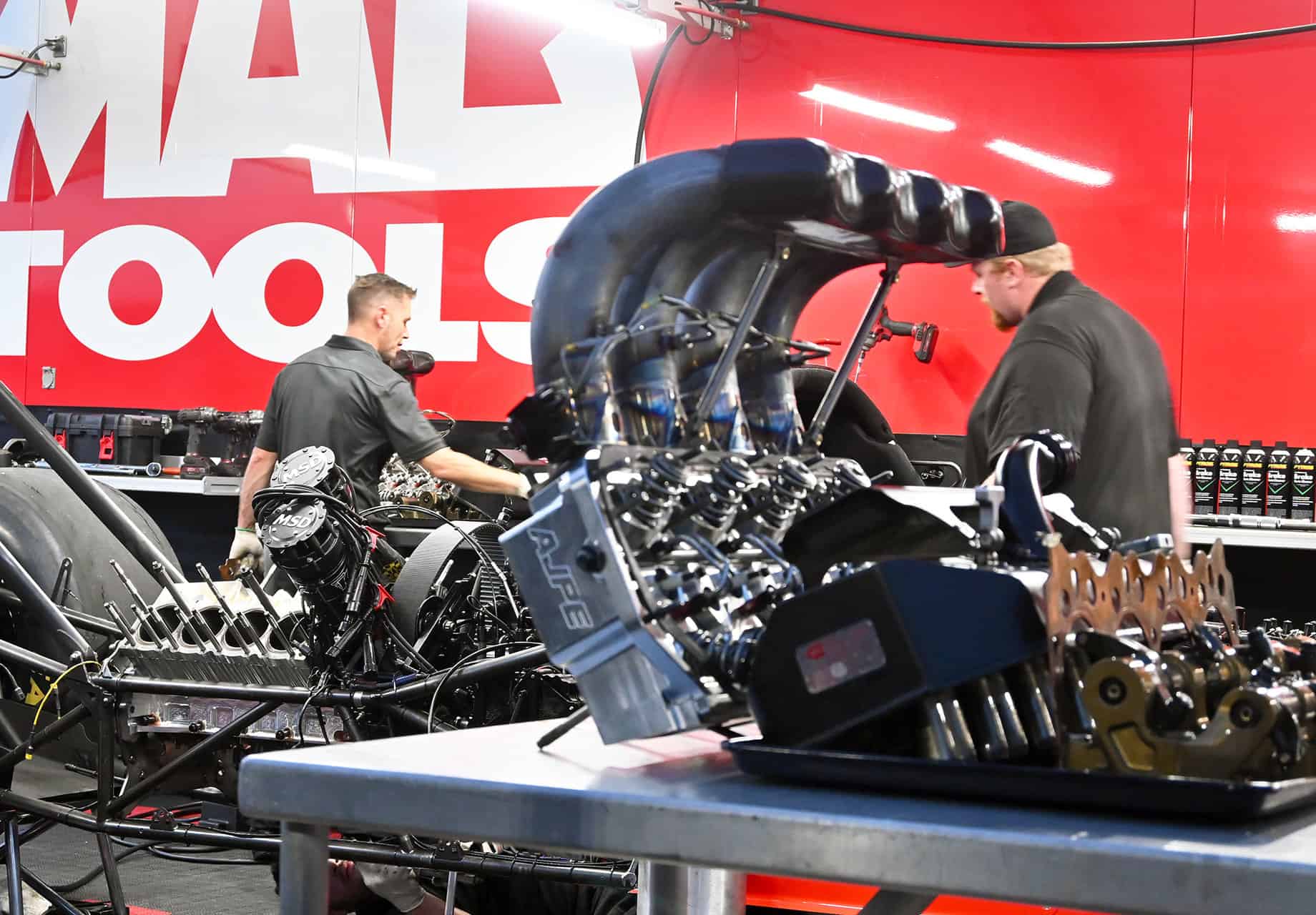 For the record, it took just under seven minutes to remove the supercharger, bearings, valve springs, pistons and just about every other nut or bolt from the engine block. I was told by a crew member that was slow. When asked why the teams were so open, the crew members pointed to about a dozen fans standing around watching and said, "Do you see that? That is a general admission ticket. You buy a ticket to an NHRA race and you get to go right up and watch our guys build these engines and race these cars. There is no other access like it in motorsports. You don't buy a general admission ticket and get that kind of access in NASCAR."
He was right. Fans don't get that kind of access in NASCAR with a general admission ticket. Most of the time, garage access at a NASCAR race comes by either knowing someone, who knows someone or paying additional money to upgrade an infield fan experience ticket. Watching the NHRA model, it's something NASCAR could learn from. The numbers may be somewhat high but it is estimated that at some NHRA events, there are more than 100,000 fans in attendance. That's definitely more than some NASCAR races have had lately, so any argument that expanding access to a model like there is in NHRA isn't plausible but it would require a bigger footprint. Still, if fans in NASCAR had the kind of access they have in NHRA, how much would that help grow stock car racing?
To say the NHRA has gained a fan is a given (I like all forms of racing) but it's my hope that more of the NASCAR fanbase will give NHRA a try. The NHRA went through a rough time and may have lost its luster in some regards a few years ago but what I saw was shining brightly in front of thousands of tens of thousands of fans at Houston Raceway Park.
As my friend and colleague Lewis Franck, who writes for Reuters and occasionally pens a piece for Kickin' the Tires, stated on Twitter, "All racing is good."