By Briar Starr, NHRA Staff Writer
Already a winner this season in the 2023 NHRA Camping World Series, Justin Ashley was heading into the Winter Nationals at Pomona, California with momentum on his side in search of another victory.
Ashley's successful weekend in Pomona started on Saturday with the 2Fast2Tasty Challenge hosted by Mission Foods, where NHRA will take the semi-finals contestants from the previous weekend and have a rematch the following weekend. The challenge takes place during qualifying on Saturday.
Meaning, Ashley would face his rival competitor and four-time Top Fuel champion Steve Torrence in the semis after previously eliminating him for the win at Gainesville the week before. Ashley would get the victory with a 3.751 at 331.20 mph over Torrence's 3.749 at 328.18 mph advancing him to the finals with a match against Leah Pruett.
In the finals, Ashley was once again the winner over Pruett posting a time of 3.707 at 330.15 mph. With the help of his run in Q3, Ashley was able to secure the No. 1 spot for the third time in his career.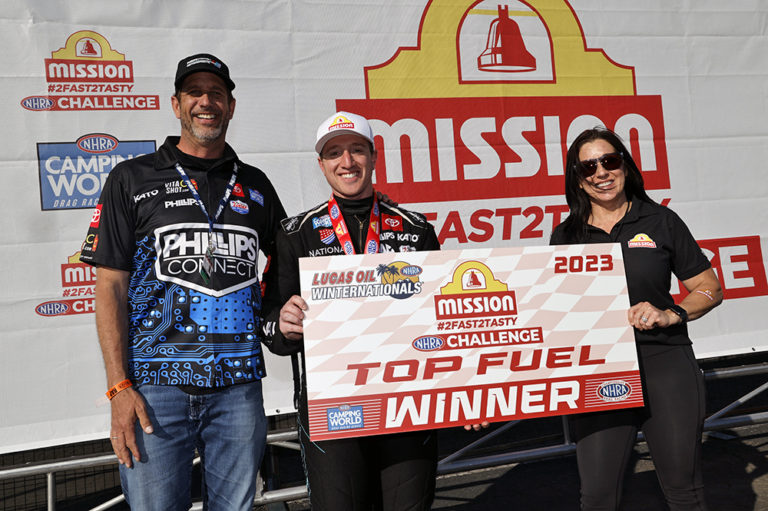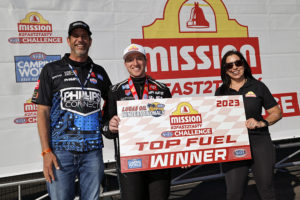 When race day rolled around, Ashley was squared off to compete against the No. 14 qualifier and fan favorite Krista Baldwin. In the first round, Ashley got off the line first with an 0.039 reaction compared to Baldwin's 0.058. As the two went down the track, Baldwin's car was the first to go up in smoke allowing Ashley to win the race with a 3.179 at 329.91 mph.
With a short car field for the dragsters, Ashley earned himself a bye run in the quarterfinals. Despite running by himself, the Top Fuel driver was able to post a great run with a 3.712 at 329.99 mph, moving him on to the semi-finals where he would face his technical teammate Antron Brown.
In the semis, Ashley was quicker by two thousand a second with a 0.047 to Brown's 0.049. It was a great drag race, but in the end, the victory went to Ashley who won going 3.743 at 331.77 mph which was his best run of the day. That run propelled him to the finals where he would run against John Force Racing's Austin Prock.
When the finals rolled around, it was an intense race with Prock on the other side. Ashley cut a great light of 0.033 to Prock's 0.054 and won with a speed of 330.63 mph at 3.713 seconds to score his second consecutive career win in the 2023 NHRA Camping World Series Season.
"I'm not sure a race weekend gets better than this to be honest with you," confessed Ashley. "I think it was just really an incredible job top to bottom. We were saying on our way up here that to win any race is special and then to be able to win two races in a row, with the Mission Foods Challenge in between is just amazing. What makes it even greater is how much we really struggled in Gainesville. To be able to bounce back like that really shows you how resilient our team is and it started on Friday and Saturday during qualifying."
Prock had victories over Leah Pruett, Steve Torrence, and his JFR teammate Brittany Force before falling short against Ashley in the finals.
Top Fuel Results
Justin Ashley
Austin Prock
Antron Brown
Brittany Force
Shawn Langdon
Mike Salinas
Steve Torrence
Tony Schumacher
Josh Hart
Clay Millican
Leah Pruett
Krista Baldwin
Doug Kalitta
Ron August
Up Next: The 2023 NHRA Camping World Series season will take next weekend off due to the Easter holiday and will return for the Charlotte Four-Wide Nationals on the April 14-16 weekend.