By Briar Starr, NHRA Staff Writer
Following a week off, the NHRA Camping World Series returned to the drag strip once again to compete in the Las Vegas Nationals for what would be the fifth of out of the sixth event in the Countdown to the Championship and the second to last race of the 2022 season.
The action was fast and furious on the track, as many drivers were searching to put themselves back into championship contention, whether it was Funny Car, Top Fuel, and/or Pro Stock Motorcycle. Pro Stock was already decided as Erica Enders held a lengthy points lead coming into Las Vegas. Despite having the title locked up, Enders was still hungry for more and wanted a 10th victory of the season.
At the end of the day on Sunday, Tony Stewart's Matt Hagan, Brittany Force, Erica Enders, and Hector Arana Jr all put themselves back in the winner's circle once more. At least for Hagan and Force, with their victories, they were able to put themselves into championship contention once again with just one race remaining. Kickin' The Tires recaps Sunday's action from the Las Vegas Nationals.
Matt Hagan Snaps NHRA Winless Streak
For the first time since Epping, Tony Stewart's Matt Hagan was able to snap a 12-race winless streak Sunday at Las Vegas. It had been a rough summer for Hagan, who lost in the first-round three consecutive times from Denver through Seattle. Since Reading, however, Hagan has been knocking on the door for the victory and came close many times at Charlotte, St. Louis, and a most recent runner-up finish at Dallas two weeks ago.
Entering Las Vegas, Hagan knew he still had a slim chance at the title, but he would have to have a lot of help, including winning this race and most likely winning Pomona in two weeks. Starting with qualifying, Robert Hight qualified No. 1 while Hagan was second on the charts with a time of 3.862.
The time put him in a first-round with Steven Densham. The race was a close race as Hagan won by 15 inches and win with a holeshot victory. Hagan was .089 to Densham's .094. That victory moved him onto the quarterfinals to Chad Green and Hagan again was victorious with a 3.909 to Green's 3.940.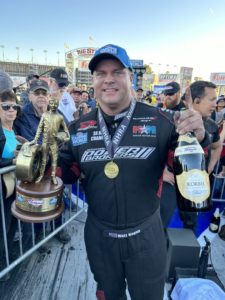 As fate would have it, Hagan met the championship points leader in Funny Car Robert Hight in the finals after Hight won against Jeff Arend, Alexis DeJoria, and J.R. Todd. Knowing it would help him with a chance, Hagan was off the line first with a reaction time of .049 to Hight's .054.
Though for Hight his car began shutting off quickly after leaving the finish line, which allowed Hagan to pull away with the victory for the fourth time this year and the 43rd time of his career.
"My guys are making some real power it's running strong, man," Hagan said. "They put a great hot rod underneath me, and to come out here on Sunday, and win on two holeshots and get my team that little extra bump of what we needed to keep going, it's great.
"I don't know what it is about these later races, we just always do well here and in Pomona as well. I feel the momentum building back. I feel like these are our type of races, our type of conditions, and Pomona, I have done really, really well. It's such a historical place to be, they crowned champions there, and when you roll into Pomona, you know, history is going to be made."
Also to note, Capps entered Vegas with a 10-point deficit to Hight. Unfortunately for Capps, he will have some work to do as he lost in the quarterfinals to Bob Tasca III.
Brittany Force Puts Herself Back in NHRA Championship Contention
Top Fuel continues to be the wackiest class for the 2022 NHRA Camping World Series with different winners throughout the season.
Heading into Las Vegas, most racing fans except Justin Ashley thought he had the Top Fuel championship locked up with just two races remaining and a solid 82-points lead over the top five in points. However, Brittany Force and Team Scrappers Mike Salinas had other plans and spoiled Justin Ashley's party.
Brittany Force gained some bonus points following four rounds of qualifying and gained the No. 1 spot for the ninth time this season. With a short field of 14 cars, Force had a bye run in the first round, which automatically gained her an additional 10 points. For Salinas, he qualified sixth and faced Leah Pruett, while Justin Ashley was third and faced newly owned Rick Ware Racing's, Clay Millican.
In the first round, Clay Millican eliminated the championship points leader with a pass of 3.695 seconds at 330.72 mph over Ashley's 3.754 at 332.67 mph. While Ashley's mph speed was quicker, Millican's E.T. time was faster compared to Ashley's. As for Salinas, he won against Pruett after she blew up and laid oil down the track.
There were some more interesting items taking place in round two. Force had a big match-up with Antron Brown who also was in championship contention. While Brown got off of the line first, Force came rallying back with a 3.732 to Brown's 4.156 after Brown began hazing the tires.
Salinas then over Millican, as Millican's car smoked the tires. Meanwhile, something to note, former Top Fuel champion Steve Torrence was eliminated by Austin Prock.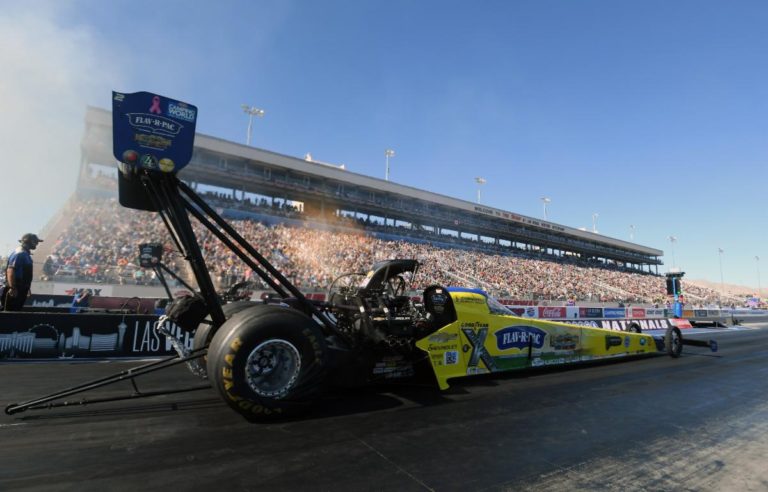 In the semis, Force defeated Tony Schumacher and Salinas eliminated Force's teammate. This set up a finals match with Force and Salinas.
The final match-up would go on to be an interesting match. While Salinas E.T. was quicker with a 3.702 over Force's 3.705, Force got the holeshot victory with a quicker speed of 332.34 mph and .034 reaction time. The victory would be Force's fifth win of the season and the 16th time in her career.
"I've been saying all season long one weekend at a time. Coming into this weekend, not looking at Pomona until we leave here. Right now, we got the win, we got the points lead and we're going to get right back on track," said Force, who reached her 35th career final. To come out here and win on a holeshot, it's giving it back to my guys for all the times they carried me. It's a thank you to them. We wanted to win today, we chased it down and we got it done. We'll keep our focus and worry about what we can control as we head into Pomona. I wouldn't want to go into this battle with anyone else but this Flav-R-Pac/Monster Energy team."
Erica Enders Becomes NHRA Pro Stock Champion
For the fifth time in her illustrious career, Erica Enders and her Elite Performance became a Pro Stock champion. She had nine victories in 2022 coming into Vegas and despite a championship in sight, Enders wasn't losing focus on trying to close out the season with 11 victories.
She knew she had a job to do, but with how competitive the Pro Stock class has been all year, she knew it wasn't going to be easy, especially facing her Elite Performance's Troy Coughlin Jr in the finals.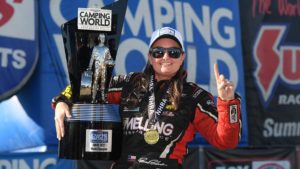 In qualifying, she qualified No. 1 for the 29th time in her career with a 6.579 second pass. Enders gained wins over Kenny Delco, Dallas Glenn, and Kyle Koretsky, while her teammate Coughlin Jr had victories for Camrie Caruso, Deric Kramer, and Cristian Cuadra.
With the help of her semi-final victory over Koretsky, Enders became the Pro Stock champion for the fifth time in her career. The victory wasn't easy, though, as she would win by seven feet at the stripe.
The final stage was set with an all Elite Performance final round. Coughlin Jr was one second quicker in reaction time with a .023 to .024. However, Enders gained the lead back at the Christmas tree and sped on to victory for the 10th time this year.
"It's a huge blessing. We came out here ready for battle this year because of the fashion that we lost the championship last year, so hats off to my guys. It's them that stand behind me. I could not be more proud the be their driver," said Enders, who has also won Pro Stock titles in 2014, and '15. '19 and 2020. "This is a testament – not only this championship but all the others as well – that you don't ever give up. You dig deep, and play with all the heart that you have when the cards are stacked against you. It's like David and Goliath. You go to battle and you have not fear, you have the faith."
Hector Arana Jr Goes Back-to-Back In NHRA
While all eyes were on Matt Smith and Joey Gladstone who are battling for the championship in Pro Stock Motorcycle, Dallas winner Arana Jr returned to the track once again this weekend after finding more sponsorship for his family-owned team.
Looking to play spoiler, Arana Jr qualified in the 15th spot following qualifying and faced Angelle Sampey in the first round. Sampey fouled too soon and gave the automatic victory to Arana Jr. Meanwhile, the top two in points Smith and Gladstone won their respective rounds with Smith winning over Katie Justice and Gladstone over long-time rider Karen Stoffer.
There was also a big victory in the first round. Ryan Oehler scored a holeshot win over Steve Johnson after Oehler won by two inches at the finish line. In the quarterfinals, Angie Smith eliminated Gladstone, which helped Matt increase his points lead even more. Arana Jr again won over a Vance and Hines bike, but this time over Eddie Krawiec. Matt Smith won over his teammate Chip Ellis.
The semi-finals got really interesting as Arana Jr would face Angie Smith and Matt squared off against the 2016 Pro Stock Motorcycle champion Jerry Savoie. Had Angie won her round, she would have given a big advantage to Matt in the semis and increased his points lead.
Unfortunately, for Angie, she lost out to Arana Jr with Arana Jr winning by six inches. Matt Smith headed to the finals to face him after he won against Savoie.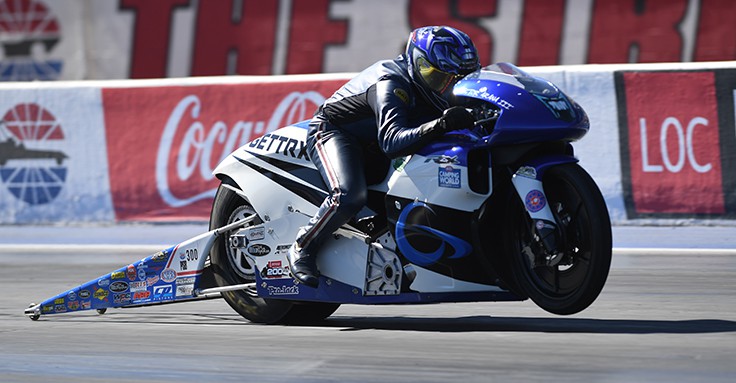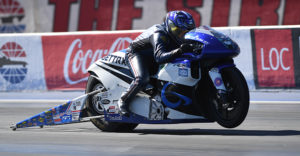 In the finals, Arana Jr had the upper advantage over Smith with a 4-1 record. As the two bikes rocketed off the starting line, Arana Jr had the holeshot win. Arana Jr ran a .009, while Smith fell short with a .063. The victory was Arana Jr's second of the year and the 17th of his career.
"It was a fight just to get here," Arana Jr. said. "Dallas was supposed to be our last race. Honestly, we weren't prepared. We had to go home and rebuild engines after Dallas. I struggled a little in qualifying, but we had a backup plan for race day. I did win a couple of races on holeshots, but you've got to have the pace to get there, and we had that. I have a lot of confidence right now. I can't wait to go to Pomona and keep going. We found our groove pretty quickly. Now, our mission is to get the funding we need to come back next year."
NHRA Camping World Results
Top Fuel
Brittany Force
Mike Salinas
Austin Prock
Tony Schumacher
Steve Torrence
Shawn Langdon
Antron Brown
Clay Millican
Josh Hart
Doug Kalitta
Justin Ashley
Krista Baldwin
Cameron Ferre
Rob Passey
Leah Pruett
Funny Car
Matt Hagan
Robert Hight
J.R. Todd
Bob Tasca III
Alexis DeJoria
Ron Capps
Chad Green
John Force
Tim Wilkerson
Cruz Pedregon
Jim Campbell
Steven Densham
Bobby Bode
Jeff Arend
Blake Alexander
Paul Lee
Pro Stock
Erica Enders
Troy Coughlin Jr
Kyle Koretsky
Cristian Cuadra
Aaron Stanfield
Dallas Glenn
Fernando Cuadra Jr
Deric Kramer
Bo Butner
Matt Hartford
Mason McGaha
Camrie Caruso
Greg Anderson
Fernando Cuadra
Chris McGaha
Kenny Delco
Pro Stock Motorcycle
Hector Arana Jr
Matt Smith
Angie Smith
Jerry Savoie
Eddie Krawiec
Joey Gladstone
Chip Ellis
Ryan Oehler
Angelle Sampey
Steve Johnson
Gaige Herrera
Karen Stoffer
Jianna Evaristo
Katie Justice
Chris Bostick
Marc Ingwersen
NHRA Camping World Championship Points Standings with one race remaining
Top Fuel
Brittany Force, 2,468 points
Justin Ashley, -2
Mike Salinas, -66
Antron Brown, -78
Steve Torrence, -87
Funny Car
Robert Hight, 2,592 points
Ron Capps, -61
Matt Hagan, -63
John Force, -186
Pro Stock
Erica Enders, 2,684 points
Aaron Stanfield, -224
Troy Coughlin Jr, -244
Kyle Korestky, -278
Greg Anderson, -288
Pro Stock Motorcycle
Matt Smith, 2,484 points
Joey Gladstone, -104
Jerry Savoie, -136
Angie Smith, -148
Steve Johnson, -187
Up Next: The NHRA Camping World Series will take one week off before staying out west and heading into Pomona for the Auto Club Finals, the last race of the 2022 season taking place November 10 through 13th.