By Cole Cusumano, Staff Writer
AVONDALE, Ariz. – Out in the heart of the West Valley, the stars typically shine brightest when painted above the Estrella Mountains overlooking Phoenix Raceway. But on October 21, the celestial lights took on the form of athletes and influencers ripping laps around the one-mile oval in NASCAR stock cars.
In preparation for NASCAR Championship Weekend, which will be held at the 'Diamond in the Desert' for a third consecutive year beginning on November 4, talent from across Arizona filed in droves to the site of the sanctioning body's finale to get a real taste of speed with the NASCAR Racing Experience.
Upon signing waivers and getting dressed into mostly oversized fire suits inside of the media center, the high profile participants made their way over to the driver's meeting room for a star-studded debrief of the event led by West Coast Operations instructor for the NASCAR Racing Experience, Todd Rasmussen.
The vibe inside the room was loose; small talk was being made between the all-star personalities. Influencers like Jenzie Russel are quick to take selfies in their racing gear, as almost a dozen videographers roam the floor gathering B-roll of the guests of honor.
After a few minutes of settling in, Rasmussen was able to silence his class of anxious first time stock car drivers, who restlessly fidget in their seats. Following a few opening remarks, a 22-minute video is played highlighting the rules and operations, all while the roar of a racing engine intermittently overpowers the sound in the room, courtesy of Dale Jarrett dialing in each car.
Although none of the celebrity participants had any prior time behind the wheel of a stock car – some not even a manual street car – the only instruction that elicited a humor response of half-concern was the process of climbing into and out of the vehicles.
Now that the two c's – comfortability and communication – were integrated into the class of incoming drivers, it was time to get on track.
"We're honored to have [people] like this out here," Rasmussen said. "The excitement that you see when they come out of the car – something they don't typically get to do – for them to experience it and then to see that passion and excitement, it's priceless."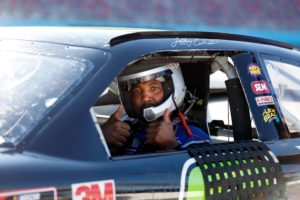 Drivers made their way outside to one final debrief on pit road, underneath a fold out tent and the warm Arizona sun. Being around the cars and seeing NASCAR Hall of Famer Dale Jarrett standing by for ride alongs in his QualityCare firesuit, nerves noticeably began to sweep over the crowd of athletes and influencers.
But not for retired NFL Pro Bowler Shaun Phillips. Phillips, known for his nine-year tenure as a linebacker on the San Diego Chargers, had a wide grin on his face and he put his head sock and helmet on.
"It's exciting," Phillips said. "I'm looking forward to it. No nerves; it is what it is. I know what my risks are, so I feel like I'm okay."
Finally, the stars began to light up the track. Drivers rolled out on track two at a time, as Jarrett provided ride alongs at a much quicker pace. Unlike the races coming up for Championship Weekend, these newbies were not dipping below the dogleg or running high in the PJ1 traction compound.
Instead, drivers held steady in the "racing groove," marked with white tape and braking cones along the apron of the one-mile track. Starting out at 3700 RPMs – which increased by 200 each lap of the eight-minute sessions – the all-star field had an undeniable need for speed.
The inexplicable feeling of adrenaline mixed with amazement was made evident by wide eyes and laughter once the drivers exited their vehicles. But perhaps the most animated in their wonders were Arizona Diamondbacks players Josh Rojas and Stone Garrett.
Rojas, a 28-year-old utility player, grew up in Glendale about 15 minutes away from Phoenix Raceway and made his first visit this March.
"Coming to that event, all I wanted to do was to try one of those [stock cars] out, so today was pretty cool – a bucket list thing," Rojas said.
"My job is hitting at 100 mph and [Jarrett] is going through turns at 100 mph. I got to ride first, which was cool, just to understand what he's capable of doing in the race car. I was coming around these turns really gripping the wheel, letting off the gas real timid through the turns and he's flying, so it was pretty awesome."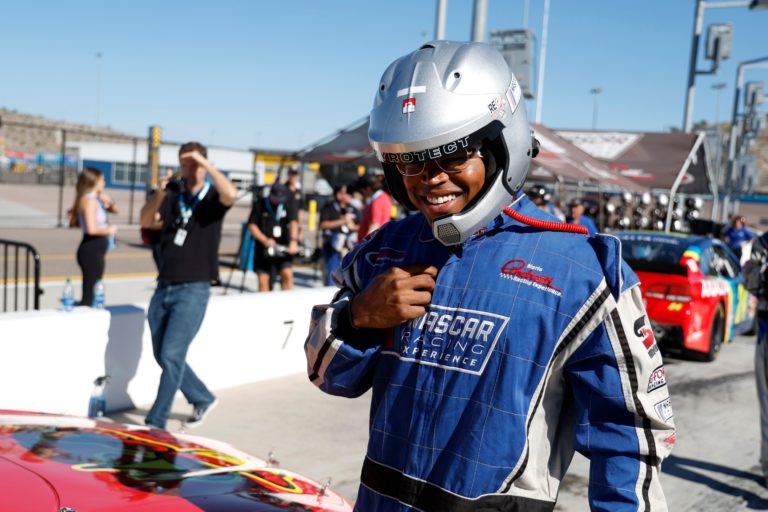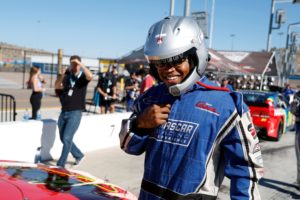 While Rojas may have crossed an item off his bucket list, no one could've been more excited than his teammate Garrett. The 26-year-old outfielder was raised a Jarrett fan and proudly sported a black No. 28 Texaco hat at the event – which he of course got signed by his favorite driver.
"He drove me around: it was amazing," Garrett said. "I can tell my mom that I did it. I've never driven at that rate of speed on a track like this, so it was awesome. It's a great experience to put in perspective what these guys do out here."
By the end of the day, the consensus among the new drivers was the same: the NASCAR Racing Experience was a blast and something they'd never forget.
Gearing up and going out. It's @NASCARRaceExp time! #NREChampionship | @NASCARRaceExp https://t.co/D9VisF2aUf pic.twitter.com/cHPG6KknlM

— Phoenix Raceway (@phoenixraceway) October 21, 2022
In an effort to bolster fan experience, Phoenix Raceway is offering fans the opportunity to pilot NASCAR stock cars of their own leading up to the Championship Weekend festivities from November 1-3 starting at $159.99 to ride along and $339.99 to get behind the wheel for themselves.
As an unprecedented bonus, fans will also have the chance to drive through the same rubber put down by some of the best stock car drivers in the world by taking part in the NASCAR Racing Experience the day after a new champion is crowned on November 7. For more information, go to https://www.nascarracingexperience.com/phoenix-raceway/.