By Briar Starr, NHRA Staff Writer
Entering Pomona with a 104-point lead over competitor and three-time race winner Joey Gladstone, Smith knew he had to get the job done on race day and qualifying. However, there was also a very slim chance that Gladstone could've played spoiler to Smith's championship party.
The scenarios were pretty simple. If Smith won his round, he would be the champion, no matter what Gladstone did. In retrospect, if Smith lost his first round, Gladstone would have to win the race in order to become the 2022 Pro Stock Champion.
Heading into Sunday's race elimination at Pomona, Smith, the King, North Carolina native qualified second with a 6.179. He was one spot short of the No. 1 qualifier, which went to Vance and Hines' Angelle Sampey, who qualified with a 6.703 for the 59th time of her career. Meanwhile, Gladstone was third right behind Smith after posting a run of 6.720 following four rounds of qualifying.
While Smith knew he was more than likely going to become champion after the first round, nothing was set in stone just yet with points and a half for a round winner. Meaning, there was still a slim chance that Gladstone could've got the done had Smith bowled out after the first round.
"Yeah, I said he (Gladstone) was the dark horse and he's second in points right now," Smith said. "A lot of people don't know this, but I gave him his first ride out here in Pro Stock Motorcycle. Hats off to him for being good as he is now and he's going to be a threat in the upcoming years. We just have to go out here and do our job in the first round and it's over, and bring home a 6th championship for Denso."
Bringing home a 6th championship for Denso he did. Smith lined up against long-time competitor Michael Phillips in round one, while Gladstone squared off against two-time winner this season Hector Arana Jr.
Gladstone would do his part by winning with a 6.765 at 198.29 mph over Arana Jr's 6.971 at 197.86 mph, advancing him to the quarterfinals. Unfortunately, for Gladstone, his championship hopes came up short after Smith posted a win-light victory over Phillips with a 6.770 at 200.92 mph over Phillip's 7.037 at 187.68 mph.
The run for Smith was good enough as he would become the third six-time Pro Stock Motorcycle champion, thus tying the late Dave Schultz and former Pro Stock Motorcycle rider turned crew chief Andrew Hines.
"Hard work, dedication, unstoppable, my team, and wife, we do so much," Smith said after exiting his bike to become a six-time champion. "This Denso, Lucas Oil, Smith Trucking, Pep Boys, Scrappers Racing, everyone who helps us. I'm just glad to be tied with Dave Schultz and Andrew Hines. They're the greatest of all time and I'm just glad to put my name in the book with them."
As for the rest of the Pomona Nationals, Smith eliminated Marc Ingwersen in E2, Gladstone in E3, and ultimately fell to Steve Johnson in E3. However, the day was extra special for the Smith family as his wife Angie Smith would wind up winning the event. Angie scored her first victory for the first time in two years with her last win coming in Las Vegas in 2020. She eliminated Fred Camarena, Jerry Savoie, and Joey Gladstone to win the race.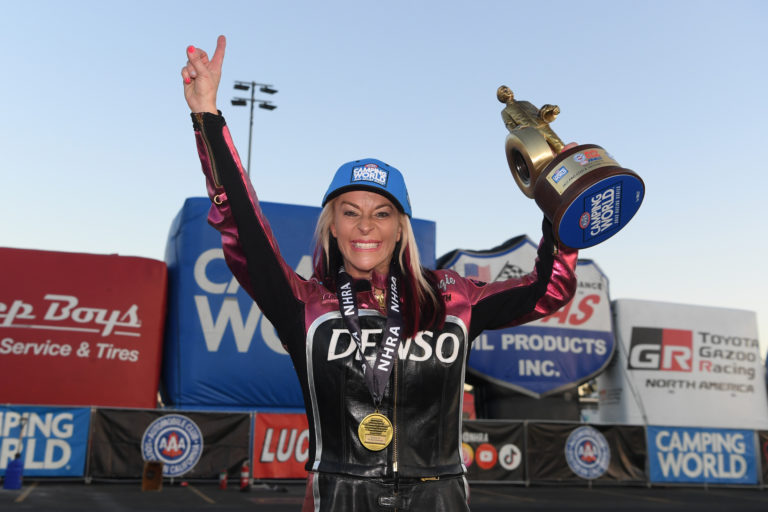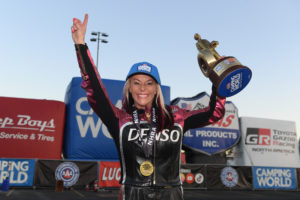 "I just needed to go out there and qualify well and just turn on win lights," A. Smith said. "I think my goal in qualifying was just to make straight runs and every run we were going faster and faster, so I knew I had a good bike going into race day. Everybody that we race are very tough competitors. I did my job and I won it on a holeshot (in the final round). I think I'd rather win on a holeshot over anything. It's nice to outrun people but winning on a holeshot is pretty epic."
Final Pro Stock Motorcycle Championship Standings
Matt Smith, 2,610 points
Joey Gladstone, -82
Angie Smith, -91
Jerry Savoie, -178
Steve Johnson, -203
Angelle Sampey, -257
Eddie Krawiec, -304
Marc Ingwersen, -326
Karen Stoffer, -357
Ryan Oehler, -381
Pro Stock Motorcycle Results following Pomona
Angie Smith
Joey Gladstone
Matt Smith
Steve Johnson
Angelle Sampey
Jerry Savoie
Karen Stoffer
Marc Ingwersen
Ryan Oehler
Gaige Herrera
Chris Bostick
Hector Arana Jr
Freddie Camarena
Michael Phillips
Kelly Clontz
Katie Justice