For a preacher, Joe Nelms found himself in a real pickle.
Nelms was the pastor tasked to deliver the pre-race invocation prior to the Xfinity Series 2011 Federated Auto Parts 300 at Nashville Superspeedway, something he was familiar with as he had done it three previous times. This time, however, would have a far more memorable outcome.
It was July 22, 2011, the day before the race. Though Nelms had performed thousands of prayers during his (at the time) 14 years in the ministry, this man of cloth didn't have a clue as to what he was going to say when the microphone turned over to him with thousands of race fans at the track bowing their heads and millions watching live on television.
So, with one day to spare, he phoned a friend for advice. That turned out to be a good idea for Nelms, as the friend suggested the obvious: If the preacher was going to give thanks to the almighty, he should thank God for racing.
"I thought that was a great idea," said Nelms.
Twenty-four hours later, the rest of the world thought so, too. But what the world didn't know was what made Nelms the man he was outside the 53 seconds televised on ESPN.
Nelms grew up in Tunnel Hill, Georgia, about 100 miles north of Atlanta. Graduating from Northwest Whitfield High School, he married wife Lisa, who now have three kids: Eli, Emma, and Keenan. He's 6 feet 2 inches tall with a thick southern accent. He has a booming voice of God during his sermons but also has a comforting voice, too.
Preaching didn't necessarily run in the family, Nelms says. Though his grandfather was a preacher, he passed away before Nelms was born. His father was a deacon. But Nelms received the call to preach from God in 1997 at age 21.
He spent his early days serving as a youth pastor at his home church in Georgia. He would also fill in at other churches without a pastor. Fast-forwarding to 2020, Nelms now has a church of his own, Family Baptist Church, in Lebanon, Tennessee, for the last 12 years. His oldest son Eli, 17, has followed his father's footsteps and has taken interest in preaching.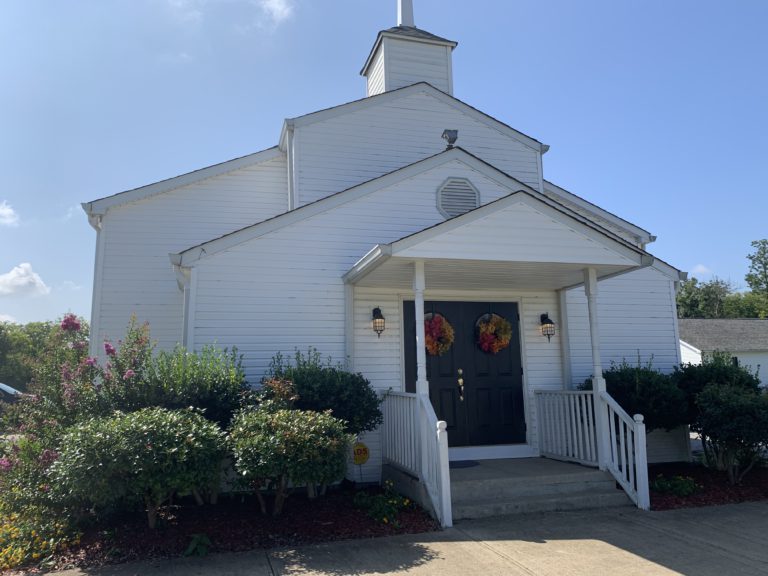 Preaching, however, wasn't Nelms only interest. He developed a love for racing after his father introduced him to NASCAR on television. The two would attend dirt track races at North Georgia Speedway in nearby Chatsworth, Georgia, and his favorite driver, Bill Elliott, was from nearby Dawsonville.
"Being from Tunnel Hill in Northwest Georgia, Bill Elliott was from Northeast Georgia, so he was the closest driver to us," Nelms said.
So, with fandom in one back pocket and a unique prayer in the other, Nelms found himself at Nashville Superspeedway with the opportunity to give the pre-race prayer. With his wife and kids in tow, he arrived at the speedway hours early to attend the day's practices and qualifying sessions. His invitation to pray came with the chance to go behind the scenes, where most race fans don't get to visit. He was going to make the best of the opportunity.
Prior to the opportunity to pray, Nelms said he didn't have a current favorite driver, so as he and his family were enjoying the pre-race excitement behind pit row, he started to search for one. Austin Dillon, who in 2011 had been driving full-time in NASCAR for just two years, became Nelms' choice for a few reasons: He raced the No. 3 that year in the Camping World Truck Series, (Dale Earnhardt's famed number) and Dillon was sponsored by Bass Pro Shops.
In addition to being a preacher, Nelms loves to hit the lake in hope of bringing in a haul of crappie fish. He also enjoys hunting for turkey and deer. But it was a weekly Bible verse that was taped to the dashboard of Dillon's truck that sealed the deal for the preacher.
"We'll root for him," Nelms told his family.
As chance, or providence, would have it, Dillon was leaving the media center as Nelms and his family walked into the room filled with racing writers and broadcasters. Nelms introduced himself and his family. And to their delight, Dillon stayed to talk for 15 minutes and signed autographs for the family.
Several hours later, Dillon noticed the Nelms family in the media center area again.
"Hey Eli, are you having fun?" Dillon called out to Nelms' son, who was eight at the time. The pastor was flabbergasted that Dillon stopped to acknowledge his newest fans and remembered his son's name.
"He took another minute with him and I'm thinking you've already given us your time," Nelms said. "It's not even rude for him not to at this point because he's at work."
So, the day was memorable even before Nelms began to pray. After the prayer, well, life became even more memorable.
The invocation that stirred the racing world was not rehearsed or written down. That's an important part of the story of that day, he emphasized. His friend told him to thank God for racing and Nelms took those instructions to heart.
"Prayers are talking to God, they aren't meant to be rehearsed or recited. It's just talking," he said.
This is how it went down at 3:30 p.m. when Nelms was led to his position on the stage located at the start/finish line of the race surface, right in the center of the grandstands filled with happy fans eager for the event to begin.
The announcer is heard, "We ask that you remain standing for our invocation delivered tonight by Joe Nelms, pastor of Family Baptist Church in Lebanon, Tennessee." The drivers bowed their heads; in the stands, people take off their hats and bow. Nelms grabs the microphone and closed his eyes.
"Heavenly father, we thank you tonight for all your blessings you said in all things, give thanks," he says. "So, we want to thank you for these mighty machines that you've brought before us. Thank you for the Dodges and the Toyotas. Thank you for the Fords, and most of all we thank you for Roush and Yates (Engines) partnering, to give us the power that we see before us tonight."
Nelms is warming up by this point. "Thank you for GM Performance technology and RO7 engines. Thank you for Sunoco racing fuel and Goodyear tires that bring performance and power to the track. Lord, I want to thank you for my smokin' hot wife tonight Lisa, my two children Eli and Emma or as we like to call them the Little E's".
The camera pans to pit road as drivers and teams grin from ear-to-ear ear and the crowd erupts in cheers.
"Lord I pray and bless the drivers and use them tonight. May them put on a performance worthy of this great track." Nelms closes his prayer with a reference to Darrell Waltrip, who used the following phrase at the start of every race. "In Jesus name, Boogity, Boogity, Boogity, Amen."
The prayer ends, and the crowd goes wild. The TV camera switches to the singer of the National Anthem, standing next to Nelms, who appears to try hard not to smirk. Nelms shrugs it off. He just talked to God, something he does every day, and does not think a second about what he had said.
He and family are not even able to stay to watch the race. After the invocation, the Nelms family left for a beach vacation.
Somewhere traveling through Alabama that night on his way to Florida, he got a call from a friend who told him he was on ESPN. Nelms wasn't impressed.
"I'm like well yeah, they're at the track recording the thing," he said.
The friend exclaimed: "No, you're on the highlights."
When the family arrived at their stop for the night, he turned on the TV in the hotel room to various news networks and he was everywhere. Soon, his phone was ringing with reporters tracking him down for interviews.
"I just received three or four calls that night, and was expecting life to be back to normal the next morning," he said.
When they reached the beaches of Destin, Florida, the next day, Nelms said he only saw the beach for about two hours during his week-long visit.
"I stayed in the room and completed more than 200 interviews that week. Because I wasn't expecting or used to anything like that, I accidentally scheduled two or three interviews that overlapped. I couldn't keep up with it."
The only time that the phone did not ring was when he accidentally dropped his phone in the Gulf of Mexico, forcing a trip to purchase a new one.
The SPEED Channel even wanted a live in-person interview at the next week's event in Indianapolis.
"[They] called me and flew me up to Indianapolis for interviews, so I flew from Pensacola and the family drove back to Nashville," he said.
Even months after the race, Nelms received interview requests. A video uploaded to YouTube of his prayer was watched by millions, currently sitting at more than 3.4 million views. A song was even written about the prayer, where it has been viewed 7.2 million times.
He later became acquainted with Dillon's grandfather and team owner Richard Childress, where he spoke at the company Christmas Party. Today, Nelms delivers invocations weekly at the Nashville Fairgrounds Speedway.
In the year or so after the prayer, Nelms continued to be recognized in the public. In 2012, Nelms and two of his best friends Bud and John (who are also preachers) went to a race weekend at Atlanta Motor Speedway. The three had secured hot passes, which allow access to the garage and pit road for the weekend.
"We drive down to Atlanta and find out that the credential trailer is closed," he said. "I had been to a few races by this point and people start knowing who I am. And the worker told me, 'There's next to nothing that I can do for you.'"
Nelms was able to get a pass that allowed him entry into the infield, but would not grant access to pit road or the garage.
The three went in and parked with no credentials and only blank name tags. They decided to push their luck and talk with a gate guard.
"Preacher, preacher," the gate guard exclaimed. "She asks if I can help you with anything." Nelms explained that he and his friends' credentials were in the closed credential office.
"She said, 'Come with me, where do you need to go?'" he said. "Take us to Ty Dillon's hauler, with the worst-case scenario we'll be able to watch the race from the lounge in the hauler. I walk in the hauler and start making myself at home and my two friends are scared to death, they ain't never been to anything like this."
In the hauler, Nelms is greeted by Max Papis, a Driver Coach and Business Advisor for the Dillon brothers, who then escorts the three around the garage and pit road and eventually to driver introductions.
"If anyone asks you, we're family. We're cousins," Papis said in his Italian accent.
Ty Dillon ended up scoring his first Truck Series win at that Atlanta event, and Papis escorted the group Nelms and his friends to Victory Lane.
"That was so much fun," friend Bud said afterwards.
"I said you don't have a clue," Nelms told him. "The odds of us being at the racetrack with the guy who won are slim to none."
Earlier this year, owners of the Nashville Superspeedway, which hasn't hosted a NASCAR national series race since 2011, announced that racing would be returning the track located about 30 miles east of Nashville in 2021. It will be the first time the track hosts the premier Cup Series.
With nothing but positive moments at the racetrack, Nelms said if a track ever wants him to pray again, he's ready. He understands, as far as prayers go, his 2011 invocation set the bar pretty high, but he's up for the challenge.
"I'm told I'll be doing it again and I just can't wait," he said.
After all, it's just talking to God, something preachers do every day.
Editor's Note: Joe Nelms announced on Twitter that he will not be giving the invocation at Nashville in June 2021.