By Seth Eggert, Staff Writer
Monday Night Racing's return to iRacing's Legacy Phoenix Raceway saw Nick Sanchez put on a dominant performance.
Slicing through the Field
The Rev Racing driver only pitted for tires once under the first caution. Sanchez then put on a masterclass, easily slicing through the field in his unsponsored, virtual No. 96 Street Stock. The 19-year-old worked his way back to the lead in 20 laps. Once back in the lead, Sanchez briefly lost the top spot to Anthony Alfredo and Rajah Caruth.
NASCAR Xfinity Series drivers Ryan Vargas, and Will Rodgers joined their compatriot Alfredo as well as both NASCAR Cup Series driver Garrett Smithley and Rev Racing's Caruth in challenging Sanchez. While the five drivers traded paint with each other and the race leader, the Miami, FL native cruised two car lengths ahead of his competitors.
Overtime
Two late cautions, one for an incident with Steven Ellis, and the other for Busch, Devon Henry, Stefan Wilson and others forced the race into overtime. On the final restart, Sanchez easily cleared Smithley before turn one.
However, contact between Alfredo and Vargas caused a major accident on the backstretch. In total 23 cars were swept up in the biggest incident of the night. Chris Wilner, Seth Eggert, and Ron Capps were the only drivers behind the initial incident to emerge unscathed. All three drivers did their best Days of Thunder impression through the incident.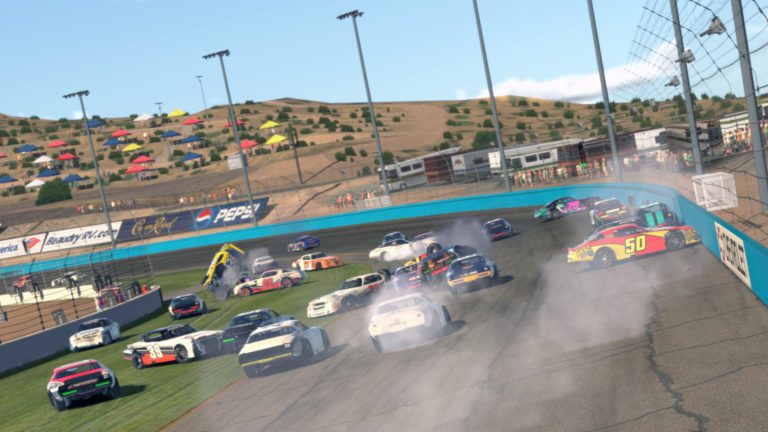 Meanwhile, race leader Sanchez, Caruth, Rodgers and Smithley were left to battle it out. The ARCA Menards Series East driver held a two car-length lead off turn four. Greg Stumpff lost control of his damaged car and wiped out those behind Sanchez.
"This is probably my first actual eSports win that was broadcast," admitted Sanchez. "It's a cool feeling. I usually wreck out of these before halfway.
"Honestly it was all about breaking the draft. When I would pass Garrett on the inside, I would make sure I'd hold him up enough for my teammates, Ryan, Will, and Rajah. While they fought, I could break the draft to check out a little. Once I saw Will get inside of Garrett and they battled, the nerves went away because Will races me pretty clean."
Notable Finishers
After the turn four incident, race control reverted back to the rulebook, awarding second to Rodgers with Smithley, Caruth, and Matthew Stallknecht completing the top-five. Gary Sexton, Wilner, Eggert, Capps, and Brandon Brown rounded out the top-10.
2000 NASCAR Xfinity Series champion Jeff Green finished 14th. Motocross legend Chad Reed limped to the flag in 15th. Motor Racing Network's Dillon Welch was 16th. NASCAR driver Robby Lyons took the checkered flag in 18th.
NTT IndyCar driver Wilson limped to the line in 22nd. Last week's winner and Xfinity driver Preston Pardus came home 25th with Alfredo and Vargas in 28th and 34th respectively. Busch was out of the race in 36th after his late race crash, as was NASCAR Hall of Famer Bobby Labonte in 40th.
Monday Night Racing cofounders Paul Sutton and Ford Martin finished the Toby Christie 120 in 21st and 37th after respective incidents. Steve Auffant was the hard charger of the race, gaining 27 positions to finish 13th.
Mid-Race Battles
Throughout the race, the leaders battled nose-to-tail, side-by-side. Vargas opted to run the entirety of the 120km scheduled distance on one set of tires. Both he and Sanchez were still able to battle with their competitors despite having some of the oldest tires on track.
The mid-race battles took place throughout the field. Some of the hardest fighting was for 15th through 20th between Ellis, Eggert, Maxwell Kennon, Mark Rebilas, Drew Welker, Brett Baldeck and others.
The Finish
1. Nick Sanchez [5], 2. Will Rodgers [11], 3. Garrett Smithley [1], 4. Rajah Caruth [15], 5. Matthew Stallknecht [10], 6. Gary Sexton [7], 7. Chris Wilner [24], 8. Seth Eggert [26], 9. Ron Capps [28], 10. Brandon Brown [22], 11. Nick DeGroot [17], 12. Noah Lewis [27], 13. Steve Auffant [40], 14. Jeff Green [9], 15. Chad Reed [34], 16. Dillon Welch [21], 17. Covy Moore [31], 18. Robby Lyons [13], 19. Devon Henry [8], 20. Mark Rebilas [35], 21. Paul Sutton [38], 22. Stefan Wilson [6], 23. Michael Massie [37], 24. Jesse Vaughan [23], 25. Preston Pardus [4], 26. Josh Slate [25], 27. Drew Welker [32], 28. Anthony Alfredo [2], 29. Brett Baldeck [39], 30. Greg Stumpff [30], 31. Garrett Miller [33], 32. Jason Keffer [29], 33. DJ Cummings [14], 34. Ryan Vargas [18], 35. Gabriel Wood [19], 36. Kyle Busch [16], 37. Ford Martin [12], 38. Maxwell Kennon [3], 39. Steven Ellis [36], 40. Bobby Labonte [20].
Lead Changes: 11 among seven drivers.
Lap Leader(s): Garrett Smithley 1, Anthony Alfredo 2-9, Nick Sanchez 10-14, Preston Pardus 15-22, Jeff Green 23-29, Ryan Vargas 30-33, Nick Sanchez 34-52, Anthony Alfredo 53-54, Nick Sanchez 55, Anthony Alfredo 56, Rajah Caruth 57-58, Nick Sanchez 59-82.
Laps Led: Nick Sanchez 48, Anthony Alfredo 11, Preston Pardus 9, Jeff Green 7, Ryan Vargas 4, Rajah Caruth 2, Garrett Smithley 1.
Hard Charger: Steve Auffant (+27).
Tough Break: Maxwell Kennon (-35).
Cautions: Seven for 27 Laps.
Margin of Victory: 0.746 seconds.
Time of Race: 58 minutes, 4.508 seconds.
Average Speed: 84.718 MPH.
Pole Winner: Garrett Smithley, 32.051 seconds (112.321 MPH).
Fastest Lap: DJ Cummings, Lap 56, 31.934 seconds (112.733 MPH).
Photo by Seth Eggert / Kickin' the Tires.