PENSACOLA, Fla. – IndyCar legend and four-time Indy 500 winner Helio Castroneves wasn't even supposed to be at the season-opening Camping World SRX Racing Series event at Five Flags Speedway but at the last minute he got in touch with race officials and let them know he was available to race if they could get a car ready for him.
The short version is that SRX officials and crew members made it happen and Castroneves booked a ticket on a commercial flight to Pensacola, went to the track, jumped in the car and won the race.
The SRX Racing Series was created by three-time NASCAR champion and former IndyCar driver Tony Stewart. The series holds six races through the summer months broadcast live on CBS. Drivers face off against each other in equally-prepared cars at some of the best, hand-picked short tracks around the country.
"I pulled every string, every little sweat I had there," he said, after taking the checkered flag and celebrating his win by climbing the catch fence separating the track from the grandstands. "What a great series man. It was so much fun. Thanks, SRX for giving me the opportunity. I wasn't even supposed to be here today and lucky I end up getting the trophy, so, this shows the series is amazing and I am so happy, so happy."
WINNER! @IndyCar legend @h3lio celebrates his win in the season opening @SRXracing event at @FiveFlagsSpeed – here's what he said to @KicknTheTires after the race! pic.twitter.com/cD6wOeYSNg

— Jerry Jordan (@JerryJordan_KTT) June 19, 2022
With high humidity and temperatures hitting 100 degrees in the shade, drivers were extremely hot behind the wheel. Between the second heat race, which Castroneves won, and the feature event, he was close to collapsing from getting overheated. He sat on the ground with a wet towel over his head, putting ice into his fire suit. After a few minutes, he stood up and was ready to go back out on the track.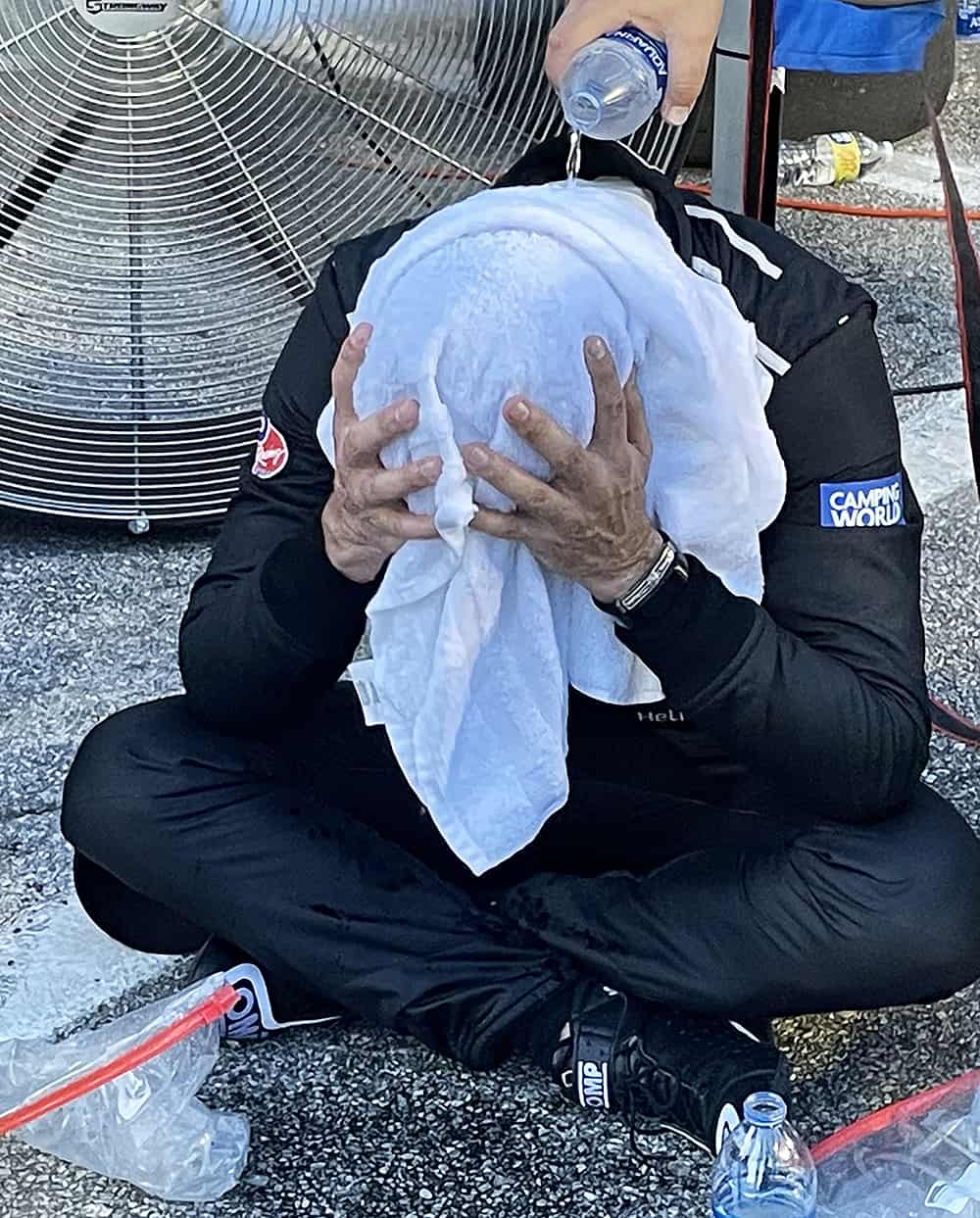 "I am good, I am good," Castroneves told Kickin' the Tires. "They told me to go one more lap under yellow and I was like, "no" because the yellows were really, really hot. There was no air coming in. At least, when you were going fast, there was some wind coming in. But, yeah, let me tell you, man, back there, there is nothing you can do. It is one lane groove, just stay on inside. Got some bumps from Waltrip and then started coming out of the corners pretty strong. The car was good. Tony really did a good job from practice because I was really understeering and now I can carry a little bit more speed into the corner. We got some new tires now but we going to be in the middle of the pack, now.
"It is one of the hottest days that I have been with SRX. Yeah, it's a hundred (degrees) here outside and inside the car, it is probably 120, so it's been interesting for sure. Now, I need to out here and win this thing."
Castroneves spoke those words at 8:04 p.m. CST and an hour later he was celebrating in Victory Lane after holding off track favorite, Bubba Pollard, and former NASCAR driver Ryan Newman.
Pollard has multiple wins at Five Flags Speedway and came from the back of the field after a tire issue to – almost – win the race. Known as an aggressive driver, Pollard lived up to his reputation, roughing up Newman in the closing laps to get past him.
"I told him afterward, 'you must not plan on racing with me anymore' because definitely, I owe him (Pollard) one for that," Newman said. "Ultimately, he just ran me up into the wall on the last lap and I could have hooked him left and stuck his nose in the wall but that wasn't the point. I didn't know until the last second if he was going to finish that last little bit going to the wall and he did but we still finish third. We were probably going to finish third anyway, but either way, it was a good hard race and I am sure it was fun for the fans to watch, seeing us run side-by-side. It doesn't happen a whole lot from what I hear, here at Pensacola."
Pollard said he had fun and he understands that Newman has a target on his bumper. However, the Pensacola event will likely be Pollard's last of the six-race SRX season as he was one of the special "invite" or "local favorites" chosen to run in the series.
"I squeezed him over here pretty good off Turn 2 that last lap," Pollard said. "I was like 'what the hell, I might as well give it a shot.' You know, we raced side-by-side clean for a lot of laps before that, and really all night. Hey, I won't race against him again, so I can use him up a little bit."
Newman said Pollard was probably one of the best drivers on the track during the SRX race, which Pollard said was because he has a lot of laps there. The Georgia native lives in Senoia and owns a local racetrack there. In fact, the track usually hosts events on Saturday nights but the family closed up shop and went to Pensacola. Even the track staff tagged along to support Pollard in his SRX debut against Castroneves, Newman, Paul Tracy, Bill Elliott, Marco Andretti, Michael Waltrip, Kenny Frances Jr., Ryan Hunter-Reay, Greg Biffle, Bobby Labonte, Tony Kanaan and series founder, Tony Stewart.
"It was a lot of fun racing," Pollard said. "I can't thank everyone enough for this opportunity. This is a once-in-a-lifetime deal I feel like. We may not ever get the opportunity and race in front of this crowd with SRX and do this deal, so it was definitely worth it. That racetrack will be there for years to come and this deal, I wanted everyone to experience because they're the ones that really got me here. Everybody that works hard at our business, so we can go do this, our racetracks and my family over the years, that's what it's all about."