By Justin Schuoler, Staff Writer
PALA, CA – Imagine entering your first national race of the Lucas Oil Pro Motocross Championship. The excitement the night before prevents sleep, and the stress in the day continues to build.
The gate drop plays in your head over and over again, with every possible situation happening right before your eyes. Wandering through wondering each possible "what if" scenario from the misfortunes to the heights of winning.
We've seen it with some of the best riders early in their career. As they step up to the challenge, they hold their head high in confidence, low in focus and level in endurance. That humble, competitive character tends to lead to a successful two-wheel career.
For Maximus Vohland, he made it seem natural putting those pieces together in his impressive debut in The Dirt Bike Kidz Fox Raceway I National on Saturday.
He stunned the crowd by out-battling the field to grab the Moto 1 holeshot and lead the opening eight laps. He left the field scratching their heads wondering who it was that took them to school. Riders like Justin Cooper, Jeremy Martin, Michael Mosiman, the Lawrence brothers and many others all had to read the back of his jersey to quickly learn the name of Vohland. The son of Tallon Vohland was bringing his family name back into competition.
That wasn't all for the Red Bull KTM rookie. He gapped the field by over eight seconds at one point. The unfortunate tragedy of a mechanical failure that started on Lap 8 dropped him through the field until the bike eventually retired two laps later. But he held his head high in confidence, low in focus and level in endurance to focus on performing well in Moto 2.
"Two laps before Martin got me, I could start feeling it slowing down," Vohland shared after his DNF in Moto 1. "It started making a weird noise, so I assumed it was getting ready to go. I was just trying to baby it in and get the finish at least but ended up quitting on me which was unfortunate. But for my first race, I hole-shotted and I led a good amount of laps, so I'm still happy and just going to stay positive for this next moto."
He did exactly that, but with similar misfortunes.
Cooper and Martin beat the 17-year old to the holeshot line, but running third was able to keep close with the defending Monster Energy AMA Supercross 250 West champion and the two-time Pro Motocross champion, respectively. It was a four-way battle between them and eventual overall winner Jett Lawrence as they stayed in close proximity in the opening minutes.
But Lap 8 continued to be his nemesis. Coming back down the hill, he made a swift pass on RJ Hampshire. However, as he cleared the pass to swing out back to the racing line, Hampshire made an aggressive move to get back alongside the rookie. Hampshire hit the back corner of Vohland, knocking them both down. Hampshire dropped back to eighth and Vohland to 12th.
"I don't really know what happened," Vohland said when trying to recall the crash. "That inside line was blowing out to the outside, and I heard him shoot down the outside but I was already committed to that line. In my eyes, I was still ahead of him when I felt a big hit into the back. It put me back to like 13th, but I was able to get back up and fight back to seventh."
This time, the engine held together and Vohland made his comeback.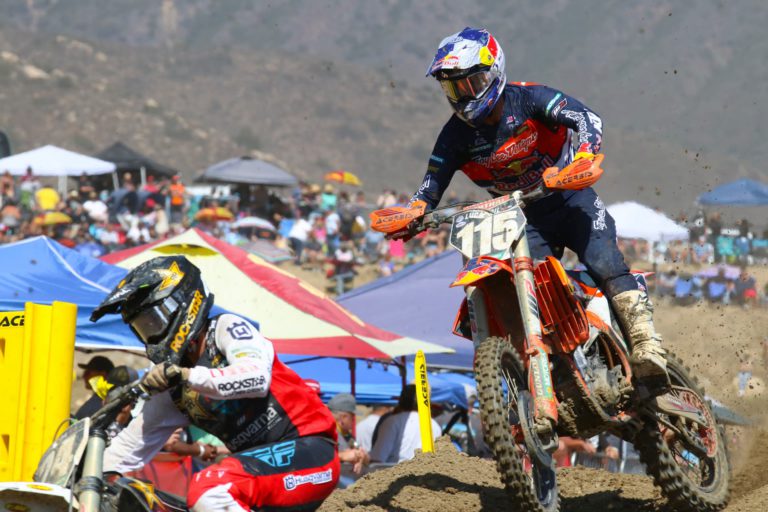 With 15 minutes left on the clock, Vohland clawed his way through the field. He caught and passed Hampshire once again with two laps remaining, and eventually ended Moto 2 in the seventh position. Mechanics and crews all around gave him high-fives and handshakes, while his entire pit crew came around with hugs in celebration. He even got some thumbs up and head nods from his 450 KTM teammates as they were getting ready at the gate for their final moto of the day: 2016 Pro Motocross 250 Rookie of the Year Chase Sexton, and this year's 450 Supercross champion, Cooper Webb. When the helmet came off, his smile was bigger than the mud-plastered across his face.
"Getting a 39th gate pick after a bike failure (in Moto 1) and being able to pull a top-three start was unbelievable," said Vohland. "Man, I rode my heart out and had a lot of diversity today. I was able to push through and get a seventh that moto. Overall, I'm just so stoked."
Most sponsors, teams and fans look at the podium, the top-five and where past champions and race winners finish. But when you see the bigger picture with Vohland, his moto results and the overall finish simply clouds his impressive Motocross National debut. After Moto 2, the entire KTM tent came over to congratulate the 2019 Youth Rider of the Year. Motosport Director of KTM and Husqvarna North America Roger De Coster – who also holds a hall of fame resume himself – saw a unique addition for his team to bring the next generation of potential greats.
"I believe that was someone special," said De Coster, a five-time Motocross Grand Prix Trans-AMA Champion. "I've been watching what he's been doing in the amateur stuff. I liked the style of the way he was doing things, and he proved it today in his first nationals, leading the first 20 minutes. Unfortunately, we had a problem with the engine and I'm very sorry for that because he may have been able to win that moto. That would have been quite fantastic.
"He fought back and finished seventh (in Moto 2), and I'm really proud of how he behaves, like how he puts in the effort and not quitting when everything was against him today. Really proud of him."
For Vohland, his goals stay simple and humble as he continues to check off one race at a time in his 2021 rookie season.
"Overall, it was a great rookie day," Vohland grinned. "The difference is that there are just so many tough guys. I've learned so much just by riding behind the top dudes today, this morning and in that first moto behind Jeremy before my bike quit. These guys are tough, they don't quit but I did great.
"I'm riding great right now. It's my rookie season, so I've got plenty of racing insight for my whole career. Just keep chugging along and see where I end up. Keep doing what I'm doing."
And just like any Motocross family with a spectacular debut, his dad was "quite (expletive) happy."
Cover photo by Rachel Schuoler / Kickin' the Tires