Athletes Honor Bill McIntyre and Other WWII Vets During Special Media Day Experience
Ellenton, Fla., (March 30, 2021) — The word "hero" is used freely in sports, but at the 2019 and 2020 Supercross races at AT&T Stadium in Arlington, Texas, some of the real-deal heroes were honored with stadium-floor introductions of men who left indelible footprints in World War II.
But in 2021 the budding tradition looked to be in jeopardy. Strict COVID-19 protocols kept the athletes, teams, and event group isolated from the spectators and visitors, and the stadium was adhering to an already agreed upon reduced-capacity requirement. Countless other traditions have been annulled over the past 12 months, so there couldn't be a podium stage presentation of the WWII veterans on race day in 2021… But how do you postpone a tribute to a group of men who are not long in this free world they made possible? Of the seven heroes honored in 2020, five have left us; the greatest generation is quickly disappearing.
A year was too long to wait, so it was carefully arranged for four bold souls to come to AT&T Stadium and be honored by the top athletes in the sport while getting a VIP view of the racers taking to the track for the first time during a special media day experience. On the Friday before the opening round of the Arlington triple-header the stadium was vacant but for the racers, teams, track crew, and handpicked sports reporters and photographers.
Bill McIntyre (100 years old), Barney Baker (95), Al Chatwin (95), and Cliff Stump (96) viewed the track from the concourse as the top racers gave a parade lap with waves and salutes to honor these four men who do not live in the spotlight. The veterans had each brought their own small American flag and waved it with passion. "…they're waving their flags like little kids, but you know what? They're not little kids, they're men. You know what I'm saying? These are veterans and they just enjoy seeing what they saw," was how Bob Sparenberg called it. Bob started the tradition by bringing out one WWII veteran to the Arlington Supercross in 2018 to meet racing legend, Roger DeCoster, whose father had been a motorcycle dispatcher in Belgium during the war. That led to Roll-Call.org extending the race invite to its WWII veterans each year since.
"These guys have stories, believe me, good stories. They're the cream of the crop." Bob Sparenberg spends time with these men, partially through monthly get togethers. "Bill McIntyre, the Air Corpsman, he's 100 years old, that was his first time out of the house in one year, and it blew his mind. He was waving his flag, buddy, if you see the video, see the guy waving his flag? He was thrilled to be out… Then you've got Barney over there, the tank driver guy, who fell out of his tank, he's got quite a story. …Al, super nice guy. Navy guy [who served in the Pacific Theatre, stationed in Guam] …They were just thrilled to be out, you could see that on the video…. I like to see 'em get recognized for the sacrifices they made. And I think this is one of the problems we're facing now in this era is that people have forgotten the price that our freedom cost these men. …that's why every chance I get I'll get as many veterans to that doggone Supercross as I can and let people know, 'Hey, buddy, you're here because they were there.'"
The Supercross athletes finished their waves and got back to the business of riding. The moment happened, and the moment passed, as all do, both the good and the bad. The four heroes left the stadium as the racers finished up their track preview, the teams worked on last minute preparations, and life went on as we all know it.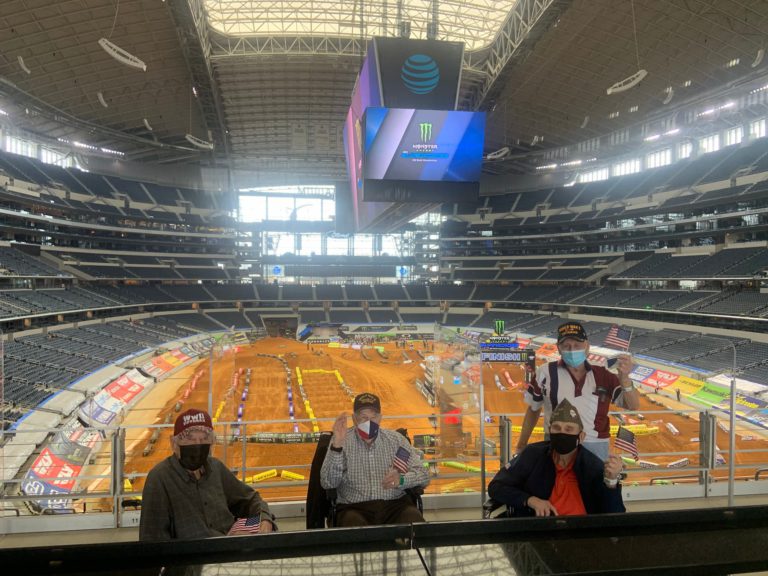 But one of those four men wanted more. He wanted to go to the Saturday night race. Cliff Stump had seen Supercross on television, though he'd never ridden a motorcycle himself through his 96 years. "No, I don't have motorcycle riding [experience]. As a matter of fact, I've always been kinda scared of motorcycles. …the ones that like motorcycles can ride 'em, I won't," said a man who, on June 4, 1944 boarded a military glider of the 82 Airborne Division and flew into Normandy… That's correct, on June 4th, two days prior to the invasion on the morning of June 6th, 1944.
"Well, we started on June the fourth. See, we went in behind the lines. Our job was to cut off all German troops coming up for reinforcements. And that was our job, to cut all troops off." From Normandy on June the fourth, 1944, to Berlin on May the eighth, 1945, Victory in Europe Day, Cliff Stump fought through Europe.
Seventy-six years later, less a couple months, on March 13, 2021 Cliff Stump found himself in a box suite at his first Supercross event. The stadium was at 15% capacity, the maximum allowed, when the lights went down for opening ceremonies.
While the National Anthem was being performed the American flag was presented… Texas style! While the Dyess Air Force Base Honor Guard presented the American flag on the track's start straight, four Airmen from the Special Warfare Training Wing in San Antonio, Texas escorted another colossal American flag straight down on ropes from the center of AT&T Stadium's jumbotron – 90 feet to the stadium floor where the flag was received by The TCU ROTC Honor Guard Cadets.
A face appeared on that giant sports screen that dominates the center area of the indoor stadium. It was a face Cliff Stump has seen all his life, but the crowd's eyes were falling upon it for the first time.
Cliff Stump himself described it, "And then all the people – just kinda silence went over the whole stadium. They all got up and turned around, and you know that was the biggest thrill I've ever had in my life, having people stand up and really, you know, really nicely, I mean, it made me feel real good… it was just, you know, seeing your picture up there on the big screen and then people actually getting up out of their seats and cheering and, you know, clapping and waving. You know, it's just, boy, makes pimples run through your body… That's going to be an experience I'll never ever forget."
The evening after that? "I enjoyed it… I really thought there were going to be more spinouts and stuff like that, but you know I only saw one during that whole race. And I thought that was real good because where they took off from, the starting point, I think they probably went oh, probably 30 or 40 yards [then] they had to make a really, a left hand sharp turn, and boy I looked for a lot of the pileups because they were still in a good bunch, you know, when they still hit that corner. …those guys, they're good, boy, they went around that corner not a single accident."
Cliff's friend Lorna Paden was with him, "We had so much fun, and Cliff, he can pick [out] the winners. He wasn't missing a beat… I might get lost a little and then he'd point 'em out, 'Oh, there they are,' He wasn't missing a lick, it was great."
Feld Entertainment was proud to roll out the red carpet for these genuine heroes and sends a special thank you for the efforts of everyone at Roll-Call.org for making this experience happen for the Fort Worth-based veterans and for what they do to help these men of the Greatest Generation stay in touch, socialize, go on adventures, and get the recognition they deserve.
Photo Credit: Vital MX and Feld Entertainment, Inc.