By Seth Eggert, Associate Editor
The defending eNASCAR Coca-Cola iRacing Series champion Casey Kirwan found another way to imitate real-life racing, winning in a damaged car while throwing back to Tony Stewart.
Recreating Another Iconic Finish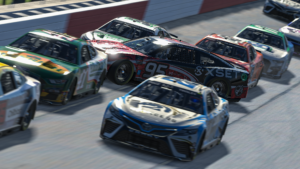 Under 10 laps into the 120-lap race at the virtual Darlington Raceway, Kirwan's No. 95 XSET Chevrolet Camaro ZL1 was turned by Femi Olatunbosun. A close call by Dylan Duval forced the Talladega winner to check up. Olatunbosun tried to take advantage, shooting for a gap between Kirwan and Daniel Faulkingham. The gap closed and Kirwan was turned into Faulkingham and the outside wall, receiving minimal damage.
Coincidentally, the 2011 car that Kirwan was honoring was Stewart's No. 14 Office Depot Chevrolet Impala from the season finale at Homestead-Miami Speedway. In that race Stewart picked up minor damage early after hitting debris. Stewart went on to win the race with a late-race pass on Carl Edwards and won the NASCAR Cup Series championship via a tiebreaker.
"That's crazy, I didn't even think about (the similarities between Stewart's race and mine)," Kirwan admitted. "We started 14th, and we were talking about it on the stream by the way, that it's got to mean something. I didn't think about that with the right front damage. That's crazy to think about.
"It's super special, that's my favorite paint scheme that I've ever ran. We're only going to run it once. To win in it in its' one start, my 100th start, that's crazy. I didn't think about it going in, but it's crazy to think about for sure."
Taking the Lead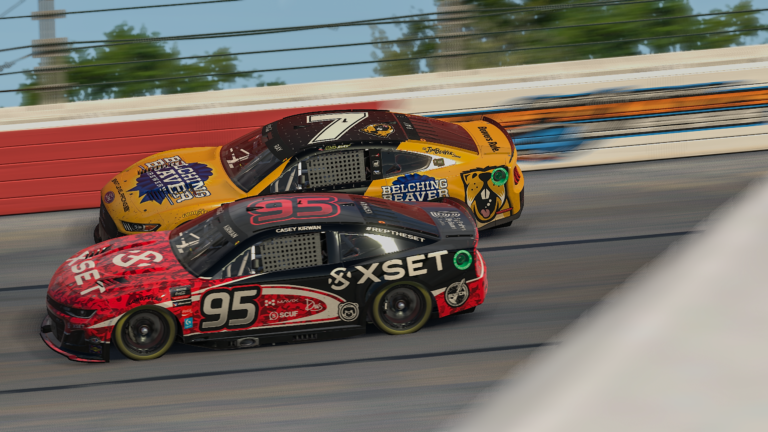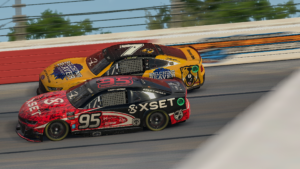 Like Stewart, Kirwan made a late-race pass for the win. He worked his way by Malik Ray with about 15 laps to go to take the top spot. Both Nick Ottinger and Michael Conti took an additional five laps to get by the Jim Beaver eSports driver. That amount of time proved to be the difference.
Kirwan, making his 100th career eNASCAR start, cruised to the checkered flag with 0.325 seconds to spare over Ottinger. Conti finished third, polesitter Graham Bowlin fourth, and Ray rounded out the top-five after running the final 25 laps on old tires. Garrett Manes, Matt Bussa, Bobby Zalenski, Tucker Minter, and Jordy Lopez completed the top-10.
Tire Strategy
Ultimately the race was slowed three times by cautions, including the early caution Kirwan was involved in. High tire wear saw most of the field hit pit road before the halfway point of the race. Ray, Ryan Luza, and others waited until about 45 laps to go to pit. That cycled Kirwan to the lead.
A late caution brought most of the field to pit road. Ray stayed out and held off Kirwan and others for about 10 laps to lead. After losing the lead, the South Carolinian fought hard to score a top-five finish.
Next for the eNASCAR Coca-Cola iRacing Series is the annual race at Charlotte Motor Speedway. The race at Charlotte is scheduled for Tuesday, May 30, at 9:00 p.m. and will be streamed live at enascar.com/live.
The results:
1. 95-Casey Kirwan [14], 2. 25-Nick Ottinger [6], 3. 8-Michael Conti [10], 4. 48-Graham Bowlin [1], 5. 7-Malik Ray [28], 6. 12-Garrett Manes [26], 7. 97-Matt Bussa [4], 8. 18-Bobby Zalenski [21], 9. 33-Tucker Minter [29], 10. 3-Jordy Lopez [11], 11. 10-Steven Wilson [2], 12. 11-Parker White [8], 13. 69-Collin Bowden [15], 14. 34-Allen Boes [23], 15. 46-Jimmy Mullis [39], 16. 16-Michael Cosey Jr. [19], 17. 17-Kaden Honeycutt [13], 18. 40-Dylan Ault [20], 19. 27-Cody Byus [5], 20. 45-Michael Guest [33], 21. 1-Darik Bourdeau [24], 22. 36-Brandon McKissic [22], 23. 20-Wyatt Tinsley [12], 24. 75-Zack Novak [31], 25. 23-Keegan Leahy [36], 26. 77-Ryan Doucette [32], 27. 43-Femi Olatunbosun [16], 28. 31-Derek Justis [37], 29. 2-Corey Vincent [35], 30. 66-Tyler Garey [18], 31. 4-Ryan Luza [38], 32. 15-Garrett Lowe [30], 33. 88-Kevin King [25], 34. 42-Kollin Keister [34], 35. 51-Donovan Strauss [17], 36. 6-Timmy Holmes [27], 37. 41-Dylan Duval [9], 38. 54-Daniel Faulkingham [3], 39. 55-Vicente Salas [7].
Lead Changes: 10 among nine drivers.
Lap Leader(s): Graham Bowlin 1-3, Matt Bussa 4-39, Nick Ottinger 40-57, Michael Conti 58, Jordy Lopez 59-63, Malik Ray 64-72, Ryan Luza 73-77, Casey Kirwan 78-94, Garrett Lowe 95-97, Malik Ray 98-105, Casey Kirwan 106-120.
Laps Led: Matt Bussa 36, Casey Kirwan 32, Nick Ottinger 18, Malik Ray 17, Jordy Lopez 5, Ryan Luza 5, Garrett Lowe 3, Graham Bowlin 3, Michael Conti 1.
Hard Charger(s): 46-Jimmy Mullis, Rise eSports (+24).
Rookie of the Race: 33-Tucker Minter, Team Dillon eSports, ninth.
Caution Flags: Three for 10 laps.
Margin of Victory: 0.325 seconds.
Time of Race: One hour, seven minutes, 54.481 seconds.
Average Speed: 144.831 MPH.
Pole Winner: 48-Graham Bowlin, Charlotte Phoenix, 28.842 seconds, 170.501 MPH.
Fastest Lap: 25-Nick Ottinger, William Byron eSports, Lap 110, 29.021 seconds, 169.450 MPH.