By Seth Eggert, Associate Editor
Defending eNASCAR Coca-Cola iRacing Series champion Casey Kirwan continued his style of dramatic finishes, winning The Biggie Bag $5.00 presented by Wendy's at Talladega Superspeedway in a photo finish.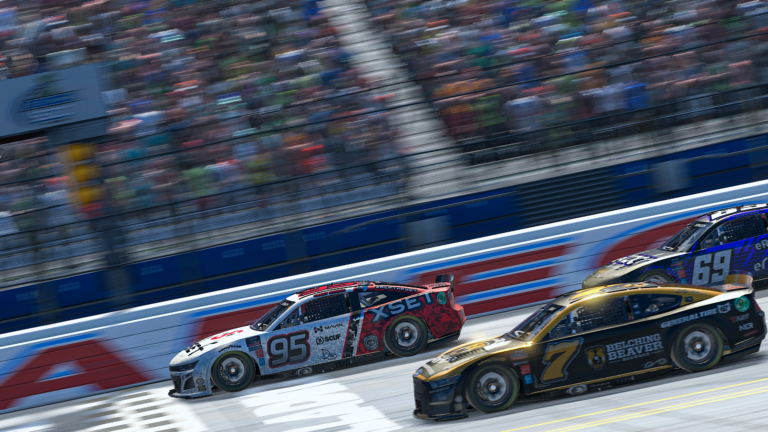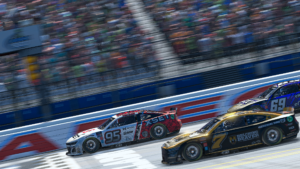 The annual trip for eNASCAR to Talladega featured stretches of green flag racing with the field two and three wide, sometimes venturing into four-wide territory. One part that allowed for such exciting racing was the series' use of a Fixed Setup in points paying competition for the first time. With everyone on the same setup, the playing field was leveled.
That level playing field allowed for 36 lead changes and also sparked several cautions with the current draft model on iRacing. One of those late-race cautions pushed the race into eNASCAR overtime.
Perennial superspeedway aces Malik Ray and Kollin Keister led the field on the restart. While the inside line faded away, Ray was pushed by Darik Bourdeau and Kaden Honeycutt. Though the field crashed behind them after the white flag waved, the race was on for the win.
Honeycutt dipped to the inside, but without help, faded back in line. On the inside, Graham Bowlin and Kirwan tandem drafted up to the lead trio. With no help, Honeycutt faded out of the picture. Bowlin then connected with Bourdeau, briefly hanging Kirwan out to dry in Turns 3 and 4.
With the field several car lengths behind, the win came down to those in the lead group. Bourdeau and Bowlin attempted to side-draft by Ray for the lead in the Tri-Oval. An ill-timed bump sent the duo spinning into the outside wall.
Just as it appeared that Ray was about to earn his first career eNASCAR victory, Kirwan made the move of a lifetime. Keeping the momentum, he drafted closer and closer to Ray. With a jerk of the wheel and a prayer, the XSET driver jumped to the outside with Collin Bowden coming about 10 MPH faster. The shot propelled Kirwan forward just enough to beat Ray to the line by 0.034 seconds.
"We got a real big run (while) I was pushing Graham there," Kirwan explained. "Once he got up to (Darik) and Malik there we got separated. I literally said entering the tri-oval 'that the only chance we've got is if they wreck.' Lo and behold they started wrecking and it worked out. I had the run on Malik. I don't think I was going to beat him to the line, it was going to be really close.
"I checked up (in my rearview mirror) and saw Bowden coming, turned hard right and prayed that I kept going straight. I got the shot of a lifetime from him there and we crossed the line first. It's crazy, I feel like I've been up front and in position to win many of these plate races now. It feels really good to finally win one, it's something that I've come to really enjoy."
Where did @CaseyKirwan23 come from?!?@MalikRayTTV does everything he can fighting to the finish, but Kirwan steals it at the line!! 🏁@Wendys | @CocaColaRacing | @NASCAR pic.twitter.com/jvqEVx38bC

— iRacing (@iRacing) April 19, 2023
The victory for Kirwan was the latest in a string of 'finishing in style.' At Talladega last season, Kirwan and Bobby Zalenski crashed across the line for the lead. At Pocono Raceway last season he created eNASCAR's Kurt Busch-Ricky Craven finish, beating 2019 champion Zack Novak to the win.
"It just happens," Kirwan admitted. "I'm pretty sure that all four of my wins have all been passes inside five to go or something super close to the end. All of the race wins have been insane. If only we could get some smooth sailing once, but we'll take them as we can get them, it's so hard to win these things."
Behind Ray and Bowden, eNASCAR rookie Wyatt Tinsley and polesitter Kollin Keister completed the top-five. Corey Vincent, Michael Guest, Dylan Duval, Honeycutt, and Matt Bussa rounded out the top-10. Joey Brown, who finished 18th, ran the fastest lap of the race, 47.385 seconds, 202.089 MPH, on the second lap of the race.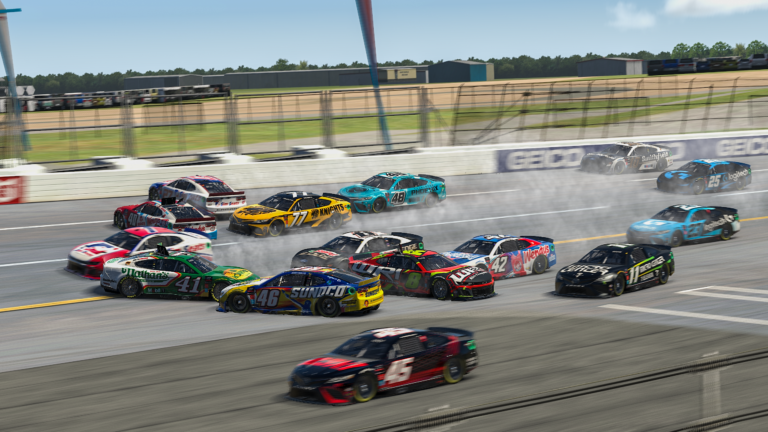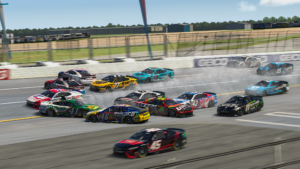 In his final superspeedway race before he retires at the end of the season, Michael Conti finished 12th. The JR Motorsports driver channeled his inner Dale Earnhardt, Jr., imitating his team owner by attempting to drag the field to the outside lane. However, the 'pied piper' was often left out to dry once the competition saw the strength of his car, much like Earnhardt during various points of his career.
In total the race was slowed six times for 18 laps by cautions. Several of the cautions were the dreaded 'big one,' multi-car accidents that involved over a handful of cars. Each time the wreck started when a driver had a run, checked up because there was nowhere to go, and someone behind didn't react in time.
Next for the eNASCAR Coca-Cola iRacing Series is a trip to the virtual Las Vegas Motor Speedway on Tuesday, May 2, at 9:00 p.m. ET. All eNASCAR races are broadcast live at enascar.com/live.
The results:
1. 95-Casey Kirwan [25], 2. 7-Malik Ray [23], 3. 69-Collin Bowden [35], 4. 20-Wyatt Tinsley [26], 5. 42-Kollin Keister [1], 6. 2-Corey Vincent [3], 7. 45-Michael Guest [14], 8. 41-Dylan Duval [30], 9. 17-Kaden Honeycutt [22], 10. 97-Matt Bussa [17], 11. 3-Jordy Lopez Jr. [18], 12. 8-Michael Conti [6], 13. 12-Garrett Manes [4], 14. 36-Brandon McKissic [29], 15. 66-Tyler Garey [19], 16. 27-Cody Byus [32], 17. 25-Nick Ottinger [11], 18. 14-Joey Brown [39], 19. 51-Donovan Strauss [10], 20. 15-Garrett Lowe [21], 21. 6-Timmy Holmes [31], 22. 18-Bobby Zalenski [15], 23. 38-Michael Cosey Jr. [7], 24. 34-Allen Boes [33], 25. 10-Steven Wilson [37], 26. 31-Derek Justis [12], 27. 55-Vicente Salas [38], 28. 11-Parker White [20], 29. 23-Keegan Leahy [24], 30. 33-Tucker Minter [5], 31. 48-Graham Bowlin [27], 32. 1-Darik Bourdeau [34], 33. 88-Kevin King [36], 34. 4-Ryan Luza [8], 35. 40-Dylan Ault [13], 36. 46-Jimmy Mullis [16], 37. 75-Zack Novak [2], 38. 54-Daniel Faulkingham [28], 39. 77-Ryan Doucette [9].
Lead Changes: 36 among 15 drivers.
Lap Leader(s): Kollin Keister POLE-0, Zack Novak 1, Michael Conti 2-3, Garrett Manes 4-5, Michael Conti 6-7, Garrett Manes 8, Collin Bowden 9-11, Vincente Salas 12, Zack Novak 13, Casey Kirwan 14, Collin Bowden 15-16, Corey Vincent 17, Michael Conti 18-19, Casey Kirwan 20-22, Dylan Duval 23-24, Zack Novak 25, Derek Justis 26-27, Zack Novak 28-29, Collin Bowden 30, Zack Novak 31-34, Casey Kirwan 35-37, Vicente Salas 38, Bobby Zalenski 39, Casey Kirwan 40, Zack Novak 41, Malik Ray 42-43, Nick Ottinger 44-48, Graham Bowlin 49-52. Matt Bussa 53, Nick Ottinger 54, Malik Ray 55, Casey Kirwan 56, Malik Ray 57, Graham Bowlin 58-62, Ryan Luza 63, Michael Cosey Jr. 64, Casey Kirwan 65, Malik Ray 66-70, Casey Kirwan 71.
Laps Led: Casey Kirwan 11, Graham Bowlin 10, Zack Novak 10, Malik Ray 9, Collin Bowden 6, Michael Conti 6, Nick Ottinger 6, Garrett Manes 3, Dylan Duval 2, Derek Justis 2, Vicente Salas 2, Michael Cosey Jr. 1, Ryan Luza 1, Corey Vincent 1, Bobby Zalenski 1, Kollin Keister 0.
Hard Charger(s): 69-Collin Bowden, eRacr (+32).
Rookie of the Race: 20-Wyatt Tinsley, Kansas City Pioneers GG, Fourth.
Caution Flags: Six for 18 Laps.
Margin of Victory: 0.034 seconds.
Time of Race: One hour, 23 minutes, 27.085 seconds.
Average Speed: 135.787 MPH.
Pole Winner: 42-Kollin Keister, eRacr, 53.172 seconds, 180.095 MPH.
Fastest Lap: 14-Joey Brown, FGR Accel eRacing, Lap 2, 47.385 seconds, 202.089 MPH.