By Seth Eggert, Staff Writer
In a finish reminiscent to Kurt Busch and Ricky Craven's timeless finish at Darlington Raceway, Casey Kirwan and Zack Novak recreated the magic at the virtual Pocono Raceway.
Recreating History
After three attempts at overtime, the Novak' No. 5 Weis Chevrolet Camaro ZL1 1LE and Kirwan's No. 95 XSET Chevrolet lined up side-by-side on the restart. The 2019 eNASCAR Coca-Cola iRacing Series champion launched out of the restart zone well. Initially it left Kirwan to battle with 23XI Racing's Keegan Leahy and eRacr's Darik Bourdeau. However, exiting Turn 2, Kirwan escaped his competition and chased down Novak with Leahy in tow.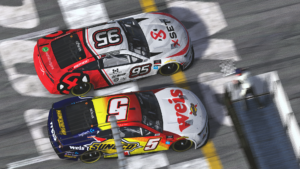 Exiting Turn 3 of 'The Tricky Triangle,' Kirwan moved low to pass. However, the defending eNASCAR champion, Leahy, strategically pushed Novak forward as the white flag waved. For the next two miles Kirwan positioned himself to attempt the same move coming to the checkered flag.
"I didn't even try to get under Zack and yet we got all the way there," Kirwan recalled. "I screwed myself over because I got Keegan on my outside and I squeezed Keegan. It was very aggressive. I typically don't get that elbows out. I had to do everything I could to win and felt that I almost had the race taken away from me. I wasn't going to win."
"Have You Ever? No I've Never!"
This time as the duo exited the final corner, Kirwan moved up to side draft off of Novak. At the same time, Novak attempted to move down to counter. Both drivers continued to slam into one another as they drag-raced to the start-finish line. With shades of the 2003 Carolina Dodge Dealers 400 at Darlington, Kirwan and Novak crossed the line in a photo finish.
"It felt a little bit like that race," Kirwan explained. "The first thing that someone said to me was that replay of (Darrell Waltrip and Mike Joy saying) 'Have you ever, no I've never.' Even in iRacing itself I don't think I've ever had a finish like that. Of course, it was in a Coke race, beating and banging all the way to the line. Just had to do what we had to do. Zack and I were leaning on each other from the middle of Turn 3 all the way to the line. It was definitely Craven, Kurt Busch-esqe."
Shades of Craven-Busch
In one of the closest margins of victory in eNASCAR Coca-Cola iRacing Series history, Kirwan narrowly edged out Novak by 0.006 seconds for the win, and playoff berth. Leahy, in the role of Dave Blaney to Kirwan and Novak's Craven and Busch imitation, finished third. eNASCAR rookies Donovan Strauss and Bourdeau completed the top-five.
"It's not what I wanted to do, especially to someone like Zack," Kirwan admitted. "No one's ever raced me any cleaner than Zack, we're good friends, there's no one I respect more than him. Unfortunately, in this format, all that matters is a win. If it was somebody like Nick Ottinger of Michael Conti, someone who already had a win, it wouldn't affect me if they won. But if Zack wins, it's won more winner and I'm out (of the playoffs).
"It was more than just me winning. I couldn't afford one spot less with a road course and Darlington. They would have gotten filled if I didn't win. We were so good on corner entry."
ARE YOU KIDDING?! @PoconoRaceway gives us one of the most insane finishes in series history! 🏁

A wild drag race between @CaseyKirwan23 and @znovak15 out of the final corner as the beat and bang to the finish line!@NASCAR | @CocaColaRacing pic.twitter.com/YpeAnQgthH

— iRacing (@iRacing) July 20, 2022
While Kirwan celebrated a finish for the ages, Novak was not in a celebratory mood.
"I'm definitely not happy about it by any means, I don't think anybody would be," Novak stated. "I probably wouldn't say anything at all to (Kirwan) right now to be honest. That's probably the best choice of everything. Just got to let my emotions pass, let it be for a little bit. I'd say congratulations if I was forced to say something to him.
"He did what he had to do. I wouldn't have done it that way, but I'm not the one in position to make that decision. It sucks, it really does, but it's still another really good run for us. To even be in that position I'm super proud of everybody involved. I worked really hard to put myself in that position off of those final restarts. I went from 16th to second there. At the end of the day, I wouldn't have much to say to (Kirwan) right now."
Notables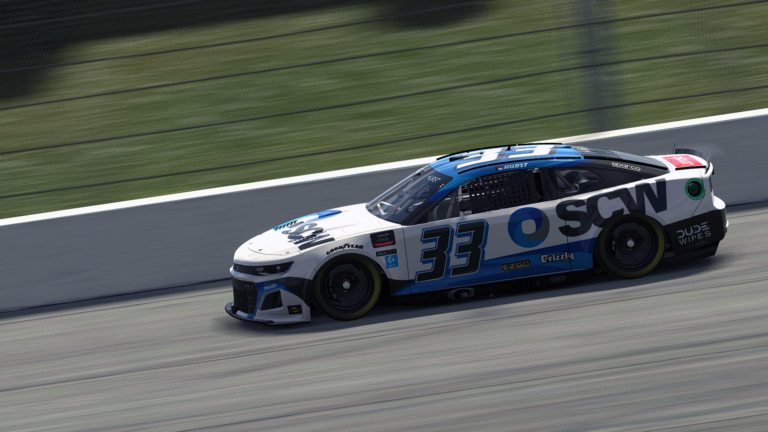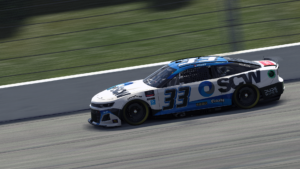 Bobby Zalenski, Malik Ray, Michael Guest, Femi Olatunbosun, and Garrett Manes rounded out the top-10. Pole winner Taylor Hurst finished 37th after being swept up in a late-race accident.
Before the final overtime Kirwan was the leader. During the second overtime Novak snatched the lead entering Turn 3. A caution seconds before the white flag forced the race into a third and final overtime. Though Kirwan led the most laps, Novak had sliced through the field, climbing from 28th to the top-five. Ultimately the Rise eSports driver was the hard charger of the race.
Playoff Picture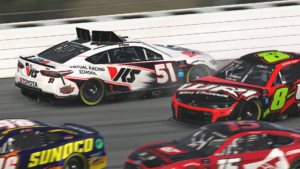 With the win, Kirwan becomes the ninth driver to score an eNASCAR Coca-Cola iRacing Series playoff berth. Though Ray Alfalla currently sits 20th in the regular season standings. Alfalla has a four-point cushion over the playoff eligibility line. If the four-time eNASCAR champion finishes the regular season outside of the top-20, then Novak and Blake Reynolds would make the playoff grid on points.
Steven Wilson, Conti, and Ottinger are the only drivers currently locked into the eNASCAR playoffs with two wins each. Other drivers currently with a spot by virtue of a win in addition to Alfalla and Kirwan are Graham Bowlin, Matt Bussa, Garrett Lowe, and Femi Olatunbosun.
Incidents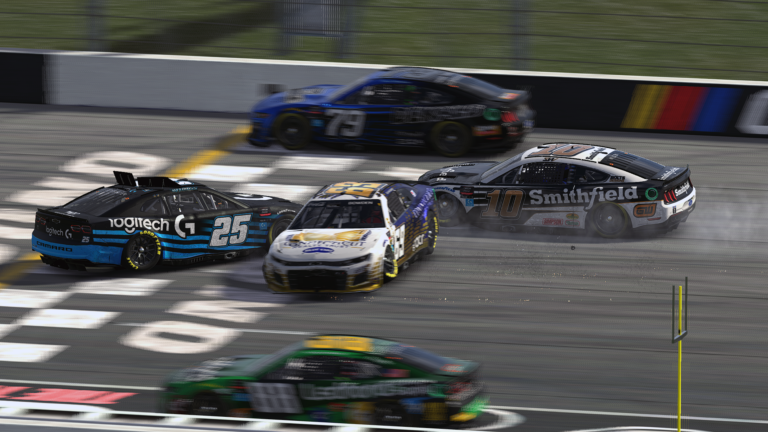 In total, the eNASCAR Pocono 150 was slowed by cautions six times for a total of 18 laps. The first caution came shortly after the completion of green flag pit stops when Sadler eSports' Liam Brotherton crashed. Four drivers, Collin Bowden, Dylan Duval, Alfalla, and Derek Justis stayed on track during the first caution of the race. For the second race in a row, Alfalla was swept up in one of the later incidents.
Bowden appeared to be having a career-best run. However, when 2020 eNASCAR champion Ottinger attempted to squeeze ahead of the eRacr driver on the frontstretch, the driver of the No. 69 Chevrolet didn't lift. That set off a multi-car accident, ultimately creating the chain of cautions at the end of the race.
The results:
1. 95-Casey Kirwan [11], 2. 5-Zack Novak [28], 3. 45-Keegan Leahy [15], 4. 20-Donovan Strauss [2], 5. 42-Darik Bourdeau [20], 6. 18-Bobby Zalenski [12], 7. 7-Malik Ray [16], 8. 9-Michael Guest [21], 9. 79-Femi Olatunbosun [29], 10. 31-Garrett Manes [17], 11. 88-Briar LaPradd [6], 12. 41-Dylan Duval [18], 13. 21-Garrett Lowe [35], 14. 36-Brian Mercurio [24], 15. 15-Blake Reynolds [30], 16. 75-Matt Bussa [40], 17. 23-Mitchell deJong [30], 18. 46-Jimmy Mullis [5], 19. 8-Michael Conti [13], 20. 16-Blade Whitt [32], 21. 40-Dylan Ault [33], 22. 55-Allen Boes [9], 23. 2-Liam Brotherton [34], 24. 24-Cody Byus [4], 25. 43-Kollin Keister [19], 26. 6-Parker Retzlaff [31], 27. 14-Nickolas Shelton [39], 28. 12-Derek Justis [37], 29. 51-Ray Alfalla [26], 30. 97-Logan Clampitt [8], 31. 3-Corey Vincent [7], 32. 4-Ryan Luza [25], 33. 48-Graham Bowlin [38], 34. 25-Nick Ottinger [3], 35. 10-Steven Wilson [27], 36. 19-Vicente Salas [36], 37. 33-Taylor Hurst [1], 38. 69-Collin Bowden [14], 39. 17-Kaden Honeycutt [22], 40. 54-Kyle Peddle [23].
Lead Changes: 12 among nine drivers.
Lap Leader(s): Taylor Hurst 1-16, Nick Ottinger 17-28, Casey Kirwan 29-30, Brian Mercurio 30, Ray Alfalla 32, Derek Justis 33-36, Mitchell deJong 37-40, Collin Bowden 41-46, Casey Kirwan 47-48, Darik Bourdeau 49-52, Casey Kirwan 53-66, Zack Novak 67-71, Casey Kirwan 72.
Laps Led: Casey Kirwan 19, Taylor Hurst 16, Nick Ottinger 12, Zack Novak 5, Darik Bourdeau 4, Mitchell deJong 4, Derek Justis 4, Ray Alfalla 1, Brian Mercurio 1.
Hard Charger(s): 5-Zack Novak (+26).
Rookie of the Race: 20-Donovan Strauss, Williams eSports, Fourth.
Caution Flags: Six for 18 Laps.
Margin of Victory: 0.006 seconds.
Time of Race: One hour, 24 minutes, 19.512 seconds.
Average Speed: 128.0756 MPH
Pole Winner: 33-Taylor Hurst, 53.186 seconds (169.218 MPH).
Fastest Lap: 9-Michael Guest, Lap 72, 53.137 seconds (169.374 MPH).
*Race scheduled for 60 laps, extended by overtime.