By Seth Eggert, Staff Writer
eNASCAR iRacing competitor Seth DeMerchant played the chess game to perfection and won the Wicked Energy Gum Fake 500 in a dramatic four-wide photo finish.
The Strategy Game
The Horizon Racing Team driver first took the lead on lap 28, staying out under the first caution of the 500-mile race. DeMerchant went off strategy once again later in the race to get fresh tires and fuel. While attrition took its' toll on the competition, the 2020 eNASCAR Pro Series driver quietly moved back up the running order.
On the final restart with 20 to go, DeMerchant lined up in sixth behind James Tiernan, Adam Blocker, Michael Cosey Jr., and others. Over the next 2.5-miles, the No. 57 Podium eSports Lotus 79 boosted forward to the lead. He went three wide into turn three to jump up to third. Then, DeMerchant masterfully used the aero wash, draft, momentum, and tire wear to keep the top spot locked down.
Blocker, 2020 Fake 500 winner Kevin Click, and Tiernan each attempted to snatch the lead away from DeMerchant. All three drivers got their nose ahead of the18th-place qualifier, only to break lose or get tight off of turn two.
DeMerchant utilized the draft down the frontstretch to get pushed back into the lead each time. He then pinched his competition in the corners, forcing them to lift. The four drivers often went three-wide for the lead, second, and even third place.
Run to the Finish
The intensity continued to build as the race reached the point of no return, lap 198. With no overtime, the race would end either under caution, or under green. Off the final corner, DeMerchant swung low, against the pit wall. Blocker took the middle as Click and Tiernan occupied the two outside lanes.
In the drag race to the yard of bricks at the virtual Indianapolis Motor Speedway, DeMerchant narrowly edged out Blocker for the win by 0.011 seconds. The duo, along with Click and Tiernan crossed the line in a four-wide photo finish. Michael Cosey Jr. completed the top-five.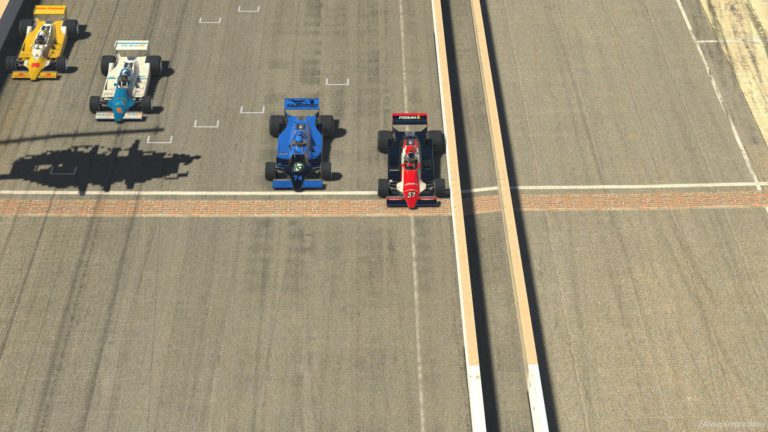 "That finish was crazy," admitted DeMerchant. "I can't believe we finished under green there with how hard we were racing. It was a lot of fun. Everyone was on the edge of control, almost spinning out. I think there was a lot of contact and we all made it. It's just pretty cool.
"We were setup very, very low downforce. Back in the pack, we had no grip on full fuel. The first 30 laps of a run I couldn't do anything, so I started playing strategy. That first caution I saved on gas so I could go longer than everybody, have clean air, run wide open, and build a gap. It didn't work. I tried taking tires there and that helped a lot. Just making the right moves. Going three wide into three I think is what won me the race."
Notable Finishers
Only six other cars finished the race. Mark Broderick, Mike Rasimas, Ryan Broderick, and Billie Bowerman finished on the lead lap. Chase Raudman, in 10th, took the checkered several laps down, along with NASCAR spotter TJ Majors in 11th.
Hard to Drive 300 promoter Bryan Blackford and NASCAR driver Landon Cassill were both swept up in 'the big one' just past halfway. Blackford and Cassill were scored 19th and 20th respectively.
Attrition
The attrition in the second-annual Wicked Energy Gum Fake 500 was high. The first incident of the race took place on lap 26 when Tyler Street and Joshua Chin crashed while running inside the top-10.
The biggest incident of the night took place with 87 laps to go. Blackford, Dave Bodio, Schyler Brown, Cassill, and Chris Springer were all taken out in 'the big one.' Majors was also swept up in the incident but limped to the finish.
When attrition took out contenders, it opened the door to others. Cosey bounced back and forth to the lead for the first time with 52 laps to go. Despite minor front wing damage, the Twitch streamer was able to keep the competition at bay until the fuel run changed the handling characteristics on the cars. Cosey became extremely loose, handing the lead to Blocker.
The Finish
1. Seth DeMerchant [18] ($275), 2. Adam Blocker [14], 3. Kevin Click [15], 4. James Tiernan, 5. Michael Cosey Jr. [24], 6. Mark Broderick [32], 7. Mike Rasimas [6], 8. Ryan Broderick [33], 9. Billie Bowerman [25], 10. Chase Raudman [19], 11. TJ Majors [9], 12. Daniel Zegers [8], 13. Billy Brickley [3], 14. Shane Kaikko [10], 15. Keith Jeffrey [22], 16. Dave Bodio [21], 17. Schyler Brown [11], 18. Bryan Blackford [1], 19. Chris Springer [23], 20. Landon Cassill [31], 21. Kyle Dager [19], 22. Tyler Kendall [28], 23. Cole Sink [30], 24. John Harper [12], 25. Hank Silver [29], 26. Doyle Lawrence [16], 27. Clint Stone [7], 28. Jeremy Zarfos [13], 29. Tyson Landis [20], 30. Jeffrey Steward [26], 31. Stephen Hill [27], 32. Tyler Street [2], 33. Joshua Chin [4].
Lead Changes: 17 among eight drivers.
Lap Leader(s): Bryan Blackford 1-27, Seth DeMerchant 28-52, James Tiernan 53-57, Tyler Kendall 58-59, Seth DeMerchant 60-100, James Tiernan 101-102, Adam Blocker 103-121, Shane Kaikko 122-144, Adam Blocker 145-146, Kevin Click 147-148, Michael Cosey Jr. 149-170, Adam Blocker 171, Michael Cosey Jr. 172-173, Adam Blocker 174, Michael Cosey Jr. 175, Adam Blocker 176-177, James Tiernan 178-181, Seth DeMerchant 182-200.
Laps Led: Seth DeMerchant 85, Bryan Blackford 27, Adam Blocker 25, Michael Cosey Jr. 25, Shame Kaikko 23, James Tiernan 11, Kevin Click 2, Tyler Kendall 2.
Hard Charger: Mark Broderick (+26).
Tough Break: Tyler Street (-30).
Cautions: 10 for 30 Laps.
Margin of Victory: 0.011 seconds.
Time of Race: Three hours, 10 minutes, 49.829 seconds.
Average Speed: 157.208 MPH.
Pole Winner: Bryan Blackford, 190.786 MPH (4-Lap Average).
Fastest Lap: James Tiernan, Lap 199, 46.585 seconds (193.195 MPH).
Feature Photo Credit: Seth Eggert / Kickin' the Tires