By Seth Eggert, Staff Writer
NASCAR Xfinity Series driver Will Rodgers dominated the Monday Night Racing K1 Speed 200k at Watkins Glen International.
Taking the Lead
The road course specialist led 26 of the 37-lap race in the Pro 2 trucks. Rodgers qualified on the pole in his No. 65 Toyota sponsored off-road truck. However, his victory didn't come without some drama and fireworks in the late stages.
After green flag pit stops two-time NASCAR Cup Series champion Kyle Busch and NASCAR driver James Davison cycled ahead of Rodgers. The Spacestation Gaming partnered driver worked his way by Davison to retake second.
Late-Race Drama
On lap 32, Rodgers pulled alongside of Busch as the Rowdy Energy driver blocked the inside line on the frontstretch. The driver of the No. 65 pinched the Cup Series veteran into the inside wall in a bid to take the lead and the preferred line entering turn one. Davison jumped to the lead as both Rodgers and Busch went wide on corner exit.
Busch voiced his frustration on the radio, "You learn that shit in K&N?!"
The duo shuffled Davison out of the lead a lap later with Rodgers taking the lead. He worked to gap Busch by about a second in the closing laps. The draft kept the NASCAR Camping World Truck Series team owner near the rear bumper of Rodgers.
Final Lap Fireworks
Off the final corner, Busch cut the inside in a bid to sneak by Rodgers. The No. 51 Rowdy Energy machine clipped the No 65 before sliding into the tire barrier on corner exit. Busch went airborne as Davison and Ryan Vargas slipped by. Nick Sanchez, who was running fourth, was collected and barrel rolled on the frontstretch.
With the chaos behind him, Rodgers easily beat Davison to the line with 0.322 seconds to spare. Vargas and Busch finished third and fourth with Josh Bilicki in fifth. Sanchez recovered from his flip to finish sixth with TJ Majors, Garrett Smithley, Gary Sexton, and Ron Capps completing the top-10.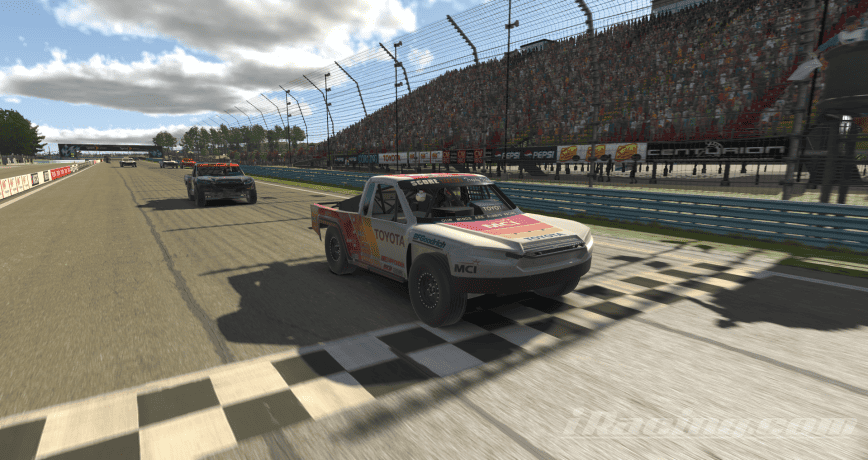 "Honestly, (the final lap) was the same roller coaster of emotions that I faced in my first NASCAR K&N Pro Series win here in 2017 because I think I had a little bit of a gap after a green-white-checkered and Ruben Garcia was tracking me down," explained Rodgers. "He tried to make the same move that Kyle (Busch) made, and Kyle did a better job of getting on my bumper and sending me into the fence. Ruben just barely clipped me, and I went on to win.
"It worked out this time. Kyle and I had a heck of a race. I said to him 'it was a good slug match.' I gave him a few shots; he gave me a few shots. I chopped him on the frontstretch because I was barely clear because I knew if I lost the lead that was going to be it. Really good run with him, Nick Sanchez, Ryan Vargas, and James Davison."
Notable Finishers
Other professional drivers including motocross' Chad Reed in 12th, 2021 NASCAR Cup Series Rookie-of-the-Year contender Anthony Alfredo in 13th, and NTT IndyCar Series driver Stefan Wilson in 14th.
Dillon Welch was involved in multiple incidents and finished 24th. Bobby Labonte, Rajah Caruth, Preston Pardus, and Robby Lyons also struggled. Caruth, 39th, failed to complete a single incident-free lap. Pardus, 40th, was caught in a wreck entering pit road during the final green flag run. Lyons crashed out on lap two and was 42nd.
The Finish
1. Will Rodgers [1], 2. James Davison [8], 3. Ryan Vargas [7], 4. Kyle Busch [9], 5. Josh Bilicki [6], 6. Nick Sanchez [5], 7. TJ Majors [4], 8. Garrett Smithley [23], 9. Gary Sexton [13], 10. Ron Capps [24], 11. Gabriel Wood [2], 12. Chad Reed [22], 13. Anthony Alfredo [17], 14. Stefan Wilson [3], 15. DJ Cummings [14], 16. Covy Moore [11], 17. Steve Auffant [16], 18. Max Kennon [33], 19. Roger Diebold [25], 20. Seth Eggert [30], 21. Drew Welker [29], 22. Chris Wilner [37], 23. Brett Baldeck [28], 24. Dillon Welch [27], 25. Mark Rebilas [36], 26. Jesse Vaughan [35], 27. Devon Henry [34], 28. Ford Martin [10], 29. Michael Rossi [20], 30. Matthew Stallknecht [19], 31. Nick DeGroot [15], 32. Greg Stumpff [31], 33. Garrett Miller [38], 34. Paul Sutton [41], 35. Brandon Brown [21], 36. Michael Massie [41], 37. Steven Ellis [43], 38. Bobby Labonte [26], 39. Rajah Caruth [18], 40. Preston Pardus [12], 41. Jason Keffer [32], 42. Robby Lyons [39], 43. Jeff Green [43] (DNS).
Lead Changes: Eight among five drivers.
Lap Leader(s): Will Rodgers 1-11, Nick DeGroot 12, Kyle Busch 13-14, Will Rodgers 15-24, Nick Sanchez 25, Kyle Busch 26-31, James Davison 32, Will Rodgers 33-37.
Laps Led: Will Rodgers 26, Kyle Busch 8, James Davison 1, Nick DeGroot 1, Nick Sanchez 1.
Hard Charger(s): Max Kennon, Garrett Smithley, and Chris Wilner (+15).
Tough Break: Preston Pardus (-28).
Cautions: One for Four Laps.
Margin of Victory: 0.322 seconds.
Time of Race: 59 minutes, 7.575 seconds.
Average Speed: 91.990 MPH.
Pole Winner: Will Rodgers, One minute, 26.578 seconds (101.874 MPH).
Fastest Lap: Stefan Wilson, Lap 4, One minute, 26.657 seconds (101.781 MPH).
Feature Photo Credit: Joshua Mendoza / @GameSyns (Twitter)