By Seth Eggert, Staff Writer
In a last lap, last corner wreck avoidance, Eddie Kerner bookended the Nutrishop eStreet Stock Showdown at Auto Club Speedway in dramatic fashion.
Battle to the Finish
A wreck with four laps to go sent the iRacing special event, promoted by JD Motorsports NASCAR Xfinity Series driver Ryan Vargas, into overtime. Notable Twitch streamer David Schildhouse led the field to green after narrowly beating eNASCAR Coca-Cola iRacing Series driver Casey Kirwan to the last scoring loop prior to the caution.
As the intensity increased, so did the drama on track. Schildhouse, Kirwan, and Michael Cosey Jr. battled three-wide for the lead. The trio were joined by eNASCAR Heat Pro League competitor Josh Parker, as well as Kyle Riley on the backstretch. Before the five drivers could take the white flag, the caution waved once again.
Overtime
On the final attempt at overtime, pole sitter Eddie Kerner lined up fifth. In a bold move, he jumped to the inside of Kirwan and was second before the field entered turn one. As Cosey was left high and dry on the outside, Parker pushed Kerner and Schildhouse ahead. In the mad scramble coming to the white flag, Kirwan snuck to the inside of Schildhouse.
As Schildhouse's virtual No. 20 Street Stock was shuffled into the middle, and then the high lane, Kirwan took the lead with Kerner in pursuit. Off the final corner, contact between Parker's virtual No. 81 Interstate Batteries Street Stock and Schildhouse turned the No. 20 down the track. Schildhouse slid into Kirwan, hooking the No. 231 head-on into the outside wall. Emerging with the lead in the final car lengths was Kerner.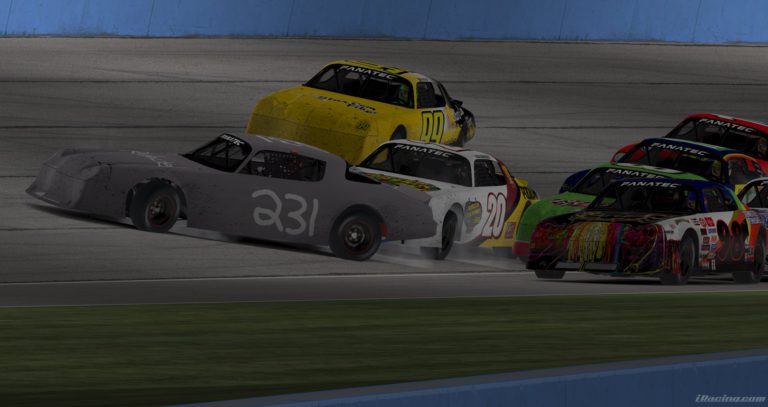 "There was a lot going on," admitted Schildhouse. "When you're the leader, you're kind of a sitting duck. I knew what Casey (Kirwan) was going to do to get to the bottom to make that pass on the apron before I could. I've been looking at it, watching it back, I tried to get there.
"If I pushed the issue, I would have wrecked myself or put him in the grass. I didn't want to do either of those things. Got a lot of respect for Casey Kirwan. Last thing I wanted to do was for it to be controversial. I wanted to race it out. Things got tight there at the end. Unfortunately, due to the circumstances at the end, Casey ended up getting hooked. Contact between Kyle Riley and Josh Parker rotated my car, and it was out of my hands. I hate that, but that's racing."
As the field crashed just beyond the start-finish line, Kerner edged Schildhouse to the line by 0.095 seconds. Parker, Riley, and Ryan Gavel completed the top-five.
"I thought I was killing myself because I got such a bad jump, but I was still on the bottom lane coming to the white," explained Kerner. "I was able to get under Schildhouse. Then I was able to force my way under Kirwan. We were talking about where we wanted to be coming to the white flag. I think I preferred where I was at, was able to get under Schildhouse by pushing him. It took me so long to get under him and then I was able to.
"If everyone had kept it straight, I don't know if I would have been able to beat Kirwan to the line. But he got turned by Schildhouse. He was getting pushed all over, it was just a mess at the end. I was able to pull the win out. It was just a crazy event."
Notables
Garrett Konrath, Coca-Cola Series driver Vicente Salas, Cosey, Michael P Frisch, and NASCAR driver Garrett Smithley rounded out the top-10. Other notables included eNASCAR Heat competitor Joey Stone in 17th, Coca-Cola Series driver Michael Guariglia in 21st, and The Racing Experts' Justin Melillo in 28th. Kirwan limped across the line in 30th. NASCAR driver Will Rodgers finished out of the race in 39th.
As pointed out post-race by Schildhouse, Kerner's fastest lap of the race was also on the final lap. Photographer Tristan Hagenstein ran the fastest lap of the race, 49.379 seconds, 145.811 MPH, also on the final lap.
Superspeedway Style Racing
The Street Stocks at the 2.0-mile Auto Club Speedway created a superspeedway style package. The battle for the lead was often side-by-side. When the race was under green, the difference for the lead was often under one tenth of a second at the line. Both Riley and Cosey crossed the line with a difference of 0.000 seconds twice.
As with any superspeedway style race, drivers of different caliber were able to work their way up to the front. Leighton Sibille, who works as JD Motorsports' public relations manager stayed out under a late caution to take the lead. Sibille held his own until he was turned on a restart with under 15 laps to go.
In total, 200 iRacers registered for Nutrishop eStreet Stock Showdown. After eight heat races and an LCQ, the field was narrowed down to 40 competitors. Vargas, the promoted of the event even attempted to make the field. In the end, he performed the duties of race control and even hopped in the Podium eSports booth to do some play-by-play during the event.
The Finish
1. Eddie Kerner [1] ($500), 2. David Schildhouse [11], 3. Josh Parker [10], 4. Kyle Riley [29], 5. Ryan Gavel [7], 6. Garrett Konrath [6], 7. Vicente Salas [12], 8. Michael Cosey Jr. [20], 9. Michael P Frisch [32], 10. Garrett Smithley [2], 11. Tristan Hagenstein [33], 12. Matt Wishart [35], 13. Nicholas Short [30] 14. Nick Olsen [5], 15. Alex Bell [18], 16. Tyler Jalbert [34], 17. Joey Stone [15], 18. Gabe Herschel [27], 19. Presley Sorah [24], 20. Tyler Garey [4], 21. Michael Guariglia [13], 22. Leighton Sibille [39], 23. Nate Stewart [19], 24. Alek Martinez [8], 25. Rory Gamble [25], 26. Max Brady [40], 27. Devon Henry [26], 28. Justin Melillo [38], 29. Oisin Walsh [22], 30. Casey Kirwan [3], 31. Keith Sherman [9], 32. Luke Warhurst [37], 33. Kevin Champagne [17], 34. Luke Turpin [23], 35. Maxwell Kennon [36], 36. Gary Sexton [14], 37. Shawn English [16], 38. Clynest Leboeuf [31], 39. Will Rodgers [21], 40. Brandon Varney [28].
Lead Changes: 19 among nine drivers.
Lap Leader(s): Eddie Kerner 1, Casey Kirwan 2-5, Eddie Kerner 6-11, Casey Kirwan 12-13, Nick Olsen 14, Casey Kirwan 15-27, Michael Cosey Jr. 28, Josh Parker 29, Michael Cosey Jr. 30-31, Nicholas Short 32, Michael Cosey Jr. 33-42, Kyle Riley 43, Michael Cosey Jr. 44-45, Kyle Riley 46, Michael Cosey Jr. 47-54, Leighton Sibille 55-58, Casey Kirwan 59-70, David Schildhouse 71-79, Eddie Kerner 80.
Laps Led: Casey Kirwan 31, Michael Cosey Jr. 24, David Schildhouse 9, Eddie Kerner 8, Leighton Sibille 4, Kyle Riley 2, Nick Olsen 1, Nicholas Short 1.
Hard Charger: Kyle Riley (+25).
Tough Break: Casey Kirwan (-27).
Cautions: Eight for 24 Laps.
Margin of Victory: 0.095 seconds.
Time of Race: One hour, 24 minutes, 42.796 seconds.
Average Speed: 113.324 MPH.
Pole Winner: Eddie Kerner, 49.486 seconds (145.496 MPH).
Fastest Lap: Tristan Hagenstein, Lap 80, 49.379 seconds (145.811 MPH).
Feature Photo Credit: Seth Eggert / Kickin' the Tires