By Seth Eggert, Staff Writer
A duel at the end of triple overtime saw Pittsburgh Knights GG's eNASCAR Coca-Cola iRacing Series driver Ryan Doucette narrowly beat FTF Racing league rookie Austin Farr for the Barr Visuals FTF 500 victory.
Overtime
Doucette was one of 10 current eNASCAR drivers in the field. The Altus eSports aligned driver avoided the carnage that sparked the first overtime in the 500-mile race at the virtual Daytona International Speedway. Race leader and former winner of the FTF 500 Ryan Nawrocki was turned from the lead in a field-consuming crash.
Dylan Basen, Farr, Doucette, league sponsor Daylon Barr, and Alex Kolonics were among the few that escaped the carnage. However, the adage of 'cautions breed cautions' came to fruition.
Dueling For the Win
On the first attempt at overtime Basen lost the lead to Farr just before another caution waved. Two more cautions pushed the race further and further beyond its' scheduled distance. That forced some drivers to pit for fuel under the final caution of the race. Both Doucette and Farr were among those that pitted prior to the first attempt at overtime.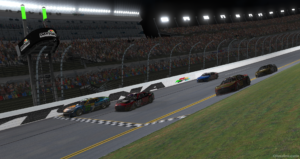 When the green flag waved for the final time, one stalwart of iRacing superspeedway racing, Malik Ray, charged forward. The Jim Beaver eSports driver ultimately was spun from seventh place in Turn 3 coming to the white flag. Per FTF rules, the six remaining cars continued to battle for the checkered.
Doucette pushed Farr around the virtual 2.5-mile track. The eNASCAR Premier Series driver bided his time, calculating when to make his move. That ultimately came exiting Turn 4 coming to the checkered flag.
"I was just playing out thousands of scenarios in my head (on the final restart) about when Ryan would make his move," Farr said. "I knew that everyone in a straight line that no one was going to be going (to make a move) until late. Massive respect to Ryan for not clobbering me or running me over. He beat me the right way. It was an awesome finish."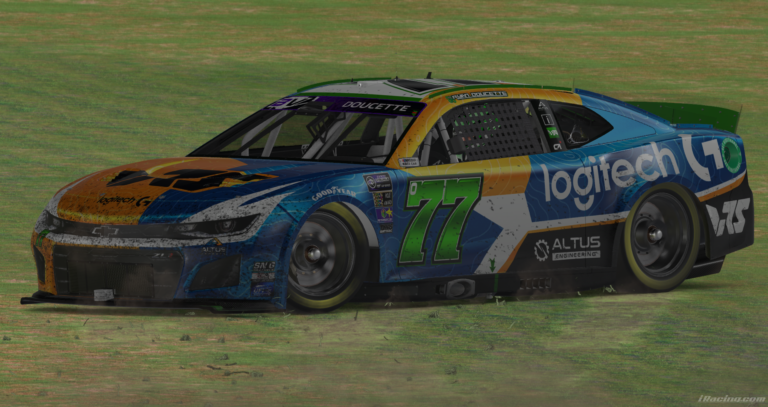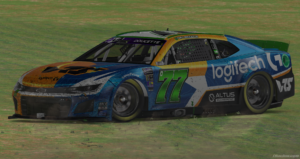 While the duo briefly made contact, it was a respectful fight to the line. Doucette side-drafted Farr to slip by the No. 47 RUSH Ford Mustang. He took the checkered flag by 0.035 seconds in the No. 077 VRS / Logitech Chevrolet Camaro ZL1.
"(The last two laps) happened so fast that it's tough to process what happened," Doucette admitted. "I was waiting for the right time to make my move, didn't want to move out from behind Austin. My spotter, Tucker Minter, was talking me through that whole race, suggesting pretty much every move I made. It all fell together at the end.
"Thank you to Austin Farr for running me clean there. He could have easily walled me or wrecked me. He raced me clean like a gentleman."
Notables
Kolonics, Basen, and Kansas City Pioneers' Derek Justis rounded out the top-five. Barr took the checkered flag in sixth after sliding through the infield grass. A.J. Green, former eNASCAR driver Blake Reynolds, Seth Noell, and Daniel Buttafuoco completed the top-10.
Doucette's victory almost ended in disappointment with about 20 laps to go in the scheduled distance. He pitted with fellow eNASCAR driver Michael Cosey Jr and spun on pit entrance. Despite drifting into his pit stall, he remained on the lead lap. The caution waved moments before Doucette would have been lapped.
Cosey finished 13th with other eNASCAR drivers scattered throughout the field. Wyatt Tinsley finished 11thafter barely missing the final wreck. Kevin King was 20th, Malik Ray 21st, Parker White 27th, 2019 eNASCAR champion Zack Novak 34th, Daniel Faulkingham 35th, and Michael Guest 41st.
eNASCAR drivers represented about one quarter of the field. Nine different eNASCAR Coca-Cola iRacing Series teams were also represented in FTF Racing's season opener.
In total, the race was slowed 15 times by incidents for 46 laps. Much like the Elite Racing League's Daytona 500, the first half of the race was relatively tame. As the intensity built up, so did on-track mistakes.
Next the Barr Visuals FTF Cup Series is a trip to the virtual Auto Club Speedway on Saturday February 25 at 9:00 p.m. ET.
The results:
1. 077-Ryan Doucette [36] ($500), 2. 47-Austin Farr [20], 3. 22-Alex Kolonics [14], 4. 04-Dylan Basen [10], 5. 031-Derek Justis [23], 6. 91-Daylon Barr [44], 7. 01-A.J. Green [16], 8. 66-Blake Reynolds [7], 9. 1-Seth Noell [8], 10. 13-Daniel Buttafuoco [17], 11. 20-Wyatt Tinsley [40], 12. 099-Brandon Hawkin [21], 13. 99-Michael Cosey Jr [31], 14. 84-Cosmin Ioanesiu [35], 15. 19-Nick Miller [15], 16. 63-Logan Helton [24], 17. 93-Nathan Rabideau [11], 18. 83-David Brown [19], 19. 010-Liam Brotherton [38], 20. 88-Kevin King [39], 21. 007-Malik Ray [4], 22. 38-Corey Carpenter [26], 23. 97-Jordan Werth [37], 24. 6-Spenser Ray [30], 25. 41-Brian Mercurio [18], 26. 71-Chris Wetz [43], 27. 011-Parker White [22], 28. 053-Jake Poulin [42], 29. 56-John Poole III [32], 30. 26-Kevin McAdams [2], 31. 58-Michael Frisch [1], 32. 37-Ryan Nawrocki [5], 33. 54-Matt Spalding [12], 34. 75-Zack Novak [9], 35. 054-Daniel Faulkingham [3], 36. 016-Garrison Hogan [13], 37. 30-Matt Danson [29], 38. 32-Shawn Butler [27], 39. 73-Johnathan Oates [41], 40. 60-Nick Roten [33], 41. 9-Michael Guest [6], 42. 4-Nate Stewart [34], 43. 95-Jay Cook [28], 44. 107-Jack Mace [25], 45. 022-Zach Hudson [45].
Lead Changes: 83 among 30 drivers.
Lap Leader(s): Michael Frisch POLE-0, Malik Ray 1-2, Kevin McAdams 3, Malik Ray 4-7, Alex Kolonics 8, Michael Guest 9, Malik Ray 10, Ryan Doucette 11, Zack Novak 12-16, Dylan Basen 17-18, Matt Danson 19, Kevin McAdams 20, Michael Guest 21-22, Liam Brotherton 23, Zack Novak 24-26, Michael Guest 27-30, Malik Ray 31-33, Ryan Doucette 34-35, Alex Kolonics 36-39, Dylan Basen 40-42, Logan Helton 43, Dylan Basen 44-47, Matt Spalding 48, Dylan Basen 49, Parker White 50, Jake Mace 51-52, Matt Danson 53, Blake Reynolds 54, Daniel Faulkingham 55, Michael Guest 56, David Brown 57, Daniel Buttafuoco 58, Michael Guest 59-60, Daniel Buttafuoco 61-67, Michael Cosey Jr 68-71, Zack Novak 72-81, Matt Spalding 82-83, Ryan Nawrocki 84-85, Michael Guest 86-88, Zack Novak 89, Malik Ray 90-91, Nate Stewart 92-93, Malik Ray 94-95, Brandon Hawkin 96-97, Michael Guest 98-105, Alex Kolonics 106, Michael Guest 107-108, Blake Reynolds 109, Logan Helton 110, Blake Reynolds 111-113, Jake Poulin 114-115, Blake Reynolds 116, Michael Cosey Jr 117-119, Matt Danson 120, Shawn Butler 121-126, Wyatt Tinsley 127, Logan Helton 128-130, Daniel Faulkingham 131, Derek Justis 132-133, Alex Kolonics 134-135, Michael Cosey Jr 136, Alex Kolonics 137, Ryan Doucette 138, Michael Cosey Jr 139, Ryan Doucette 140-141, Spenser Ray 142, Blake Reynolds 143-146, Shawn Butler 147-150, Wyatt Tinsley 151, Michael Guest 152-155, Derek Justis 156-157, Michael Guest 158-159, Malik Ray 160-161, Ryan Doucette 162-182, Alex Kolonics 183, Matt Spalding 184-185, John Poole III 186-192, Nathan Rabideau 193-196, Ryan Nawrocki 197, Seth Noell 198, Dylan Basen 199-202, Austin Farr 203-211, Ryan Doucette 212.
Laps Led: Michael Guest 29, Ryan Doucette 28, Zack Novak 19, Malik Ray 16, Dylan Basen 15, Blake Reynolds 10, Shawn Butler 9, Michael Cosey Jr 9, Austin Farr 9, Alex Kolonics 9, Daniel Buttafuoco 8, John Poole III 7, Logan Helton 5, Matt Spalding 5, Matt Danson 4, Derek Justis 4, Nathan Rabideau 4, Ryan Nawrocki 3, Daniel Faulkingham 2, Brandon Hawkin 2, Jack Mace 2, Kevin McAdams 2, Jake Poulin 2, Nate Stewart 2, Wyatt Tinsley 2, Liam Brotherton 1, David Brown 1, Seth Noell 1, Spenser Ray 1, Parker White 1, Michael Frisch 0.
Hard Charger(s): 91-Daylon Barr (+38).
Caution Flags: 15 for 46 Laps.
Margin of Victory: 0.035 seconds.
Time of Race: Three hours, 29 minutes, 15.089 seconds.
Average Speed: 151.970 MPH.
Pole Winner: 58-Michael Frisch, 50.147 seconds, 179.472 MPH.
Fastest Lap: 031-Derek Justis, Lap 62, 45.287 seconds, 198.733 MPH.
Stage 1: 011, 04, 077, 107, 37, 91, 54, 30, 66, 63.
Stage 2: 9, 007, 37 22, 93, 66, 099, 83, 054, 47.
*Race Scheduled for 200 Laps, Extended Due to Overtime*