By Seth Eggert, Staff Writer
In overtime, after taking the white flag, Garrison Hogan took the adage 'when in doubt, flat out,' to heart and stayed in the throttle despite a massive accident that wiped out most of the field, allowing him to take the victory in the Homeplace Beer Daytona 500.
Overtime Chaos
While the first half of the Elite Racing League's JoinAPS.com Cup Series race at Daytona International Speedway had just one caution, the second half was slowed nine times. Hogan's No. 22 JD Designs Ford Mustang was one of just a handful that skirted through wreck after wreck unscathed.
Taking the white flag, Hogan was just inside the top-five. That was until the iRacing field flew apart in front of him. Race leader Harrison Taillon was turned causing chaos.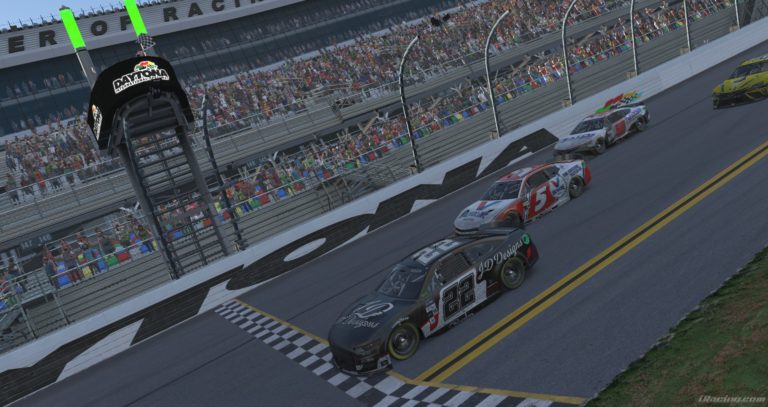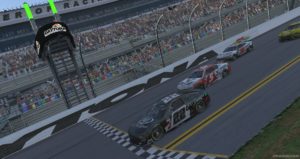 Hogan, Jonathan Cutlip, NTT IndyCar driver RC Enerson, Brent Jones, and Ryan Gavel were among the few that emerged through the smoke. Jones attempted to side-draft Hogan down the backstretch and into Turn 1. However, Cutlip did the same to Jones.
That action by Cutlip slowed the duo just enough for Hogan to breakaway slightly. The driver of the No. 5 Valvoline Chevrolet closed back in on Hogan off Turn 4, but it was too late. Hogan took the checkered flag with 0.064 seconds over Cutlip.
"Man… that was crazy, right?" Hogan joked. "I don't know where to start, I thought my race was over, honestly. I made so many mistakes, speeding on pit road, going all the way to the back, coming all the way back to the front. Then the last 20 laps I was just praying to get a run and got stuck on the bottom.
"That last lap I don't know what happened. I just switched my brain off and was like, 'I've got to get to the top.' I found a hole up top and then the wreck happens coming through the tri-oval. I'm like, 'I'm not going to lift,' so I didn't lift and ended up having to side-draft some teammates. I made the block coming off of Turn 4 and that was enough."
Notables
Enerson, Jones, and Gavel rounded out the top-five. Michael Martinez, Robert Hill Jr, polesitter Bronson Stafford, Quami Scott, and Chad Frankenfield completed the top-10. Hill ran the fastest lap of the race on lap 155 shortly after a restart. Enerson meanwhile was the hard charger of the race after starting last in 45th.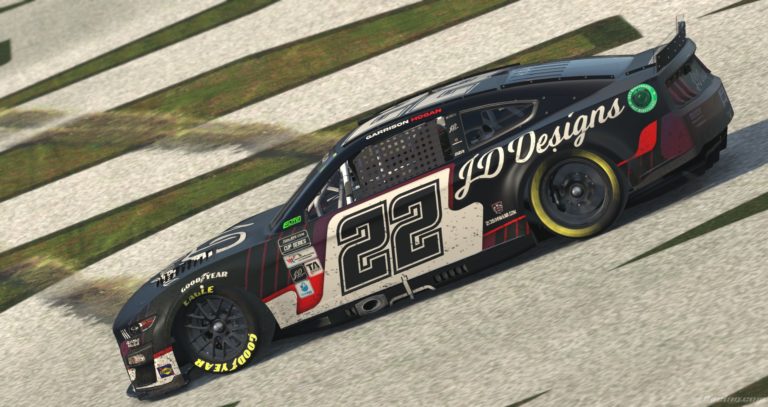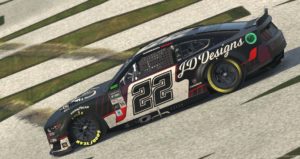 Frankenfield's top-10 finish was a welcome end to a frustrating race. The driver of the No. 15 Kickin' the Tires Ford lost connection to the server on lap 50. He lost four laps and only got back on the lead lap with 12 laps to go.
One reason that it took so long for Frankenfield, and others, to move back onto the lead lap was a 94-lap green flag run. After an early caution about 10 laps into the race, the field separated during two rounds of green flag pit stops. It was only an ill-timed bump that sent Rusty Caple into the outside wall that brought the field back together.
Caple's caution forced about half the field to take the wave around. The difference of entering and exiting pit road ultimately determined most of those that finished well. Enerson, Cutlip, and Tyler Foti had few pit road issues. Others in the esports field were penalized for speeding.
The results:
1. 22-Garrison Hogan [5], 2. 5-Jonathan Cutlip [3], 3. 50-RC Enerson [45], 4. 51-Brent Jones [8], 5. 01-Ryan Gavel [29], 6. 25-Michael Martinez [40], 7. 2-Robert Hill Jr [41], 8. 61-Bronson Stafford [1], 9. 99-Quami Scott [21], 10. 15-Chad Frankenfield [14], 11. 09-Michael Klein [43], 12. 16-Wesley Crump [42], 13. 18-Joshua Personette [39], 14. 42-Chris Wright [28], 15. 23-Harrison Taillon [22], 16. 84-Wyatt Knadle [35], 17. 1-Joshua Adams [4], 18. 30-Dylan Thomas [6], 19. 64-Andrew Rucker [27], 20. 44-Michael Goodman [13], 21. 40-Tyler Foti [44], 22. 32-Dustin Duerr [24], 23. 24-Michael Hossack [17], 24. 91-Johnny Thomas [30], 25. 92-Ethan Stanley [15], 26. 90-Scott Crump [33], 27. 4-Ryan Schuld [32], 28. 70-Jesse Rasimas [38], 29. 48-Nick Masse [25], 30. 81-Alexander Gray [37], 31. 11-Mathieu Weeks [9], 32. 21-Justin Vandermaarel [23], 33. 33-Brandon Key [19], 34. 56-Tate Lightle [11], 35. 27-Braxton DeWeese [11], 36. 6-Joey Chapman [12], 37. 28-Justin Fortener [31], 38. 31-Gerald Campbell [16], 39. 03-Latham Joiner [26], 40. 45-Brandon Oltra [10], 41. 19-David Tooker [2], 42. 88-Tre Holmes [7], 43. 46-Joshua Clark [18], 44. 9-Rusty Caple [20], 45. 12-Zachary Rogers [36].
Lead Changes: 36 among 19 drivers.
Lap Leader(s): Bronson Stafford 1, Joshua Adams 2-3, Garrison Hogan 4, Bronson Stafford 5-7, Mathieu Weeks 8-10, Bronson Stafford 11-25, Garrison Hogan 26-55, Dustin Duerr 56-57, Tyler Foti 58, Joshua Adams 59-60, Tate Lightle 61-94, Gerald Campbell 95-97, Chris Wright 98-99, Johnny Thomas 100, RC Enerson 101-116, Tyler Foti 117, David Tooker 118-122, Joshua Adams 123-124, Gerald Campbell 125-126, Joshua Adams 127-129, Gerald Campbell 130-139, Joshua Personette 140-142, Tate Lightle 143, Josua Personette 144, Tate Lightle 145-149, Mathieu Weeks 150, Ethan Stanley 151-158, Tate Lightle 159-160, Ryan Schuld 161, Ryan Gavel 162, Jonathan Cutlip 163-169, Scott Crump 170-179, Jonathan Cutlip 180-190, Scott Crump 191-194, Jonathan Cutlip 195-199, Harrison Taillon 200, Garrison Hogan 201.
Laps Led: Tate Lightle 42, Garrison Hogan 32, Jonathan Cutlip 23, Bronson Stafford 19, RC Enerson 16, Gerald Campbell 15, Scott Crump 14, Joshua Adams 9, Ethan Stanley 8, David Tooker 5, Joshua Personette 4, Mathieu Weeks 4, Dustin Duerr 2, Tyler Foti 2, Chris Wright 2, Ryan Gavel 1, Ryan Schuld 1, Harrison Taillon 1, Johnny Thomas 1.
Hard Charger(s): 50-RC Enerson (+42).
Caution Flags: 10 for 30 Laps
Margin of Victory: 0.064 seconds.
Time of Race: Three hours, six minutes, 45.787 seconds.
Average Speed: 161.434 MPH.
Pole Winner: 61-Bronson Stafford, 50.012 seconds, 179.957 MPH.
Fastest Lap: 2-Robert Hill Jr, Lap 155, 45.779 seconds, 196.597 MPH.
Stage 1: 56, 4, 50, 31, 40, 32, 51, 6, 64, 03.
Stage 2: 31, 19, 88, 23, 50, 6, 32, 03, 56, 1.
*Race Scheduled for 200 Laps, Extended Due to Overtime*