By Seth Eggert, Staff Writer
Three different strategies in the Shenandoah Shine Legends of the Future Series season finale at Charlotte Motor Speedway determined the winner and the inaugural champion.
Talking Strategy
The final race of the season saw just one caution on the opening lap of the race. Blake McCandless opted to duck onto pit road to top off on fuel in the virtual No. 71 Underdog Fantasy Buick LeSabre. That decision changed the rest of the race for the eNASCAR Coca-Cola iRacing Series commentator.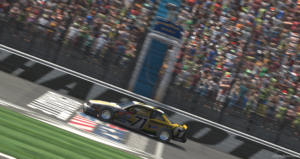 McCandless stretched the fuel to lap 50 and then just past lap 100 in the 150-lap race. Meanwhile most of those that did not top off under the only caution were forced to pit three times. One driver that chose a third strategy was points leader Kevin McAdams.
The driver of the virtual No. 26 Publix Buick stretched the fuel on his second and third green flag runs. Clutching the engine in the corners, McAdams maximized his fuel saving. That became crucial as his title rival, and league owner, Michael Frisch, opted for the three-stop strategy.
"What could I have done different early (in the race)," Frisch asked. "Honestly, I'm proud of how I performed this season with these guys. It's a tough group here that we've put on this season. I can't thank the drivers enough for showing up because without them it wouldn't be a competitive season or a league at all.
"I'm sweating after 50 lap runs in this car because of how hard you have to drive it. One little misstep and it ruins your whole entire run. We had to get a little off the cards on the strategy tonight compared to everyone else saving gas. I had an extra pit stop in there to get some fresh tires, but it never really worked out."
The Title Fight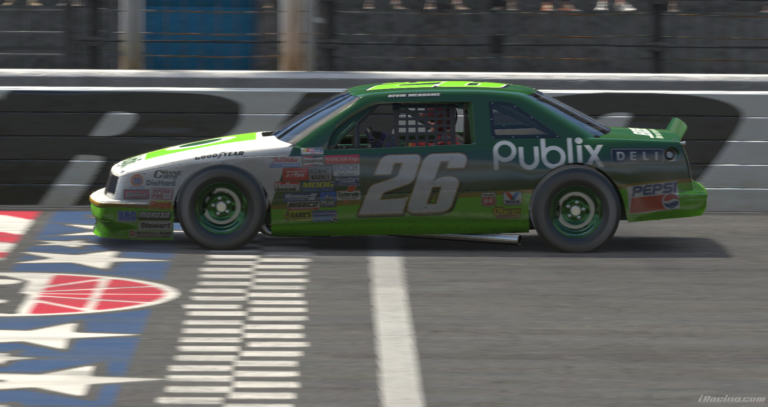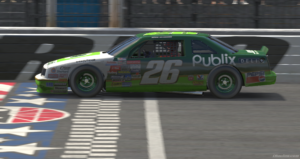 Frisch won the pole and led the most laps at Charlotte which chipped away at McAdams' points lead. However, the fuel strategy and tire conservation that the driver of the No. 26 achieved meant that even if Frisch won the race, he wouldn't win the championship, forcing him off strategy.
That gamble allowed Frisch to run some of the fastest laps of the race on fresh tires. However, he was so far behind that he never caught back up to McAdams. For the iRacing stalwart, it was his first championship on the motorsports simulation in four years.
"When we started this, Frisch said, 'hey, let's get an '87 season together and let's get the best of the best,'" McAdams explained. "Starting off the season with the most fluke-ish win that I've ever had at Talladega, and then just pointing my way through. It's probably the most boring way to win a championship, but I will 100 percent take finishing second five times to do it.
"I hate it that I didn't win a few more races, I was so close at Richmond last week, Darlington a few weeks ago, North Wilkesboro, and Bristol comes to mind. Just to be in the hunt every single week and realizing that I'm going to be in a really good spot if this continues.
"Blake decided to stop running as much, Shawn (Butler) had horrific luck, Frisch had a couple missteps along the way. It just became a matter of who's going to take this home and be the most consistent. Thankfully, that's the game I play, and it ended up working out."
The Race Win
Ultimately, McCandless cruised to win by over 16 seconds. The fuel saving by McAdams allowed him to finish second in the race, comfortably winning the championship. eNASCAR Coca-Cola iRacing Series driver Michael Cosey Jr finished third with David Brown and Mitchell Riggs rounding out the top-five.
"Really it just came down to Lap 2 and we were 17th, 18th, had a really bad qualifying run and figured that we're already in the back, why not pit and add a couple of laps of fuel," McCandless explained.
"We came down, topped off and I can't tell you how many times I've done that in races, and we get a caution three laps later and it totally negates what you did, you lose your track position. But out of the 50 to 100 times that we try to pull some type of strategy and put ourselves in position like that and think that the whole race is going to go green, and it actually went green. I'm just shocked about that.
"Once we were in a position there, I was just saving tire and naturally we just had a little bit better fuel mileage. We had an advantage on that because we ran a couple pace laps, probably gained two or three laps through the first run and after that it was pretty easy to see that nobody else was going to make it."
Notables
Jake Nichols, Tyler Dubosh, Frisch, Dylan Roberts, and Daniel Faulkingham completed the top-10. Nichols ran the fastest lap of the race shortly after his final pit stop with 30 laps to go.
Though the race only had one caution early, it was not without attrition. Several drivers were damaged or had speeding penalties over the course of the 145-lap green flag run. Ashton Schleiss, Phillip McCandless and others opted to return to the virtual garage instead of possibly affecting the battle for the championship.
The results:
1. 71-Blake McCandless [17], 2. 26-Kevin McAdams [3], 3. 99-Michael Cosey Jr [21], 4. 83-David Brown [7], 5. 09-Mitchell Riggs [2], 6. 191-Jake Nichols [30], 7. 60-Tyler Dubosh [9], 8. 58-Michael Frisch [1], 9. 74-Dylan Roberts [5], 10. 39-Daniel Faulkingham [31], 11. 22-Alex Kolonics [16], 12. 00-Larry Pace [4], 13. 14-Chris Jahnke [10], 14. 63-Logan Helton [8], 15. 04-Gabriel Mauricio [6], 16. 35-Santiago Tirres [32], 17. 015-Michael Guariglia [33], 18. 32-Shawn Butler [34], 19. 78-Matthew Zwack [12], 20. 79-Danny Thomson [22], 21. 49-Art Rymer [24], 22. 000-Matt Spalding [18], 23. 45-Lucas Ploessl [36], 24. 87-Adam Martin [25], 25. 90-Michael Sturgill [35], 26. 11-Paul Gallimore [19], 27. 15-Cole Fralick [20], 28. 53-Justin Melillo [37], 29. 77-Terry Murphy [27], 30. 98-Matt Taylor [15], 31. 70-Davis Warren [26], 32. 110-Matthew Griechen [23], 33. 109-Phillip McCandless [14], 34. 30-Michael Klein [29], 35. 97-Jackson van Volkinburg [11], 36. 69-Ashton Schleiss [27], 37. 080-Michael Moody [28].
Lead Changes: 27 among 10 drivers.
Lap Leader(s): Michael Frisch POLE-0, Kevin McAdams 1-7, Michael Frisch 8-33, Kevin McAdams 34-39, Michael Frisch 40-45, Logan Helton 46, Kevin McAdams 47, David Brown 48, Blake McCandless 49-53, Michael Frisch 54-66, Alex Kolonics 67-68, Michael Frisch 69-70, Alex Kolonics 71, Michael Frisch 72-75, Alex Kolonics 76-78, Logan Helton 79, Alex Kolonics 80, Logan Helton 81-84, Dylan Roberts 85, Mitchell Riggs 86-87, Larry Pace 88, Dylan Roberts 89, Alex Kolonics 90-92, Blake McCandless 93-103, Michael Frisch 104-111, Mitchell Riggs 112-124, Dylan Roberts 125-128, Tyler Dubosh 129-133, Blake McCandless 134-150.
Laps Led: Michael Frisch 59, Blake McCandless 33, Mitchell Riggs 15, Kevin McAdams 14, Alex Kolonics 10, Logan Helton 6, Dylan Roberts 6, Tyler Dubosh 5, David Brown 1, Larry Pace 1.
Hard Charger(s): 191-Jake Nichols (+24).
Caution Flags: One for three laps.
Margin of Victory: 16.371 seconds.
Time of Race: One hour, 29 minutes, 55.443 seconds.
Average Speed: 100.805 MPH.
Pole Winner: 58-Michael Frisch, 32.198 seconds, 167.712 MPH.
Fastest Lap: 32-Daniel Faulkingham, Lap 121, 32.519 seconds, 166.057 MPH.