By Seth Eggert, Staff Writer
There are times where opportunities have arisen that take people down a path they didn't expect. While some have used sim racing to enhance their motorsports coverage or begin their career with it, some find themselves using it at first as a distraction. For some people like Blake McCandless, that distraction eventually materializes into the beginnings of a career.
McCandless' Beginning in Broadcasting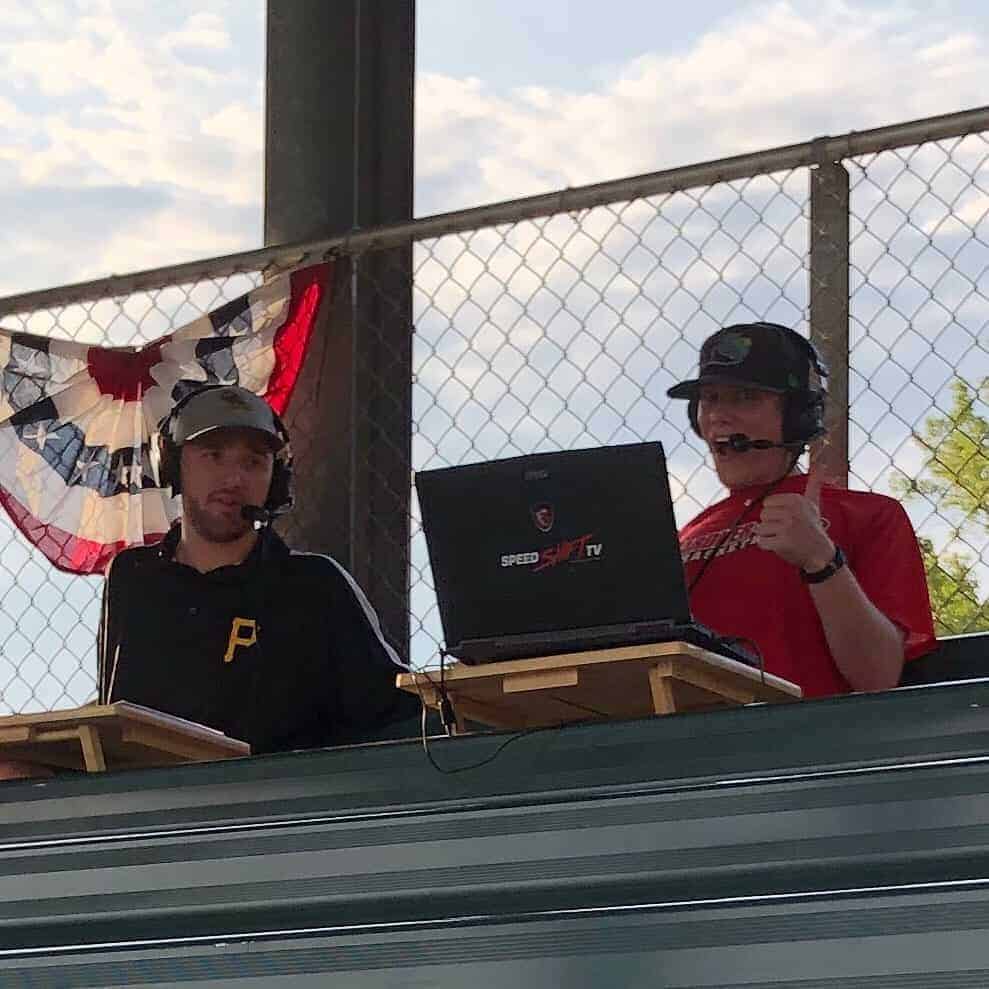 The lead voice of Monday Night Racing on Podium eSports and an announcer for the eNASCAR Coca-Cola iRacing Series, McCandless started broadcasting in 2016. First it was on the Full Velocity Network just for fun. The venture gave him some good practice and allowed him to earn some money at the same time. Broadcasting didn't become more serious until he and David Schildhouse were found by Speed Shift TV, the precursor to Flo Racing.
"I never truly joined as a media member covering races until I was full-on broadcasting, explained McCandless. "I would have to say my first venture into iRacing was with a group of friends who had formed a company called the Full Velocity Network in 2016. It was purely a just-for-fun avenue broadcasting races for smaller leagues that allowed us to have a good time and make a few bucks at night watching sim racing.
"I never thought it would be laying the groundwork and foundation for me to try out and experiment with sports broadcasting in the real world shortly thereafter. It didn't get to be more serious on the sim until Speed Shift TV (now Flo Racing) saw our work and brought myself and David Schildhouse on for some more extensive dirt coverage in the following few months."
An Unexpected Continuation of Broadcasting for McCandless
Eventually, the broadcasting that McCandless did online allowed others to discover his talent. During the COVID-19 shutdown, the Raleigh, N.C. native intended to find a normal job after things went back to normal. However, the Gardner-Webb University graduate found out that life would end up having other plans for him.
"I never expected any of this to really materialize into anything if I'm being perfectly honest," admitted McCandless. "For me, sim racing was a way to have some type of outlet while we were all locked in our houses and had nothing else to do. I was still completing Grad School online at the time. I would pretty much stream iRacing during the day, broadcast at night, and squeeze in homework where I could.
"It was a very surreal routine, but it became a way for me to hone my broadcasting skills nearly every single day in a low-stress environment. However, I was fully prepared for when the pandemic would end, and things would go back to normal. I had every intention of stepping back from sim racing and finding a "normal" job. I had no idea at the time how much attention was being paid to the shows I worked on, and how streaming exposed me to the sim racing audience as a whole."
Finding his Footing in the Sim Broadcasting World
While McCandless was not around sim racing during the platform's early days, like Justin Melillo, he's seen it grow and evolve. The investment in iRacing has increased through teams in the eNASCAR Coca-Cola iRacing Series, sponsorship in Monday Night Racing, FTF Racing League, Elite Racing League and other series.
Though for all of that investment, McCandless sees other parallels to real-life series. Motorsports as a whole is at a crossroads, trying to expand their audience, get them excited, and sim racing is no different. As a niche within the racing community, sim racing and eSports is still finding its' footing.
Ultimately, it was sim racing and eSports that provided McCandless with a footing in broadcasting. The Sports Management major was in the back of the line on the sports announcer's ladder. With limited opportunities in the real-world iRacing kept McCandless fresh.
"I pretty much owe all of my confidence in broadcasting to being involved in the virtual world," stated McCandless. "When I was a student at Gardner-Webb, I was fourth on our "ladder" of sports announcers. When you consider there'd be at most two people in the booth per show, you can see how I was very limited in the airtime I could get.
"iRacing provided me a way of being able to stay fresh in the booth despite the limited opportunities I was getting in the real world. Being involved virtually gave me a volume of work and nearly a years-worth of being in front of an audience, so the general worry or fear of public speaking definitely went away quickly!"
Moving From 'Sim 2 Reality'
McCandless is not the first to make the transition from broadcasting sim racing to announcing races in the real-world. Noah Lewis made the move recently, now calling the Carolina Pro Late Model Tour. For McCandless, he was a part of the broadcast for the action at Ace Speedway.
Announcing a real-life race offers some differences and similarities to the events on iRacing. Depending on the event, the on-track action looks the same. However, in the real-world, McCandless has found that the biggest difference is interviewing competitors face to face instead of via Zoom and TeamSpeak.
"There's a lot more crossover I think than people would realize," said McCandless. "Short track racing on iRacing looks just about the same as it does in real life, so you lean heavily on those experiences when calling the race itself.
"The uniqueness of the real world comes in when you're having to try to direct people to concessions, buying merchandise, paying homage to your sponsors, and interviewing drivers and crew members face-to-face. That's probably the biggest thing that is so much different from the sim, is being able to talk face-to-face with the drivers/teams and feeling that emotion. That's a barrier unfortunately to a lot of what we do virtually. Otherwise, retrieving information and calling the race itself is nearly identical to the real thing, so it prepares you greatly for that portion of it."
iRacing, the Perfect Place to Practice
Despite those differences, McCandless views iRacing as the perfect place to practice. In Monday Night Racing alone, he calls races that features NASCAR stock cars, Pro 2 Trucks, Radical SR8s, Mazdas, Dirt Street Stocks, and more throughout the season. In addition to his work on Mondays and Tuesdays, McCandless has also worked with eRacr on the Rockingham 508, which utilized the 1987 NASCAR Cup Series cars.
Overall, there is a race being broadcasted every single night on iRacing, whether it's eNASCAR, a league race, or a special event. Each broadcast offers those involved an opportunity to home in on their skills, practice, and then use that experience later down the road.
"iRacing just offers a volume of work and a plethora of opportunities for announcers that you can't replicate anywhere else in the real world," continued McCandless. "For someone looking to develop their own style, cadence, vocabulary, etc.… there's just no better way to get those reps in and home in your skills. Since calling Opening Night at Ace on April 1st, I've been a part of roughly 8-10 iRacing shows in that timeframe.
"It's just such a great way to continue to get experience, get reps behind the mic, and grow as comfortable as you need to be. It's also no secret that opportunities to announce in real life racing are very limited, since usually each track will have their own person who has been doing it for a number of years. iRacing is a fantastic way to break in and get those initial reps to find out if it's really what you want to do.
McCandless Reflects on his Path Here
In the end, McCandless credits iRacing with his current career path. Much like a handful of other journalists, the announcer wouldn't be where he is now without the sim racing platform. Even then, it still is providing new opportunities for McCandless than he likely wouldn't have expected otherwise.
"Without iRacing, I wouldn't be pursuing a broadcasting career, and probably would have never started in the first place," admitted McCandless. "I can't overstate how important it's been for me. But by far the most important thing it's done for me is that it has provided me with a great group of people to be around.
"Ranging from colleagues to people I race with, I have met so many wonderful people on here that I can call friends. Whether this whole broadcasting career thing works out or not, I can at least hold my head high and know that at the least I have a fantastic group of people to enjoy a passion of mine with for the rest of my life."
'Sim 2 Reality' as Both a Broadcaster and a Driver
Recently, McCandless made his Limited Late Model debut with Huffman Racing at Hickory Motor Speedway. That opportunity, and the upcoming race this Saturday at Hickory, makes McCandless one of a few that have made the jump from 'Sim 2 Reality' both as a broadcaster and now as a driver.