By Seth Eggert, Staff Writer
The eRacr Roval Racing Series crowned three champions at the virtual Homestead-Miami Speedway.
In Class A, Matt Danson had clinched the championship one week prior. That allowed him and eNASCAR Coca-Cola iRacing Series driver Vicente Salas to battle without worrying about points. Although the battle was mostly one-sided, a rare mistake by Salas allowed Danson to control the midway portion of the race.
Salas ducked onto pit road after leading the first 17 laps of the 90-minute race. However, he darted directly onto pit road instead of using the access road, as required on Homestead's Road Course layout. Although Salas picked up a brief time penalty for an unsafe pit entry, he remained on the lead lap.
By the time the halfway break came, Salas' virtual No. 55 Spacestation Racing Ford Mustang had climbed back up to third overall. Danson kept the lead in his virtual No. 30 Logitech G Altus eSports Chevrolet Camaro ZL1 1LE during pit stops. In the first four laps to start the second half, Danson and Salas traded the lead back and forth.
The eNASCAR driver ultimately captured the lead and walked away from Danson. When the checkered flag waved, Salas had over 10 seconds on the A Class champion. John Weitendorf completed the podium.
"This is awesome, what an honor (to be the first eRacr league champion)," explained Danson. "It's been a fun season, a lot of tracks that I had not driven before, and a lot of tracks after driving in this that I would definitely enjoy. Wow, it's very good.
"Logitech G Altus has their footprint in every license category. We've got a World Champion in dirt, we've got a DWC (Driver's World Championship) participant on the Rallycross side, and we had a 1-2 in the equivalent to Road to Pro. It's good to get my name out there."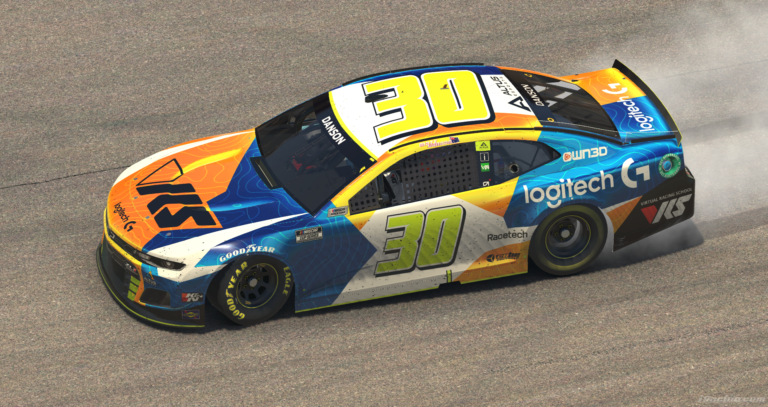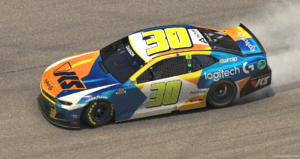 In B Class, Matt Taylor entered the race with a 17-point advantage over Brian Szabelski. A small seven-car field for B Class aided Taylor's bid for the inaugural B Class title.
The battle at Homestead in B Class proved to be a knock-out battle between Cade McKee, Szabelski, Taylor, and Harry Grindell. The four drivers traded the top spot of the virtual NASCAR Xfinity Series inspired class. McKee, Szabelski, and Taylor made full use of the bumpers and fenders, although their brakes were often begging for mercy. The trio raced so hard they often overdrove the entry to corners, sliding into one another, and drivers of other classes.
Ultimately, contact from a Ballistipax C Class driver handed the B Class race win to McKee. Szabelski's virtual No. 85 NihonTiger Chevrolet Camaro SS was rear-ended by David Grantham's virtual No. 6 Morchuck Chevrolet Silverado. Taylor meanwhile slid of course in the battle, finishing second in class in the race, and winning the title in the virtual No. 8 eRacr Chevrolet.
"This was a really challenging course," admitted Taylor. "I really struggled break markers in the infield. Unfortunately, I got into Cade a few times. It was just a sloppy drive overall. Luckily, I was able to scramble and get in there and hold onto second. Being trapped in traffic and having to manage fuel so early on made for a different challenge tonight.
"I had absolutely no idea what to expect when I signed up for this series. It's been a tough one. Being able to grab a championship is awesome. I'd love to move up a class the next time this gets run. This is a blast. I did not own the car until the Friday before the qualifying. Jumped in, ran a few laps, and I didn't know what to expect. I don't run stock cars, I'm primarily open wheel. Really liked driving a car that you have to take care of your tires."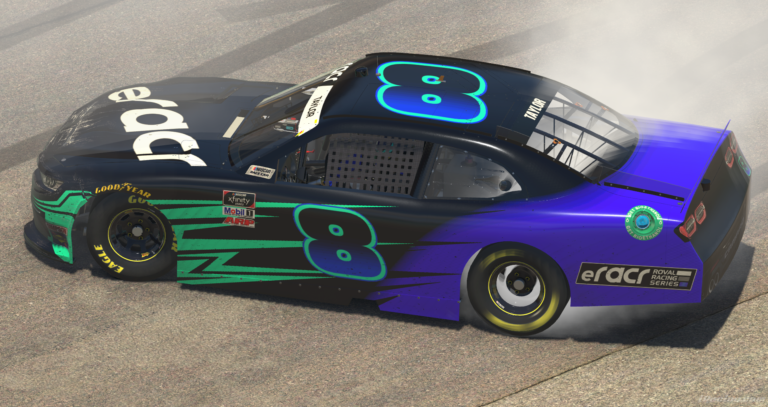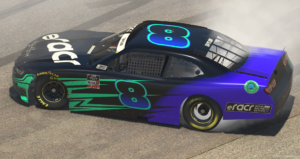 The title in the Ballistipax C Class ended at the drop of the green flag. With Brandon Paunetto recovering from a surgery earlier in the week, Grantham clinched the title when the green flag waved. It marks his first iRacing league championship after joining the sim earlier this year.
The battle for the race win in the virtual NASCAR Camping World Trucks was dominated by Hunter Reeve. Grantham opted for a two-stop strategy while Reeve stayed on track. The virtual No. 044 Operation Motorsport Toyota Tundra not only blew away the competition in class but beat the typically faster B Class cars. Reeve earned the first top-five finish overall for a Ballistipax C Class driver. Grantham and Christopher Colon finished out the podium.
"When this all started, I just didn't expect this to happen," admitted Grantham. "I had just hoped to be competitive and that all of my competitors see that I actively tried to race them with respect. This is awesome and I hope it's the first of many [championships] to come. This is such a fun series. I learned a lot more about these trucks and everything else that I thought I would in this short amount of time.
"I practiced harder than I raced. Back when I ran cross country and even now with the New York Road Runners, I just try to make things a lot harder in practice."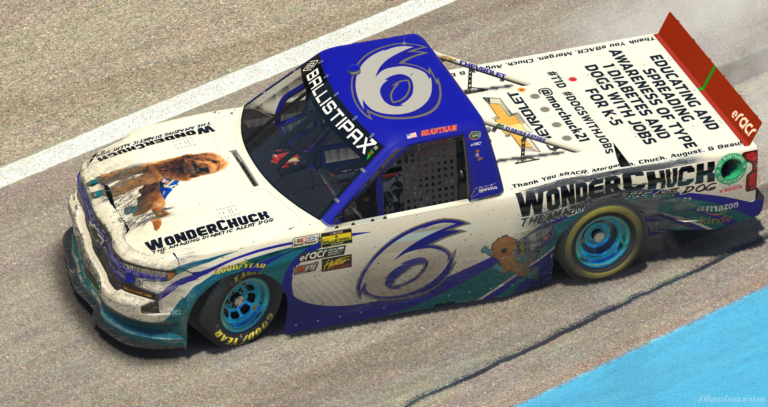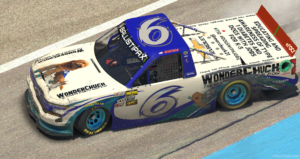 The results:
1. 55-Vicente Salas (A) [1], 2. 30-Matt Danson (A) [2], 3. 24-John Weitendorf (A) [4], 4. 95-Cody A. Harris (A) [3], 5. 044-Hunter Reeve (C) [16], 6. 27-Cade McKee (B) [10], 7. 8-Matt Taylor (B) [9], 8. 85-Brian Szabelski (B) [11], 9. 6-David Grantham (C) [18], 10. 11. 70-Harry Grindell (B), 99-Christopher Colon (C) [19], 12. 77-Riley Dunn (C) [17], 13. 999-Joseph Selby (B) [12], 14. 1-Dustin Ping (C) [20], 15. 26-DG Swiss (C) [21], 16. 46-Arthur Rymer (B) [15], 17. 44-Lucas Cram (A) [6], 18. 36-Tyler Stilwell (C) [23], 19. 53-Justin Melillo (B) [13], 20. 23-Christian Pedersen (A) [5], 21. 026-Tyler Garey (A) [7], 22. 22-Brandon Watkins (C) [24], 23. 74-Jeremy Breault (C) [22], 24. 38-Casey Kirwan (A) [8] DNS, 25. 21-Thomas Fensler (C) [25] DNS.
Lead Changes: Six among three drivers.
Lap Leader(s): Vicente Salas 1-17, Matt Danson 18-32, Lucas Cram 33, Matt Danson 34-36, Vicente Salas 37, Matt Danson 38, Vicente Salas 39-62.
Laps Led: Vicente Salas 42, Matt Danson 19, Lucas Cram 1.
Caution Flags: One for three laps.
Margin of Victory: 10.583 seconds.
Time of Race: One hour, 31 minutes, 22.128 seconds.
Average Speed: 89.978 MPH.
Pole Winner: 55-Vicente Salas (A), One minute, 17.983 seconds (102.022 MPH)
Class Designation: A (NASCAR Cup Cars), B (NASCAR Xfinity Cars) C (NASCAR Camping World Trucks).
Featured Photo Credit: Photo by Seth Eggert / Kickin' the Tires.