By Seth Eggert, Associate Editor
The domination of Tuesday night's eNASCAR Contender iRacing Series allowed Kaden Honeycutt to shed the 'field filler' feeling he's had competing in the eNASCAR Coca-Cola iRacing Series in recent years.
Outside of a strong run at the virtual Talladega Superspeedway in 2022, Honeycutt struggled throughout his tenure with RFK Racing in NASCAR's official esports sanctioned series. After his second season at iRacing's top stock car level, he was relegated back to the Contender Series.
However, the 2023 Contender Series marked a change for Honeycutt. The Willow Park, TX native dominated the season opener at the virtual Las Vegas Motor Speedway from start to finish. He joined fellow real-life Late Model driver, and his good friend, Vicente Salas on the front row for the start of the race. Honeycutt proceeded to lead 90 of the 100 laps.
"I have been a field filler the last couple of (eNASCAR Coca-Cola) seasons," Honeycutt admitted. "I really have not been able to pit in a whole lot of effort into these races. I've been able to rearrange my life and been able to take this stuff more seriously. This was the most work that I've put in, in a long time, and the results showed."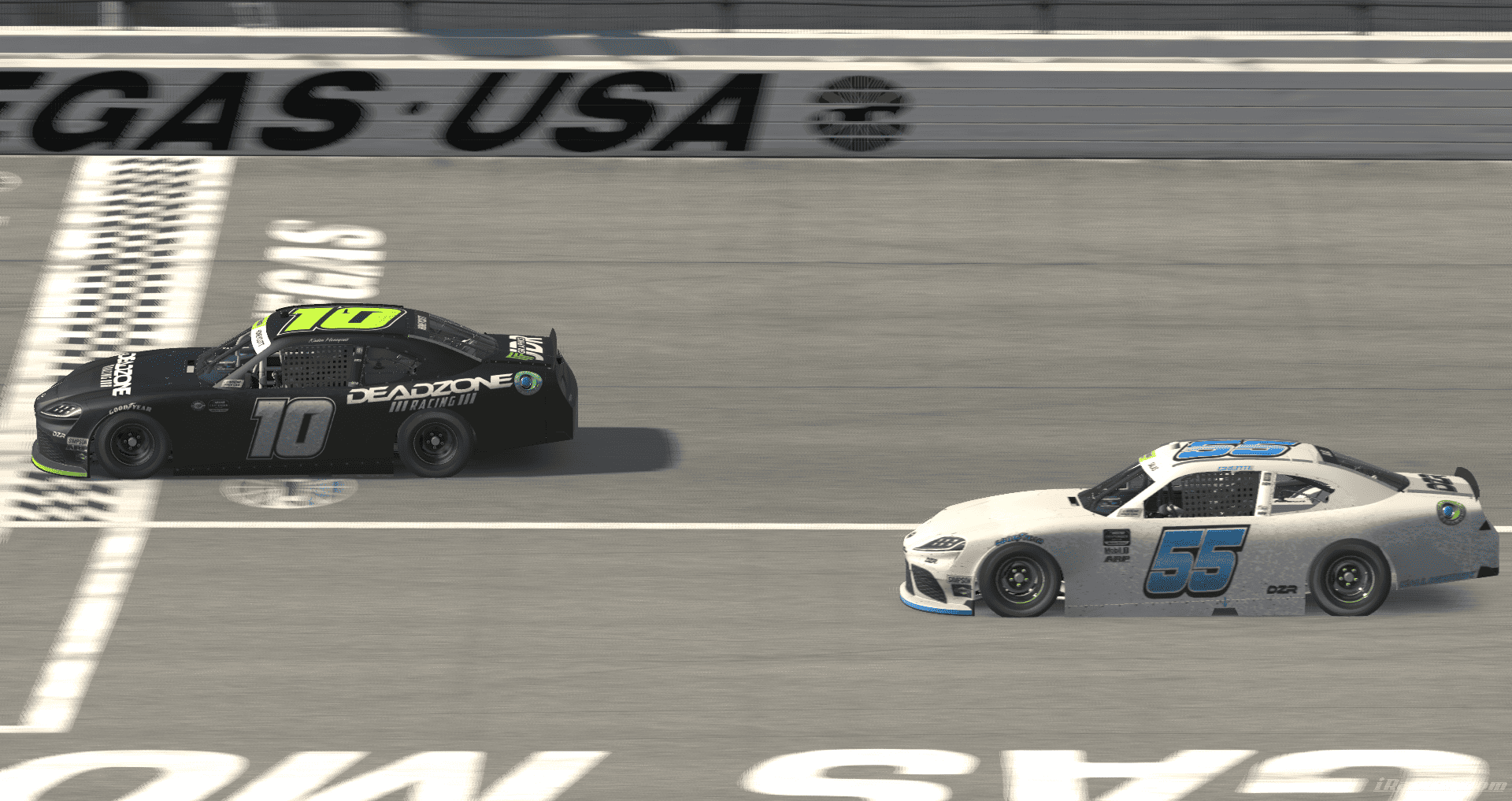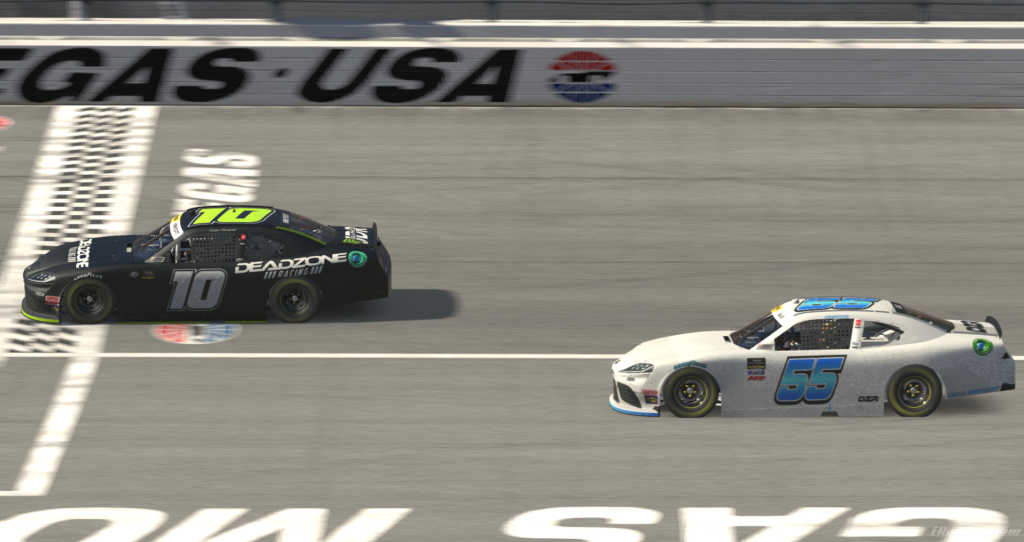 With a largely unchanged virtual NASCAR Xfinity Series car in recent years, the backend alliance teams have maxed out the speed available. That put the focus of the race on the execution by the drivers. The Deadzone Racing/THE TEAM drivers of Honeycutt and Salas controlled the entirety of the race.
The 20-year-old admitted that competing and being successful at this level of sim racing is among the hardest in all of racing, in sim or reality. Having competed in the NASCAR Craftsman Truck Series, Xfinity Series, and ARCA Menards Series West, Honeycutt knows the amount of time available to practice and test to both the pro drivers and the sim drivers.
"All of this hard work it takes to win these races, it takes so much more work than I can really explain," Honeycutt said. "Coming from a real-life driver, I'm telling you, this is the hardest stuff you will ever do in your entire life. It just takes so much time and effort. I'm sorry, I have to repeat it, but this is the hardest stuff you will ever do in your entire racing career, in real-life or sim."
The win only adds to Honeycutt's momentum as he won in his ARCA Menards Series West debut at All American Speedway. The up-and-coming driver's skill has drawn praise from others earlier in the season, regardless of whether he was in underfunded equipment or frontrunning equipment.
"I can bring this momentum to the Bulling, the ARCA West race with Bruce Cook and MMI this Friday night," Honeycutt noted. "You've just got to keep building, you can't stop. I'm going to get off (of this interview) and go test Homestead. This is only race one of seven, a lot of things can change."
Behind the duo of Honeycutt and Salas was former eNASCAR champion Ryan Luza. Daniel Faulkingham and Christopher Hill completed the top-five. Zack Novak, Taylor Hurst, Timmy Holmes, Cody Byus, and Briar LaPradd rounded out the top-10.
The 100-lap race was slowed four times by cautions for a total of 15 laps. The first wreck collected relegated eNASCAR driver Derek Justis and 2023 Firecracker 400 winner Logan Helton.
Ultimately the biggest wreck of the race came in the final 10 laps the race. On a restart, contact sent FGR Accel eRacing's Joey Brown spinning along with Daniel Buttafuoco and Taylor Hurst. The ensuing wreck in Turn 1 collected at least seven other cars including Dylan Ault, Collin Bowden, Seth DeMerchant, Michael Frisch, Andrew Navarro, Christopher Pfeffer, and Daniel Smallwood.
The next eNASCAR Contender iRacing Series race is scheduled for Tuesday, October 17 at 8:00 p.m. ET at the virtual Homestead-Miami Speedway. All eNASCAR races are streamed live at enascar.com/live.
The results:
1. 10-Kaden Honeycutt [1], 2. 55-Vicente Salas [2], 3. 4-Ryan Luza [9], 4. 39-Daniel Faulkingham [6], 5. 11-Christopher Hill [12], 6. 5-Zack Novak [11], 7. 74-Taylor Hurst [23], 8. 6-Timmy Holmes [10], 9. 27-Cody Byus [3], 10. 19-Briar LaPradd [15], 11. 20-Wyatt Tinsley [5], 12. 99-Quami Scott [13], 13. 8-Kollin Keister [39], 14. 43-Femi Olatunbosun [30], 15. 12-Jonathon Dulaney [38], 16. 17-Max Brady [36], 17. 58-Michael Frisch [27], 18. 57-Seth DeMerchant [17], 19. 41-Brian Mercurio [14], 20. 2-Ray Alfalla [24], 21. 18-Matthew Zwack [19], 22. 94-Angel Phillip [28], 23. 04-Darik Bourdeau [29], 24. 53-Brandon McKissic [25], 25. 62-Anthony Burroughs [18], 26. 88-Kevin King [32], 27. 66-Christopher Pfeffer [16], 28. 63-Logan Helton [34], 29. 31-Derek Justis [33], 30. 13-Daniel Buttafuoco [7], 31. 76-Blaze Crawford [31], 32. 9-Cayden Rush [40], 33. 32-Daniel Smallwood [4], 34. 69-Collin Bowden [20], 35. 47-James Holtzer [35], 36. 14-Joey Brown [22], 37. 98-Eddie Kerner [6], 38. 77-Ryan Doucette [26], 39. 44-Andrew Navarro [37], 40. 42-Dylan Ault [22].
Lead Changes: Five among five drivers.
Lap Leader(s): Kaden Honeycutt 1-50, Ryan Luza 51, Daniel Smallwood 52-54, Seth DeMerchant 55, James Holtzer 56-60, Kaden Honeycutt 61-100.
Laps Led: Kaden Honeycutt 90, James Holtzer 5, Daniel Smallwood 3, Seth DeMerchant 1, Ryan Luza 1.
Hard Charger(s): 8-Kollin Keister (+23).
Caution Flags: Four for 15 Laps.
Margin of Victory: 0.094 seconds.
Time of Race: 1:06:13.616.
Average Speed: 135.896 MPH.
Pole Winner: 10-Kaden Honeycutt, 29.324 seconds, 184.150 MPH.
Fastest Lap: 4-Ryan Luza, Lap 98, 29.940 seconds, 180.361 MPH.