By Seth Eggert, Staff Writer
Despite some front-end damage, Casey Kirwan came out with the victory in the 2022 eNASCAR Clash at the Coliseum.
Kirwan picked up minor damage in one of several accidents at the 0.25-Mile oval. With his engine beginning to overheat, he struggled to find a way to keep his virtual No. 95 XSET Gaming Next Gen Chevrolet Camaro ZL1 1LE cool. First, he tried to coast, then clutching entering the corner. Coasting didn't cool the engine down and clutching nearly caused the XSET driver to crash.
As a last resort, Kirwan started shifting from second to third gear. Although his lap times were slightly slower, the difference in engine braking saved his rear tires. With slightly better tires, Kirwan chased down and passed Michael Conti for the lead. A few timely cautions aided his effort to pass the JR Motorsports driver as well.
"I got nose damage there in the incident with Vicente," Kirwan explained. "You're running in second gear, just hitting the chip and then brake. There's a lot of engine braking as well. After about eight laps, I started getting hot. Tried to lift and coast but that wasn't working. I tried to clutch, but you're on and off (the throttle) so quick that I almost lost it.
"After that I just started to shift. Had to lift a little bit earlier with all of that engine braking, but it kept the engine cool. I had to go back and forth because I was a little quicker in second gear. I feel like it saved my tires on that last run because I would shift a little bit and when Mitchell (deJong) closed in I would go back to second and pull away. Had to learn it on the fly, hard to get it down. While it wasn't really slow at the end, it was saving my rear tires."
In a 40-lap run to the finish, Kirwan cruised away to take the win. His virtual No. 95 fittingly won the race at the virtual Los Angeles Memorial Coliseum like the final race in the Pixar movie Cars. In the movie, Lightning McQueen may not of won the race, but he won the respect of his competitors and the fans.
"I'm a huge Cars fan and when I had the choice of number, Alfredo's number in Xfinity isn't available so I had free choice," Kirwan admitted. "The only other number I've run in my life is 14 and obviously Bowyer has that. The only other thing I know of is Lightning McQueen. So, I fully embraced it and went with the 95. Tonight, we ran the full red wheels and it worked, so we might need to incorporate that. It's cool to run it."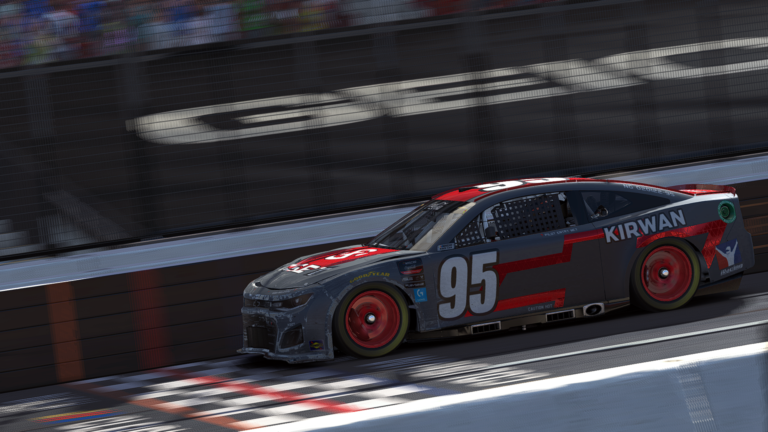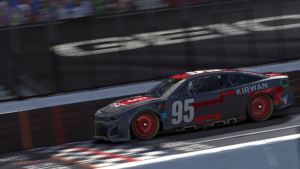 23XI Racing's deJong finished second, 2.159 seconds behind Kirwan. eNASCAR Coca-Cola iRacing Series rookie and JR Motorsports driver Briar LaPradd finished third after being forced to transfer from the consolation race. Fellow rookie Donovan Strauss finished fourth with Nick Ottinger fifth.
Garrett Lowe, Blake Reynolds, Michael Guest, Parker Retzlaff, and Bobby Zalenski completed the top-10. Polesitter Vicente Salas finished 20th after an early race wreck. In fact, all four of the top-four starters finished 18th or worse due to wrecks.
Seven cautions took place in the feature, although there were more wrecks in the tight confines of the virtual Coliseum. Cautions were primarily thrown when a spin or wreck blocked the track.
The results:
1. 95-Casey Kirwan [6] ($250), 2. 23-Mitchell deJong [8], 3. 88-Briar LaPradd [18], 4. 20-Donovan Strauss [12], 5. 25-Nick Ottinger [14], 6. 21-Garrett Lowe [13], 7. 15-Blake Reynolds [16], 8. 9-Michael Guest [8], 9. 6-Parker Retzlaff [20], 10. 18-Bobby Zalenski [10], 11. 8-Michael Conti [5], 12. 10-Steven Wilson [9], 13. 31-Garrett Manes [22], 14. 2-Liam Brotherton [7], 15. 17-Kaden Honeycutt [15], 16. 41-Dylan Duval [17], 17. 75-Matt Bussa [11], 18. 45-Keegan Leahy [4], 19. 43-Kollin Keister [21], 20. 19-Vicente Salas [1], 21. 48-Graham Bowlin [3], 22. 46-Jimmy Mullis [2].
Lead Changes: Seven among five drivers.
Lap Leader(s): Vicente Salas 1-13, Michael Conti 14-24, Graham Bowlin 25-26, Mitchell deJong 27, Michael Conti 28-82, Casey Kirwan 83, Michael Conti 84, Casey Kirwan 85-120.
Laps Led: Michael Conti 67, Casey Kirwan 37, Vicente Salas 13, Graham Bowlin 2, Mitchell deJong 1.
Hard Charger(s): 88-Briar LaPradd (+15).
Rookie of the Race: 88-Briar LaPradd, JR Motorsports, Third.
Caution Flags: Four for 12 Laps.
Margin of Victory: 2.159 seconds.
Time of Race: 31 minutes, 26.4 seconds.
Average Speed: 57.252 MPH.
Fastest Qualifier: 19-Vicente Salas, 13.727 seconds (65.564 MPH).
Fastest Lap: Graham Bowlin, Lap 13, 13.798 seconds (65.227 MPH).
Featured Photo Credit: Photo by Justin Melillo.