By Seth Eggert, Staff Writer
After the finish to the Keller Williams 120 at Nashville Superspeedway turned into an instant classic, Ryan Vargas emerged as the winner and inside the eChampionship 4. The Rowdy Energy Monday Night Racing Pro Series eChampionship 4 features a diverse group of championship hopefuls which will compete in the Market Rebellion sponsored race.
The Penultimate Race at Nashville Superspeedway
Vargas headlines the eChampionship 4 drivers as the only real-life pro to make it in. The JD Motorsports with Gary Keller driver passed two-time NASCAR Cup Series champion Kyle Busch on the final lap to take third. Meanwhile, contact between Garrett Smithley and playoff driver Adam Cabot killed their momentum. That allowed Vargas to sneak to the inside of the duo.
Exiting Turn 4, the trio were three-wide, drag racing to the checkered. Cabot swept down the track, slamming into Smithley. Both drivers spun as Vargas took the victory in his virtual No. 6 Swann Security Super Late Model. After a speeding penalty at Iowa Speedway, the NASCAR Xfinity Series driver had to win in order to transfer to the eChampionship 4.
ICYMI ⬇️@RyanVargas_23 comes from NO WHERE to punch his ticket to Charlotte in the WILDEST MNR finish yet. pic.twitter.com/dYiSol0Rq2

— Monday Night Racing (@MonNightRacing) February 1, 2022
Having nowhere to go, Busch, James Bickford, TJ Majors, David Schildhouse and the rest of the field piled into the wreck. Majors and Smithley crossed the line in third and fourth. Despite the wreck, Schildhouse and Cabot crossed the line in fourth and fifth respectively, both still in the playoffs. Collin Fern, who advanced to the eChampionship 4 with a win at Iowa, finished 11th.
"Man, everybody was driving way too over their heads tonight," admitted Vargas. "I was getting blocked and shoved. I don't like moving and wrecking people. If bit me really bad a couple times. I lost it off of Turn 2 several times. I like this car and track combo. To me, it felt like I was driving the Xfinity car at Atlanta in real life. Had a ton of fun. When we got to racing the racing was phenomenal.
"Stoked, my first Monday Night Racing win under the Charlotte Phoenix banner. When Leighton (Sibille) was working at JD, he made this Swann Security body. I needed this today. It felt good to have a fun night."
Adam Cabot
For Cabot, his opportunity in the eChampionship 4 is an opportunity for redemption. In Season 3 of the Rowdy Energy Monday Night Racing Pro Series, he made the eChampionship 4 and was swept up in incidents in the NASCAR Camping World Truck Series vehicles at Homestead-Miami Speedway.
Cabot is the only non-racing industry member of the Rowdy Energy Monday Night Racing Pro Series. The iRacing driver advanced for the Pro Series after winning the eSports Racing League championship in 2020. Cabot represents much of the iRacing community with his chance to beat the pros and industry personnel.
This season Cabot has one victory at Chicagoland in the virtual NASCAR Xfinity Series cars. Those cars will be utilized once again at Auto Club Speedway in the Market Rebellion eChampionship race. Last season Cabot finished fifth.
"I think that race took years off of my life to be honest with you," joked Cabot. "For 20 minutes after the race I'm thinking I'm in, I'm out. Didn't know what the points were. Didn't even know it was possible on points. There is just a lot to process for that whole race.
"Having that experience being in that must-win championship moment, that will definitely pay dividends. Been in that situation in another league too, and both situations I finished dead last. I know it can't get any worse. Got wrecked out of both of those races. I've experienced the defeat in making the final four, leading laps, and having it end not the way that I needed it too. I'm feeling really optimistic about next week."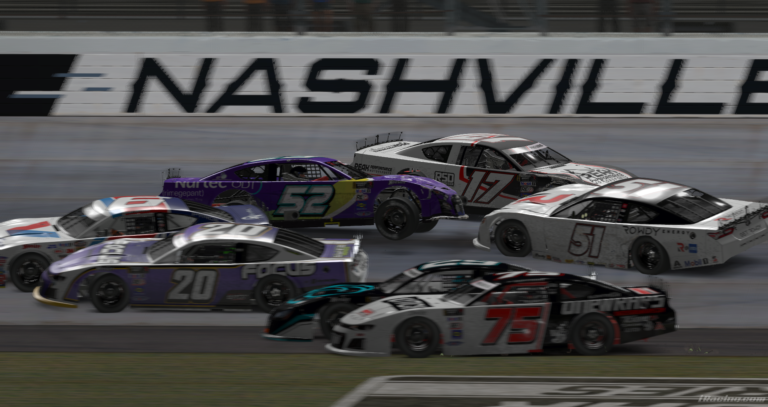 Collin Fern
Fern has two victories in his rookie season in Monday Night Racing. He's the only rookie to make the eChampionship 4. The Brandonbilt Motorsports team manager is representative of the public relations side of the NASCAR industry.
The NASCAR Xfinity Series crew member has not been afraid to take chances on iRacing. He competed in C Fixed Truck Series races for 24 hours for charity last year. In Monday Night Racing, he took the win in the second race of the season in the Gen 6 NASCAR Cup cars at Las Vegas Motor Speedway. At Iowa Speedway, he gambled on strategy and the race fell into his lap.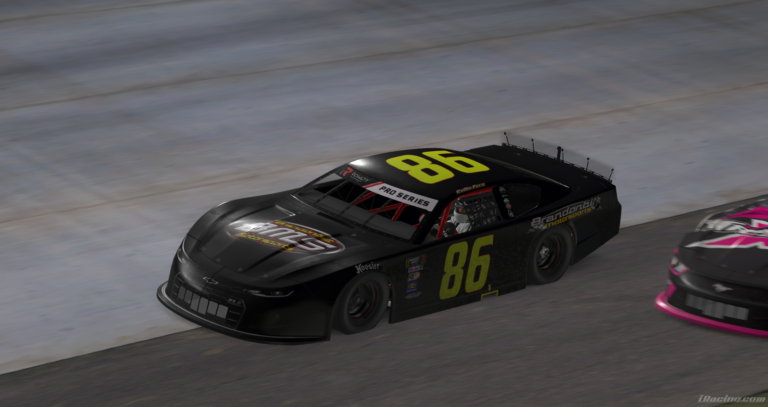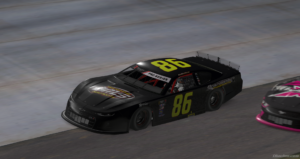 David Schildhouse
Schildhouse is in his second Monday Night Racing season. The Charlotte Phoenix competition director has two wins this season. He won the season opener in the Xfinity cars at Daytona International Speedway and in the NASCAR Next Gen Cup cars at Phoenix Raceway. As the competition director of an eNASCAR Coca-Cola iRacing Series team, Schildhouse is representative of the eNASCAR pros with his eChampionship 4 opportunity.
Schildhouse has long been a staple of the iRacing community. He's been a broadcast, competitor, and now a competition director with one of the newest eNASCAR teams. His addition to Monday Night Racing brought a number of fans with him on his Twitch stream.
Last season Schildhouse finished third in the Xfinity car at Auto Club Speedway.
"It wasn't pretty at times, but we got there in the end, and we're going to be racing for a championship" admitted Schildhouse. "This one really tested my nerves and my patience. For a while there it wasn't looking too good. All season I've tried to put myself into the best position possible.
"We had some unfortunate circumstances the past two races. Some stuff didn't go in our way. The hard work and good results throughout the regular season really pay off when you get down to these situations in the playoffs. We survived, going to go up on that stage Monday night."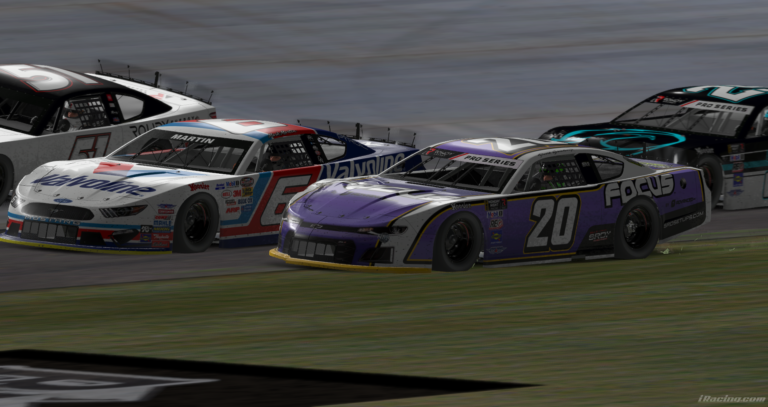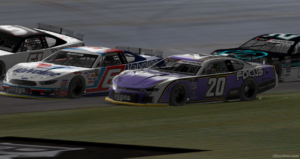 Ryan Vargas
Vargas, as mentioned earlier, is the only real-life pro that made the eChampionship 4. The Xfinity Series driver has been a member of Monday Night Racing since Season 1. This is the second time that he's made the Playoffs, last making them in Season 1. This season, he has two victories, the first in the Trucks at Knoxville Raceway, and the second at Nashville.
The NASCAR Drive for Diversity alum has long been a supporter of iRacing. He uses the sim as a tool for seat time, sponsors, and visuals at the tracks. He regularly hosts sessions for others in the iRacing community to take part in. Vargas recently reaffirmed his commitment to iRacing, partnering with Charlotte Phoenix.
In both of his appearances in the Xfinity car at Auto Club Speedway in Monday Night Racing, Vargas has started on the pole. In Season 2, he was swept up in an accident. Last season, he finished 11th.
"I'm excited," explained Vargas. "I fully did not think that I was going to make the race. So glad that we did though. I was in a virtual must win situation. Had a penalty at Iowa that put my four laps down. Went into this place knowing that if I didn't win that I at least had to be competitive for the win. We were competitive all night. Gabe Wood, Kase Kallenbach did a good job keeping me calm. Absolute blast."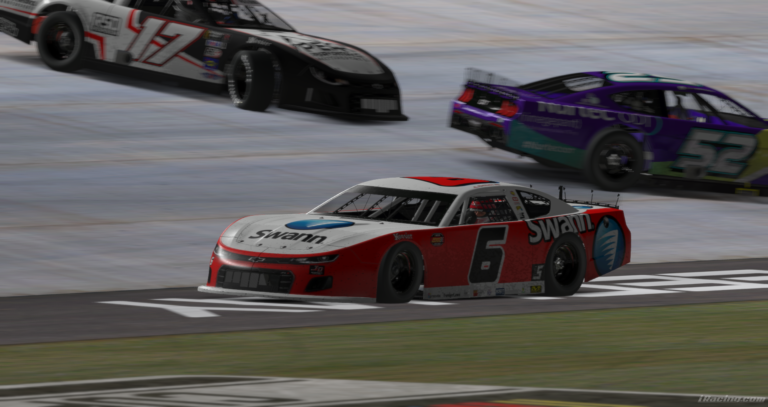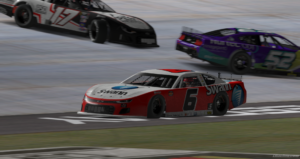 All four of the Rowdy Energy Monday Night Racing Pro Series eChampionship 4 drivers will compete live on stage at the Carolina eSports Hub in uptown Charlotte, N.C. with the race sponsored by Market Rebellion.
Market Rebellion to sponsor Monday Night Racing championship event
Featured Photo Credit: Photo by Seth Eggert / Kickin' the Tires.