By Seth Eggert, Staff Writer
An early race spin couldn't keep Josh Bilicki and his virtual No. 54 Waukesha Christmas Parade Tribute Mazda Miata out of victory lane at the Daytona International Speedway Road Course.
"The events last night in Waukesha, WI were horrible," stated Bilicki. "I still live here in Wisconsin, about 30 minutes away from there. Today I found out that a friend of mine was in the band and he was one of the people that was run over. He's going to make a full recovery. His name is Tyler and he's a huge racing fan. In light of everything I switched over the paint scheme about two hours before the race."
Just found out that a friend of mine, @TVP92, was one of the band members struck by the SUV in Waukesha last night. Tyler is in surgery today. He's a HUGE supporter of all forms of racing and is an all around great kid. Needs our thoughts and prayers! pic.twitter.com/Xz0bMzONlc

— Josh Bilicki (@joshbilicki) November 22, 2021
18 minutes into the 80-minute race, contact from Collin Fern sent the NASCAR Cup Series driver spinning in Turn 1. Bilicki dropped from third to seventh on the running order, 12 seconds behind the lead pack. The Rick Ware Racing driver spent the rest of the race charging forward. Bilicki was one of several drivers that opted to pit twice during the Big Green Egg Challenge.
"I don't think that I thought I was going to be able to make it back to the lead group to be honest," admitted Bilicki. "I pitted pretty early. Unfortunately, I just wasn't paying too much attention and I hit the wall right in front of Dale Earnhardt Jr. That was a little embarrassing right at bit exit. I haven't won something in a while, some iRacing events, but nothing in a league like this."
Following the competition caution just past the halfway mark of the race, Bilicki jumped eight positions avoiding a Turn 1 melee that included James Bickford, Seth Eggert, Kase Kallenbach, Ford Martin, and others. Just a few laps later with 14 minutes left in the race, Bilicki gained four seconds on the leaders.
The next lap he joined the lead group as they battled with one another. The lead changed hands multiple times in the closing minutes between Fern, Preston Pardus, Will Rodgers, and Ryan Vargas. The road course racing prowess on iRacing allowed the five drivers to maintain contact throughout the infield section and draft on Daytona's high banks.
Coming to the checkered, Pardus, Vargas, and Rodgers went three-wide coming to the line. Timing his move perfectly, Bilicki jumped to the outside of the trio. He captured the lead with only about 100 yards to spare. Bilicki beat Pardus to the line by 0.072 seconds. Vargas and Rodgers were also within a tenth of the leader at the checkered. NTT IndyCar Series driver Conor Daly rounded out the top-five.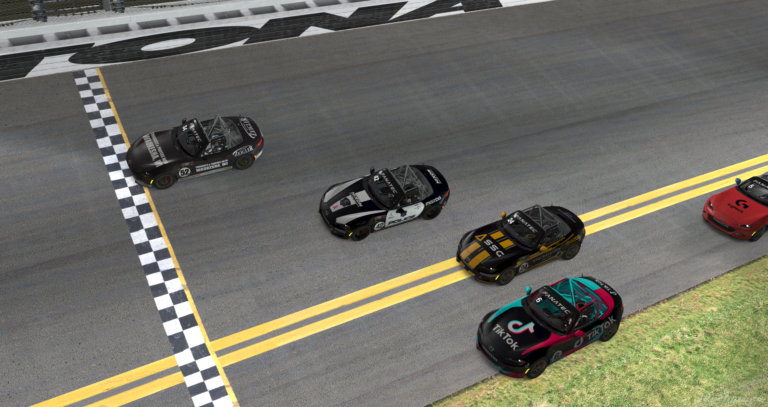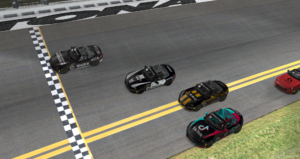 "The whole race was pretty crazy," explained Bilicki. "We qualified really well, ran up front, got spun. As a matter of fact, when I pitted the first time, I hit the wall on pit exit because its' so tight on exit. I had to come in for a fast repair during the break, which put me way back. Just really aggressive, but at the same time I made it through the wreck. I was able to time my runs and learn what I could really do on the bus stop.
"Feel like I was really strong on the bus stop braking zone going in so I could get a better exit. That's what I did there that last lap. Braked a little earlier and focused on my exit through the bus stop. I think that's key to why I had such a big run. Could have went backwards, Conor was behind me and could have went inside of me. But he was probably thinking the same.
"To be honest that's one of the most fun iRacing races I've had in a long time. It was cool to race up front with Preston and Will. Not sure that everyone knows, but the three of us have Miata backgrounds. To be racing against these guys in a room filled with NASCAR and IndyCar drivers, that showcased what we grew up racing."
David Schildhouse, Garrett Smithley, Fern, DJ Cummings, and Matt Stallknecht completed the top-10. Fern, Brandonbilt Motorsports' team manager, was the rookie of the race in eighth. He also ran the fastest lap of the race eight minutes into the 80-minute race. Polesitter Stefan Wilson finished 36th after a scheduling conflict.
Making their first start of the Monday Night Racing Rowdy Energy Pro Series Season 4 were Daly, Nick Olsen, Anders Krohn, and Parker Kligerman. Olsen transferred in from the Tufco Road to Glory Series and finished 17th. Both Krohn and Kligerman were swept up in incidents and finished 34th and 35th respectively.
One week after taking his first checkered flag of the season, two-time Cup Series champion Kyle Busch was wiped out in an accident. Busch and Rajah Caruth battled at the tail-end of the lead pack with under 10 minutes to go. Contact sent both drivers careening into the pit wall on driver's left of Turn 1. Caruth barrel-rolled over the wall while Busch hit head-on. The wreck ended the night for both drivers.
Meanwhile, one week after earning his first 'LASTCAR' of Monday Night Racing, Dale Earnhardt Jr. rebounded. The JR Motorsports team co-owner started 22nd and slowly climbed through the field. With just under 15 minutes left in the race, Earnhardt was inside the top-10 in the virtual No. 8 FilterTime machine. An apparent slow down penalty for cutting the course dropped him from seventh to 17th. Earnhardt ultimately finished 15th.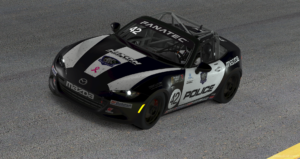 This week the 1v1 Challenges pitted Pardus against Brad Perez and Steven Ellis against Justin Melillo. The Pardus and Perez battle ended early as internet connection issues forced Perez to retire before the competition caution. Meanwhile, the battle between Ellis and Melillo came down to the closing minutes. An on-track incident for Ellis ultimately made the difference as the two reporters finished in 13th and 14th with Melillo winning the challenge.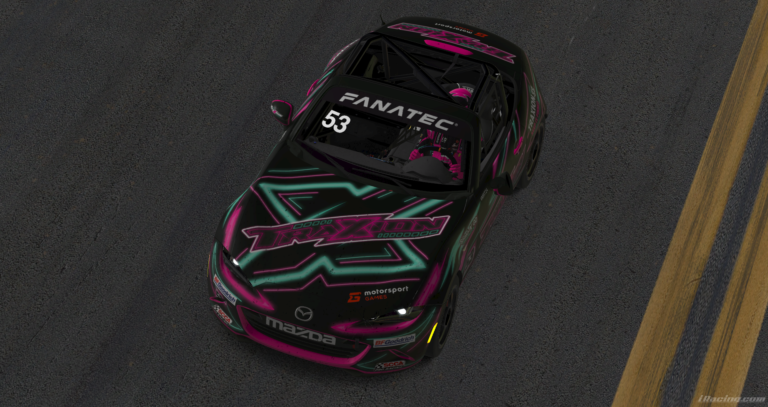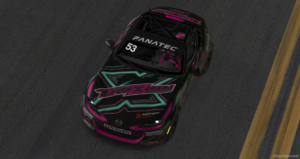 The results:
1. 54-Josh Bilicki [3], 2. 42-Preston Pardus [7], 3. 6-Ryan Vargas [9], 4. 24-Will Rodgers [2], 5. 5-Conor Daly [10], 6. 20-David Schildhouse [37], 7. 52-Garrett Smithley [25], 8. 68-Collin Fern [15], 9. 10-DJ Cummings [4], 10. 41-Matt Stallknecht [26], 11. 07-Ford Martin [18], 12. 13-Gary Sexton [17], 13. 53-Justin Melillo [19], 14. 46-Steven Ellis [27], 15. 8-Dale Earnhardt Jr [22], 16. 93-Garrett Miller [31], 17. 38-Nick Olsen [36], 18. 29-James Bickford [13], 19. 17-Adam Cabot [11], 20. 19-Robby Lyons [32], 21. 57-Seth Eggert [24], 22. 77-Devon Henry [28], 23. 4-Brett Baldeck [34], 24. 28-Ron Capps [38], 25. 99-Mark Rebilas [35], 26. 91-Cole Irvin [16], 27. 12-Brandon Brown [20], 28. 84-Kase Kallenbach [33], 29. 2-TJ Majors [23], 30. 50-Gabe Wood [6], 31. 51-Kyle Busch [21], 32. 44-Rajah Caruth [12], 33. 63-Bryan Boris Cook [29], 34. 47-Anders Krohn [5], 35. 18-Parker Kligerman [14], 36. 25-Stefan Wilson [1], 37. 30-Brad Perez [8], 38. 14-Dillon Welch [30].
Lead Changes: 16 among seven drivers.
Lap Leader(s): Stefan Wilson 0-0 (Pole), Anders Krohn 1-5, Preston Pardus 6-7, Will Rodgers 8-9, Collin Fern 10, Preston Pardus 11-12, Ryan Vargas 13, Preston Pardus 14-16, Collin Fern 17-23, Will Rodgers 24-25, Collin Fern 26, Will Rodgers 27-28, Preston Pardus 29-30, Will Rodgers 31-32, Ryan Vargas 33, Will Rodgers 34, Josh Bilicki 35.
Laps Led: Collin Fern 9, Preston Pardus 9, Will Rodgers 9, Anders Krohn 5, Ryan Vargas 2, Josh Bilicki 1, Stefan Wilson 0 (Pole).
Hard Charger(s): 20-David Schildhouse (+31).
Rookie of the Race: 68-Collin Fern, Brandonbilt Motorsports, Eighth.
Caution Flags: One for Three Laps.
Margin of Victory: 0.072 seconds.
Time of Race: One hour, 21 minutes, 23.395 seconds.
Average Speed: 91.854 MPH.
Pole Winner: 25-Stefan Wilson, Two minutes, 10.198 seconds (98.438 MPH).
Fastest Lap: 68-Collin Fern, Lap 4, Two minutes, 8.392 seconds (99.819 MPH).
Featured Photo Credit: Photo by Seth Eggert / Kickin' the Tires.