By Seth Eggert, Staff Writer
After a thrilling two-lap shootout, Alex McCollum and Cody Kelley crashed across the line in a photo finish in the Windshield Deep Dexter's Detailing Thanksgiving Classic.
Battle for the Win
With under 10 laps to go, contact from McCollum sent part-time ARCA Menards Series East driver Parker Retzlaff spinning in front of the field. Several cars including Landon Huffman, who ended up on top of the water barrels, were swept up in the incident.
Cody Kelley had led all but one lap to that point, as Retzlaff was the only competitor to challenge the polesitter. The caution set up a two-lap shootout at Southern National Motorsports Park with Kelley and McCollum on the front row.
While Kelley fired off well, McCollum fell in line just behind the No. 75. Entering turn one on the final lap, the eNASCAR iRacing Pro Series driver bumped Kelley's Chevrolet. McCollum quickly worked to fill the gap on the inside entering turn three.
The duo dueled through the final two corners. As McCollum's No. 1 Zero 9 Motorsports Chevrolet moved up the track, Kelley bounced off the wall. The two drivers slammed into one another as the drag-raced to the checkered. Kelley spun into the 2020 eNASCAR Coca-Cola iRacing Series driver as the duo crashed in a photo finish with McCollum winning by 0.050 seconds.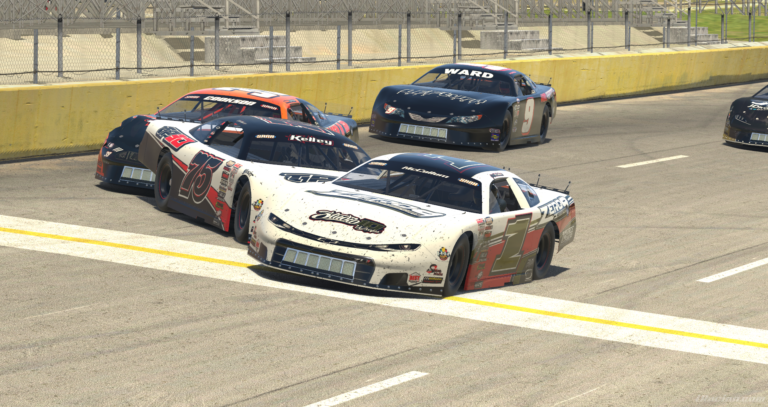 A Tale of Two Opinions
"That race, we made it on the yellows, I'm surprised we made it on fuel," admitted McCollum. "If we had gone 50 laps straight green, we would have had to fill up. A win is a win, but you can't pass at this track. The only way you're going to get around someone is if you move them. I didn't want to do it that way, but I think Cody would have done the same.
"The yellows started falling into my hands. I played it how it came to me. Good job to Cody, he ran a heck of a race. Anybody would have done the same thing, it's a part of racing."
With the victory, McCollum earned $600 in prize money. Kelley earned all of the lap leading bonuses throughout the race.
"I'll probably put it to my real-life car," McCollum explained about his plans for the winnings.
Although Kelley won all of the lap leading bonuses, he was unhappy with the way McCollum raced him on the final lap.
"I got a decent start, he was on the outside," explained Kelley. "I raced him clean, gave him plenty of room. Then when he got behind me he just ran over me. I'll keep that in the memory back, he never even gave me a chance. While I was on the outside in three and four, I gave him plenty of room again, he just never lifted off the corner and ran me into the wall. It was a good run."
Notable Finishers
Max Cookson waited for the inevitable contact but was not close enough to take advantage and crossed the line in third. Grayson Ward and Zack Novak completed the top-five. Corey Deuser, Jackson Lewis, J.R. Hager, Jimmy Mullis, and Garrett Konrath rounded out the top-10.
JR Motorsports NASCAR Xfinity Series and CARS Tour driver Josh Berry finished 12th after a mid-race spin. NASCAR Pinty's Series competitor Treyten Lapcevich finished 14th. Retzlaff ended up 19th after his late-race accident. 2020 eNASCAR Coca-Cola iRacing Series driver Blake Reynolds finished 23rd. Huffman ended up 29th with NASCAR driver Anthony Alfredo in 30th.
In total, the inaugural Thanksgiving Classic on iRacing was slowed 12 times for incidents. A total of 61 of the 150 laps were run under the caution flag.
In addition to Huffman landing on top of the water barrels, eNASCAR iRacing Pro Series driver Donovan Strauss barrel rolled just past the midway point of the race. Despite the lazy roll, Strauss continued in the race. After he was swept up in another incident, he crossed the line in 25th.
The Finish
1. Alex McCollum [3] ($600), 2. Cody Kelley [1], 3. Max J. Cookson [4], 4. Grayson Ward [15], 5. Zack Novak [9], 6. Corey Deuser [12], 7. Jackson Lewis [22], 8. J.R. Hager [18], 9. Jimmy Mullis [27], 10. Garrett Konrath [16], 11. Sam King [29], 12. Josh Berry [6], 13. Brett Suggs [11], 14. Treyten Lapcevich [8], 15. Ricky Hardin [23], 16. Clay Jones [32], 17. Chandler Parsons [14], 18. Andy Trupiano [5], 19. Parker Retzlaff [2], 20. Casey Pierce [26], 21. Mitchell Drewnowski [25], 22. Robert Arch [17], 23. Blake Reynolds [13], 24. Brandon Wilkinson [7], 25. Donovan Strauss [10], 26. Bryan S. Fallen [21], 27. Keith Jeffrey [31], 28. Mike Stodder [24], 29. Landon Huffman [19], 30. Anthony Alfredo [30], 31. John Kossek [28], 32. Daniel Stewart [20].
Lead Changes: Three among three drivers.
Lap Leader(s): Cody Kelley 1-50, Parker Retzlaff 51, Cody Kelley 52-149, Alex McCollum 150.
Laps Led: Cody Kelly 148, Alex McCollum 1, Parker Retzlaff 1.
Hard Charger(s): Jimmy Mullis and Sam King (+18).
Tough Break(s): Parker Retzlaff and Brandon Wilkinson (-17).
Cautions: 12 for 61 Laps.
Margin of Victory: 0.050 seconds.
Time of Race: 49 minutes, 40.921 seconds.
Average Speed: 72.461 MPH.
Pole Winner: Cody Kelley, 13.926 seconds (103.404 MPH).
Fastest Lap: Cody Kelley, Lap 8, 14.375 seconds (100.174 MPH).
Photo by Seth Eggert / Kickin' the Tires