By Seth Eggert, Staff Writer
Hometown driver Garrett Manes earned his first career eNASCAR iRacing Pro Series victory at the virtual Richmond Raceway.
Battle for the Lead
The Elliott Sadler eSports driver showcased his short track prowess throughout the 200-lap race. Manes climbed up from his 23rd-place starting spot to be inside the top-five when green flag pit stops started just before halfway. A timely caution allowed him to take his No. 2 Smithfield Toyota Supra onto pit road for fresh tires.
As the initial caution began to breed more cautions, Manes maneuvered his way up the running order. The Richmond Raceway eSports development driver worked his way by race leader Alex McCollum on lap 129. The eThanksgiving Classic winner took the lead back from Manes with 59 laps to go.
Short Track Racing Masterclass
The Powhatan, VA native didn't let McCollum get away easily, however. Manes stalked his competition throughout the next 30 laps. With 30 to go, the long run speed of the Elliott Sadler eSports drivers became apparent as Manes swept by McCollum. Shortly thereafter, Manes' teammate Ashton Crowder took second. Another Sadler eSports driver, Vicente Salas, moved into the top-five with under 10 laps to go.
Although Crowder closed in on Manes for the lead, he ran out of time. The gap between the teammates started at just over 1.5 seconds. Crowder cut the lead down to just under a second before the checkered flag waved. Nathan Lyon finished in third behind the duo with Salas and McCollum completing the top-five.
Team Celebration
The victory was the first for Manes and Elliott Sadler eSports in the eNASCAR iRacing Pro Series. It came in poetic fashion as Manes, a Richmond Raceway eSports development driver, won on the 75th anniversary of Richmond Raceway. All three drivers celebrated with a set of burnouts on the frontstretch post-race.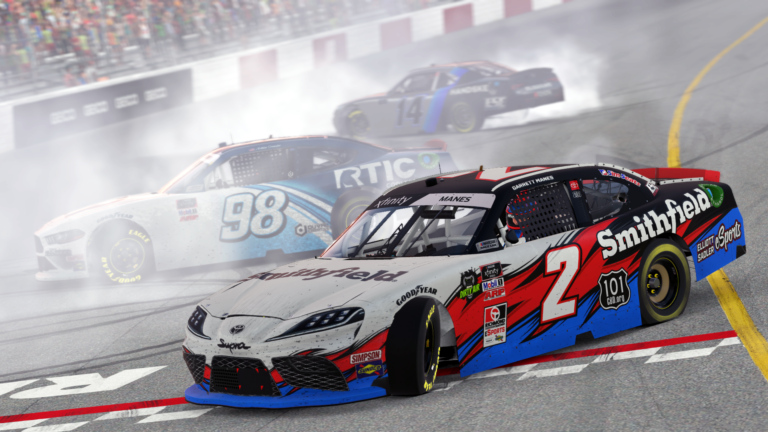 "Honestly, I'm in disbelief," explained Manes. "This could not have come on a better night. For us to win on the 75th anniversary of Richmond Raceway, that's absolutely perfect."
Between both of Manes' stints in the lead, the caution waved one final time. The handling came to the Martinsville Speedway winner in the eNASCAR Road to Pro iRacing Series. The confidence boost left Manes excited for the run to the finish.
"I was really confident when it went green the second time," admitted Manes. "Alex fell off really bad on the first run. If I was able to hang with him on two tires, I knew I was going to catch him eventually.
"It was so cool for our team to finish 1-2-4," stated Manes. "Just shows the amount of effort that went into this car. Definitely where I needed to be tonight. We came in with a mindset of a top-10 as always and got far more than that."
Notable Finishers
Rounding out the top-10 were Matt Bussa, Michael Guest, Justin Bolton, Auto Club Speedway winner Mitchell deJong, and Taylor Hurst.
Richmond also marked the debut of Kickin' the Tires as a sponsor onboard Brandon Kettelle's No. 48 Chevrolet Camaro SS. The Slip Angle Motorsports driver benefitted from the first caution, which came in the middle of green flag pit stops. Kettelle briefly held the lead before fading out of the top-10 in his Ryan Newman throwback paint scheme. He finished 15th.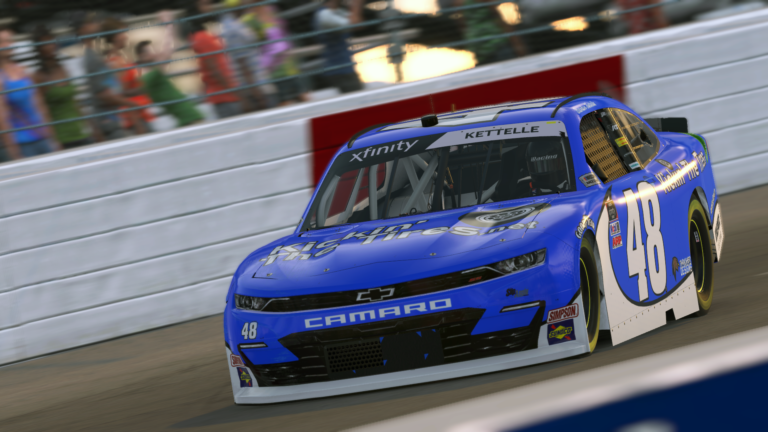 On-Track Incidents
While Kettelle benefitted from the caution, others suffered through the series of cautions that plagued the second half of the race. 2020 eNASCAR Coca-Cola iRacing Series driver Eric J. Smith received damage in the opening laps. Contact between him and Michael Gonzales sparked the rash of cautions.
Landon Cassill Qualifying Challenge winner Eddie Kerner, 2020 eNASCAR Road to Pro iRacing Series champion Allen Boes, 2020 Coca-Cola Series drivers Brian Schoenburg and Santiago Tirres, Jake Matheson, and Steven Wilson all had top-15 runs cut short.
The only incident that didn't bring out a caution were spins by Wilson and Dylan Duval. The duo looped around into the infield grass on the frontstretch. Out of the racing groove, the green flag remained out.
Engine failures were also prevalent in the closing laps. Kollin Keister was the first to suffer an engine failure. When Keister's motor went south, 2019 Coca-Cola Series champion Zack Novak and ran into him. Novak's motor later expired. Polesitter Donovan Strauss also experienced an engine failure with under 10 laps to go.
Daytona International Speedway winner Malik Ray experienced a multitude of issues. The Rowdy Energy driver didn't complete a lap until the fifth circuit. He later parked his No. 51 Toyota Supra just past the halfway point of the race.
The Finish
1. 2-Garrett Manes [23], 2. 98-Ashton Crowder [5], 3. 47-Nathan Lyon [10], 4. 14-Vicente Salas [22], 5. 1-Alex McCollum [7], 6. 34-Matt Bussa [17], 7. 33-Michael Guest [28], 8. 10-Justin Bolton [14], 9. 12-Mitchell deJong [9], 10. 74-Taylor Hurst [3], 11. 22-Isaac Gann [15], 12. 42-Danny Hansen [11], 13. 77-Ryan Doucette [20], 14. 31-Derek Justis [13], 15. 48-Brandon Kettelle [24], 16. Collin Bowden [30], 17. 24-Zack Nichols [34], 18. 57-Seth DeMerchant [31], 19. 32-Steven Wilson [16], 20. 55-Brian Schoenburg [29], 21. 5-Femi Olat [4], 22. 16-Chris Overland [21], 23. 75-Jose Solis Jr. [8], 24. 41-Dylan Duval [32], 25. 15-Michael Guariglia [37], 26. 6-Jarl Teien [33], 27. 44-Brian Mercurio [19], 28. 62-Anthony Burroughs [12], 29. 7-Blade Whitt [26], 30. 4-Santiago Tirres [36], 31. 21-Allen Boes [35], 32. 52-Jake Matheson [6], 33. 9-Eric J. Smith [18], 34. Donovan Strauss [1], 35. 90-Zack Novak [25], 36. 19-Eddie Kerner [38], 37. 17-Kollin Keister [2], 38. 72-Michael Gonzales [27], 39. 51-Malik Ray [39].
Lead Changes: 13 among 11 drivers.
Lap Leader(s): Donovan Strauss 1-24, Taylor Hurst 25-86, Kollin Keister 87-100, Garrett Manes 101, Matt Bussa 102, Nathan Lyon 103-106, Steven Wilson 107-108, Brandon Kettelle 109-111, Zack Novak 112-116, Mitchell deJong 117-126, Alex McCollum 127-128, Garrett Manes 129-142, Alex McCollum 143-170, Garrett Manes 171-200.
Laps Led: Taylor Hurst 62, Garrett Manes 45, Alex McCollum 30, Donovan Strauss 24, Kollin Keister 14, Mitchell deJong 10, Zack Novak 5, Nathan Lyon 4, Brandon Kettelle 3, Steven Wilson 2, Matt Bussa 1.
Hard Charger: 2-Garrett Manes (+22).
Tough Break: 17-Kollin Keister (-35).
Cautions: 3 for 15 Laps.
Margin of Victory: 1.045 seconds.
Time of Race: One hour, 23 minutes, 51.223 seconds.
Average Speed: 107.330 MPH.
Pole Winner: 45-Donovan Strauss, 21.413 seconds, (126.092 MPH).
Fastest Lap: 1-Alex McCollum, Lap 140, 21.834 seconds (123.330 MPH).
Strength of Field: 6,607 Average iRating.
Photo by Seth Eggert / Kickin' the Tires