By Seth Eggert, Staff Writer
Clint Bowyer Racing's Femi Olatunbosun claimed his first career eNASCAR Coca-Cola iRacing Series victory in a thrilling three-wide photo finish at Daytona International Speedway.
When a late-race accident forced the race into overtime, Olatunbosun found himself in the lead in the virtual No. 79 Dekalb Ford Mustang. Behind him was Elliott Sadler eSports' Garrett Manes with Stewart-Haas eSports' Steven Wilson on the outside. On the backend, it was two Deadzone Racing drivers, Olatunbosun and Wilson up against Manes.
Manes tandemmed with Olatunbosun, clearing the outside lane on the restart. He stayed hooked up with the second year eNASCAR driver as they took the white flag. While Wilson remained in tow, he had no intentions of aiding Manes. When the driver of the virtual No. 31 Chevrolet Accessories Chevrolet Camaro ZL1 1LE swept to the outside, Wilson ducked to Olatunbosun's inside.
As Wilson made his move, he clipped Olatunbosun's car, bumping him forward. As the trio crossed the line, Olatunbosun was a fender ahead of both of his competitors. The victory was the first for Clint Bowyer Racing since Brandon Kettelle took the checkered flag at Talladega Superspeedway in 2020. It also tentatively secures a spot for Olatunbosun in the eNASCAR Playoffs.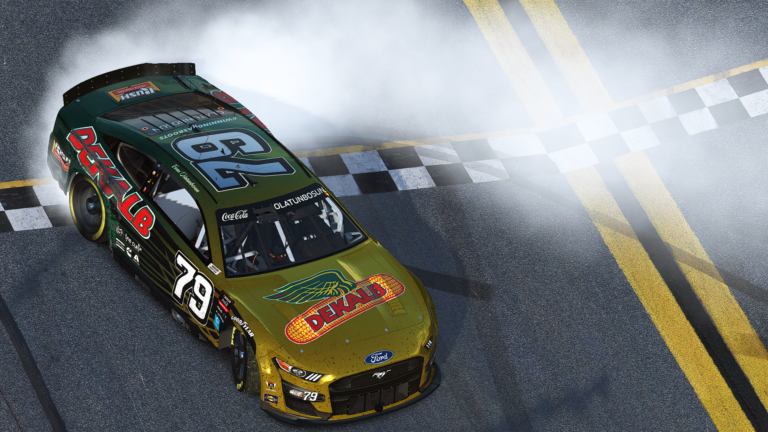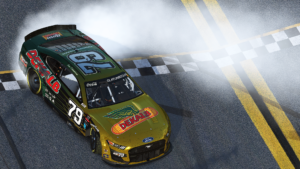 "What a way to start off the year, right?" stated Olatunbosun. "I just got to thank everyone that's supported me throughout the whole ride, especially after the bad luck I had last year. To have Steven give me that little push that I needed to be able to clear Garrett. I don't even know what to say, there's so much happening.
"A lot of it was just staying patient before lap 40, just tried to learn something for the end of the race. Got a bit lucky with a bit of contact in front of us. From that point on the lowest I was I think was third. Then it was about making the right move at the right time."
Manes narrowly beat Wilson for second with Michael Conti and Jimmy Mullis rounding out the top-five. Blake Reynolds, Dylan Duval, Kollin Keister, Keegan Leahy, and Taylor Hurst completed the top-10. Parker Retzlaff was the eRookie of the Race in 13th. Polesitter Nick Ottinger was 27th.
The 2022 eNASCAR Coca-Cola iRacing Series season opener was slowed six times for incidents. Two race-changing incidents took place after the halfway mark of the race.
The first occurred at the completion of green flag pit stops. An ill-timed push led to Logan Clampitt and Nick Ottinger spinning in front of Leahy and others. The wreck took out several of the early race leaders. Emerging from the wreck unscathed were Olatunbosun, Keister, and Malik Ray.
"I think that was (Clampitt, Ottinger, and Leahy)'s out lap, and myself, Kollin, and a couple of other guys were trying to see if we could jump them," explained Olatunbosun. "They were controlling the race up until that point. Everything happened so quick. I wasn't looking at whoever caused the crash, I was looking in my mirror to make sure Kollin and I had room to move around.
"All of a sudden, I look up and Clampitt is facing the inside wall. At that point when you see that, you think the guy is going to fly back up the track. I slammed the brake, was going to turn to the apron, and for some reason I hooked a right at the last second. Everyone that stayed low in front of me ended up getting involved. That put us in control of the race."
The second incident took place in the closing laps. As Ray battled with Keister and Olatunbosun for the lead, the trio traded control of the inside and outside lanes. Eventually, the luck ran out and a hard bump sent Ray head-on into the outside wall. That ultimately set up the overtime finish for the race.
The results:
1 79-Femi Olatunbosun [11], 2. 31-Garrett Manes [17], 3. 10-Steven Wilson [20], 4. 8-Michael Conti [2], 5. 46-Jimmy Mullis [25], 6. 15-Blake Reynolds [13], 7. 41-Dylan Duval [9], 8. 43-Kollin Keister [12], 9. 45-Keegan Leahy [3], 10. 33-Taylor Hurst [31], 11. 18-Bobby Zalenski [5], 12. 23-Mitchell deJong [6], 13. 6-Parker Retzlaff [40], 14. 95-Casey Kirwan [14], 15. 2-Liam Brotherton [26], 16. 14-Nickolas Shelton [38], 17. 40-Dylan Ault [23], 18. 4-Ryan Luza [34], 19. 16-Blade Whitt [28], 20. 75-Matt Bussa [7], 21. 55-Allen Boes [32], 22. 24-Cody Byus [10], 23. 51-Ray Alfalla [39], 24. 21-Garrett Lowe [35], 25. 48-Graham Bowlin [8], 26. 7-Malik Ray [19], 27. 25-Nick Ottinger [1], 28. 19-Vicente Salas [36], 29. 54-Kyle Peddle [22], 30. 9-Michael Guest [21], 31. 36-Brian Mercurio [29], 32. 12-Derek Justis [27], 33. 3-Corey Vincent [30], 34. 17-Kaden Honeycutt [37], 35. 97-Logan Clampitt [4], 36. 69-Collin Bowden [16], 37. 42-Darik Bourdeau [15], 38. 5-Zack Novak [33], 39. 20-Donovan Strauss [18], 40. 88-Briar LaPradd [24].
Lead Changes: 27 among seven drivers.
Lap Leader(s): Nick Ottinger 1-2, Michael Conti 3, Nick Ottinger 4-9, Michael Conti 10-16, Nick Ottinger 17-21, Michael Conti 22, Nick Ottinger 23-25, Michael Conti 26, Nick Ottinger 27-28, Michael Conti 29, Nick Ottinger 30, Michael Conti 31-32, Nick Ottinger 33-36, Michael Conti 37-41, Blake Reynolds 41-42, Garrett Lowe 43-44, Kollin Keister 45-51, Michael Conti 52, Kollin Keister 53-55, Malik Ray 56, Kollin Keister 57-63, Femi Olatunbosun 64, Kollin Keister 65, Femi Olatunbosun 66-72, Malik Ray 73-75, Femi Olatunbosun 76, Malik Ray 77-78, Femi Olatunbosun 79-84.
Laps Led: Nick Ottinger 23, Michael Conti 18, Kollin Keister 18, Femi Olatunbosun 15, Malik Ray 6, Garrett Lowe 2, Blake Reynolds 2.
Hard Charger(s): 6-Parker Retzlaff (+27).
Rookie of the Race: 6.-Parker Retzlaff, RFK Racing, 13th.
Caution Flags: Six for 18 Laps.
Margin of Victory: 0.009 seconds.
Time of Race: One hour, 23 minutes, 28.5 seconds.
Average Speed: 150.943 MPH.
Pole Winner: 25-Nick Ottinger, 49.737 seconds (180.952 MPH).
Fastest Lap: 21-Garrett Lowe, 45.831 seconds (196.374 MPH).
Scheduled Distance: 80* Laps, 200 Miles.
*Race extended to 84 Laps in Overtime.
Featured Photo Credit: Photo by Justin Melillo.