By Seth Eggert, Associate Editor
A two-tire call, overtime, and a spirited battle with a former champion earned Jordy Lopez, Jr. his first career victory in Tuesday night's eNASCAR Coca-Cola iRacing Series race.
When Collin Bowden spun with about 20 laps to go at the virtual World Wide Technology Raceway at Gateway, it created a split decision amongst the eNASCAR field. FGR Accel eRacing's Garrett Manes stayed out on old tires. Team Dillon eSports' Tucker Minter and Lopez both took two tires. Polesitter Nick Ottinger, William Byron eSports, took four tires.
The adage of 'cautions breed cautions' took hold, pushing the race into overtime. That aided Manes' gamble to capture a win, even if he had resigned himself to not having a chance. In eNASCAR overtime, he had launched well, escaping Lopez, 2014 champion Michael Conti, and others for a lap.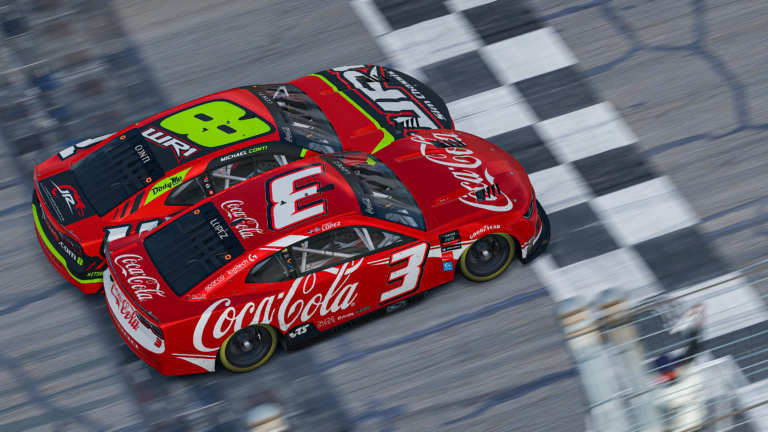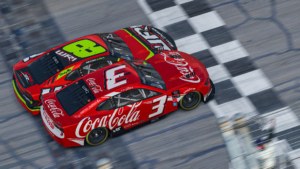 The tire disadvantage allowed Lopez to close in on the final lap. The difference in tire wear meant the closing rate was greater than anticipated. Lopez bumped Manes harder than he intended, sending the No. 12 into a slide exiting Turn 2. Unable to maintain control, Manes crashed, collecting a wide swath of the field behind them.
Two-time 2023 winner Conti escaped the carnage and chased Lopez into Turn 3. On four fresh tires, he intimidated his fellow Team Chevy driver on corner entrance. The No. 8 WR1 Sim Chassis Chevrolet Camaro ZL1 bumped the No. 3 Coca-Cola Chevy in the middle of the corner.
That contact sent Lopez wide exiting Turn 4. Thinking quickly, he turned into Conti on the straightaway. The duo got stuck together, much like Casey Kirwan and Zack Novak at Pocono last year. Beating and banging as they raced to the line, Lopez narrowly took his first career victory by 0.004 seconds over Conti.
"You have no idea (what this win means to me)," an emotional Lopez said post-race. "I started in 2013, was always trying to get to this series doing the things that I do now. I just can't believe it after so many years of frustration and it's finally paying off.
"I'm definitely more comfortable (looking at the rest of the season having that win). I just want to continue doing the same things that I'm doing so I know that I'm not unprepared for the playoffs."
Also escaping the carnage to finish inside the top-five were Parker White, Garrett Lowe, and 2022 Gateway winner Graham Bowlin. Femi Olatunbosun, Steven Wilson, Michael Cosey, Jr., Matt Bussa, and Wyatt Tinsley rounded out the top-five.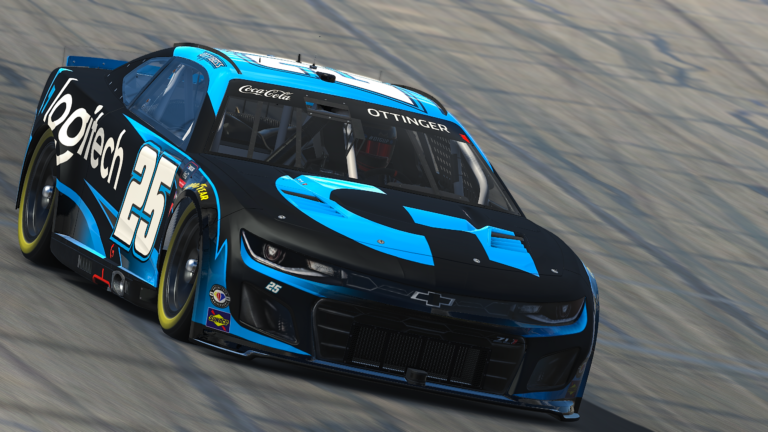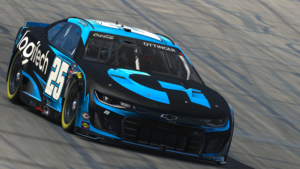 After the massive wreck, Manes took the checkered flag in 30th. Also swept up in the accident was 2020 champion Ottinger, 31st, 2021 champion Keegan Leahy, 28th, and defending champion Kirwan in 25th. Several drivers, including Daniel Faulkingham and Malik Ray, took advantage of the carnage to jump up the running order.
In total the race was slowed seven times by cautions for a total of 26 laps. It was also the longest race of the 2023 season, lasting just over 90 minutes.
For Lopez, he is the second eNASCAR rookie to win this season, joining his teammate, Minter. That locks both drivers into the eNASCAR Playoffs as well as the 2024 eNASCAR Coca-Cola iRacing Series grid. The win also extends Team Dillon's points lead in the team standings to 48-points over William Byron eSports.
Next up for the eNASCAR Coca-Cola iRacing Series is the series' first points race on the Chicago Street Course on Tuesday, June 27 at 9:00 p.m. ET. All races are streamed live at enascar.com/live.
The results:
1. 3-Jordy Lopez Jr. [8], 2. 8-Michael Conti [7], 3. 11-Parker White [13], 4. 15-Garrett Lowe [14], 5. 48-Graham Bowlin [9], 6. 43-Femi Olatunbosun [22], 7. 10-Steven Wilson [6], 8. 38-Michael Cosey Jr. [11], 9. 97-Matt Bussa [38], 10. 20-Wyatt Tinsley [17], 11. 41-Dylan Duval [15], 12. 69-Collin Bowden [31], 13. 88-Kevin King [34], 14. 75-Zack Novak [36], 15. 54-Daniel Faulkingham [28], 16. 7-Malik Ray [30], 17. 6-Timmy Holmes [26], 18. 1-Darik Bourdeau [25], 19. 66-Tyler Garey [19], 20. 36-Brandon McKissic [12], 21. 45-Michael Guest [33], 22. 2-Corey Vincent [20], 23. 31-Derek Justis [29], 24. 40-Dylan Ault [37], 25. 95-Casey Kirwan [35], 26. 27-Cody Byus [3], 27. 14-Joey Brown [39], 28. 23-Keegan Leahy [5], 29. 77-Ryan Doucette [40], 30. 12-Garrett Manes [27], 31. 25-Nick Ottinger [1], 32. 4-Ryan Luza [24], 33. 18-Bobby Zalenski [18], 34. 42-Kollin Keister [32], 35. 46-Jimmy Mullis [4], 36. 17-Kaden Honeycutt [16], 37. 33-Tucker Minter [21], 38. 55-Vicente Salas [2], 39. 34-Allen Boes [23], 40. 51-Donovan Strauss [10].
Lead Changes: Nine among eight drivers.
Lap Leader(s): Nick Ottinger 1-26, Matt Bussa 27-29, Nick Ottinger 30-68, Michael Conti 69-75, Keegan Leahy 76, Steven Wilson 77-80, Collin Bowden 81-90, Nick Ottinger 91-104, Garrett Manes 105-123, Jordy Lopez Jr. 124.
Laps Led: Nick Ottinger 79, Garrett Manes 19, Collin Bowden 10, Michael Conti 7, Steven Wilson 4, Matt Bussa 3, Keegan Leahy 1, Jordy Lopez Jr. 1.
Hard Charger(s): 97-Matt Bussa, William Byron eSports, Ninth (+29).
Rookie of the Race: 3-Jordy Lopez Jr., Team Dillon eSports, First.
Caution Flags: Seven for 26 Laps.
Margin of Victory: 0.004 seconds.
Time of Race: 1:30:47.442.
Average Speed: 102.433 MPH.
Pole Winner: 25-Nick Ottinger, William Byron eSports, 33.813 seconds, 133.085 MPH.
Fastest Lap: 8-Michael Conti, JR Motorsports, Lap 78, 34.189 seconds, 131.621 MPH.