By Seth Eggert, Associate Editor
NTT IndyCar Series veteran Conor Daly will get to lean on his experience competing at the Mid-Ohio Sports Car Course in his return to Niece Motorsports.
About a week removed from Daly parting ways with his Ed Carpenter Racing, the Noblesville, IN native's racing schedule is starting to take shape. He'll compete in the rebranded Nitrocross season opener for Dreyer & Reinbold Racing on June 16 and 17.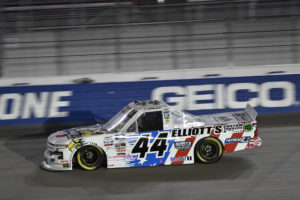 Daly will return to the NASCAR Craftsman Truck Series in the O'Reilly Auto Parts 150 at the Mid-Ohio Sports Car Course on July 8. He last competed in the Truck Series in 2021 at Las Vegas Motor Speedway. Daly's last truck race ended in an early crash.
In the IndyCar Series, Daly has seven career starts at Mid-Ohio. His best finish, sixth, came in 2016 with Dale Coyne Racing. Daly led 22 laps in that race. In 104 IndyCar starts, he has one podium finish, a runner-up finish at Belle Isle, and one pole position at Iowa Speedway.
"I can't wait to work with everyone at Niece Motorsports again," said Daly. "Even though we've only done a few races together, it feels like I'm part of their family. I have a lot of respect for Al Niece and the supportive partners of the team like Unishippers and Worldwide Express.
"It means a lot to get to represent for them as well as Chevrolet. Mid-Ohio is one of my favorite tracks and with the experience I have there I think it will be really beneficial in getting me up to speed quickly."
Both of Daly's two previous Truck Series starts came with Niece at Las Vegas. He finished 18th in his debut, losing an engine as he took the checkered flag. With both of his previous Truck starts coming in the middle of the COVID-19 pandemic, there was no practice. Mid-Ohio will be the first time that Daly will be able to practice prior to a truck race.
Three of Daly's six NASCAR starts have come on road courses. That, combined with his experience in IndyCar, should aid his efforts in the No. 41 WWEX Racing Unishippers Chevrolet Silverado. The 2022 Charlotte Motor Speedway ROVAL race is the only NASCAR road course race that Daly has finished after mechanical issues in the other two.
"We're excited to have Conor take the helm of the No. 41 this season," said Alissa Cherry, VP of Brand and Content Marketing for Worldwide Express. "He is a multi-faceted, well-regarded driver, and we're so pleased to have him as a steward of our Unishippers brand."
Currently, the Niece No. 41 Chevrolet Silverado sits 16th in the Truck Series owner points standings. That likely locks Daly into the race at Mid-Ohio.
He will be the sixth driver to compete in the team's No. 41, joining Tyler Carpenter, Chad Chastain, Ross Chastain, Bayley Currey, and Travis Pastrana. The 'all-star' truck at Niece has three top-five and four top-10 finishes this season. Currey scored the best finish in the truck this season, fourth at Atlanta Motor Speedway.
"We've enjoyed working with Conor in the past and are excited to have him join our team again this season," said Niece Motorsports General Manager Cody Efaw. "Conor's experience on road courses, especially at Mid-Ohio, should be a big benefit for him this weekend. We're looking forward to getting on track with the Unishippers Chevrolet."
The O'Reilly Auto Parts 150 at Mid-Ohio is scheduled for Saturday, July 8 at 1:30 p.m. ET on Fox Sports 1. The race will also be broadcast on the Motor Racing Network and SiriusXM NASCAR Radio, channel 90.
As a standalone race, the O'Reilly Auto Parts 150 will have cautions at the end of each stage and non-competitive pit stops. Teams will not gain or lose positions on pit road and are required to be on pit road for a specific amount of time.