By Seth Eggert, Staff Writer
Despite few laps on the virtual New Hampshire Motor Speedway Road Course, Vicente Salas still dominated the race en route to victory lane.
The eNASCAR Coca-Cola iRacing Series driver's first laps on the Loudon, N.H. road course were in qualifying. The five minutes of open qualifying gave Salas several laps to acclimate to the unique road course.
Although the driver of the virtual No. 55 Spacestation Racing Ford Mustang started fourth, he was in the lead after 12 laps. A bold move into turn one allowed Salas to take the lead from polesitter Andy Trupiano.
The only other competition for the lead that Salas had was on the restart after the halfway break. Lucas Cram pitted prior to pit road closing and stayed out under caution. The Temecula, Calif. native quickly took the lead from Cram and never looked back. Salas took the victory in the eRacr Roval Racing Series by nearly 18 seconds with Cram and Matt Danson rounding out the podium.
"Honestly, that was a blast," admitted Salas. "I kind of hopped in and my first laps were in qualifying. I had run this track once before in a Legends Car league. Getting back on here in a big stock car, braking was different, gearing was different. It was super, super fun.
"At the beginning we were running such different lines, the top-three, top-four. I was able to squeak by them as the tires wore out. As for the lapped cars and the different classes, all these cars have such different power ranges and different ways of driving them. Everyone had different lines. It made things interesting and affected the aero in different ways. It made for an interesting dynamic.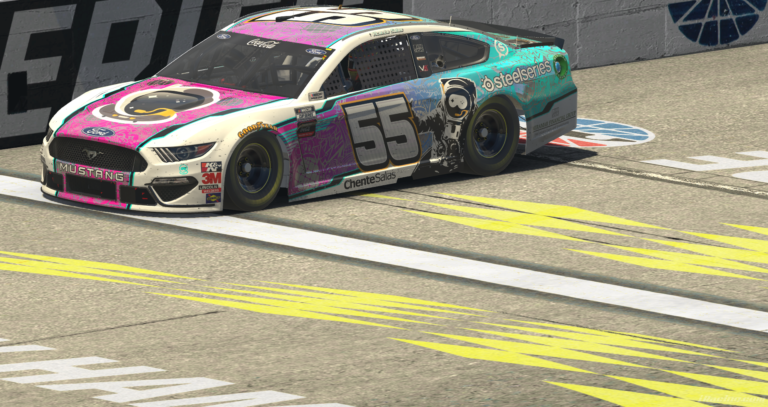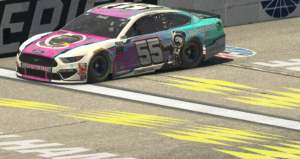 In the B Class, Matt Taylor was once again the class of the field. Although pit strategy briefly put Cade McKee in front, the virtual No. 8 eRacr Chevrolet Camaro SS once again took a dominating victory. McKee was left to battle with newcomer Lucas Hoitsma and Brian Szabelski. The trio battled throughout the entire second half of the race. McKee ultimately held off Hoitsma as the two completed the podium.
"I had really good pace and was able to keep it clean on an extremely difficult track," explained Taylor. "First time I've driven it, raced it was this week. It's funny because the pavement is really wide, but the racing line is narrow. There just isn't a lot of room to move around out there.
"I was definitely keeping an eye on the guys behind me. Cade definitely looked like he had really good pace. I saw he drove up through the field. Don't know if he chose an alternate strategy or if something happened. Saw he had pitted early and he ended up on older tires."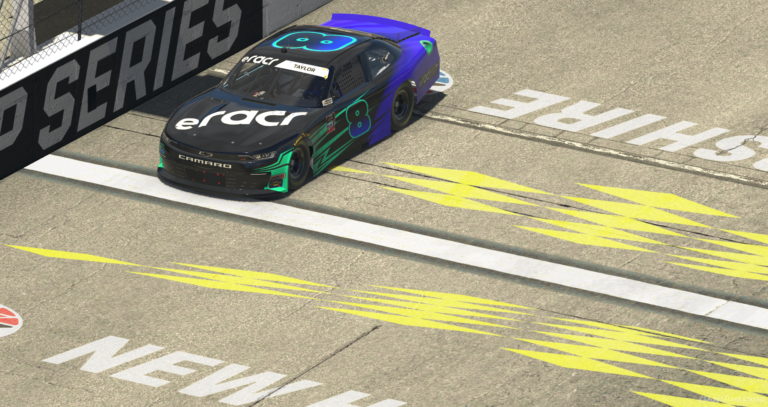 The Ballistipax C Class division once again did not disappoint. For the fourth consecutive race there was a fourth different winner. Brandon Paunetto finally broke through to take the victory in the virtual No. 5 Angry Birds Chevrolet Silverado. Post-race Paunetto revealed that an upcoming surgery may prevent him from completing the entire season.
"It's so relieving, so cool to finally get a win in this series," explained Paunetto. "I honestly didn't think I was going to go far. All of these guys that have come into the series are all talented. Respect every single one of them. I just got lucky when I qualified. Coming into this I didn't have a lot of road course experience. As it turns out throughout the last few races, I've shown consistency and speed.
"It's been a blessing to do this series. This one is straight up a gift from God."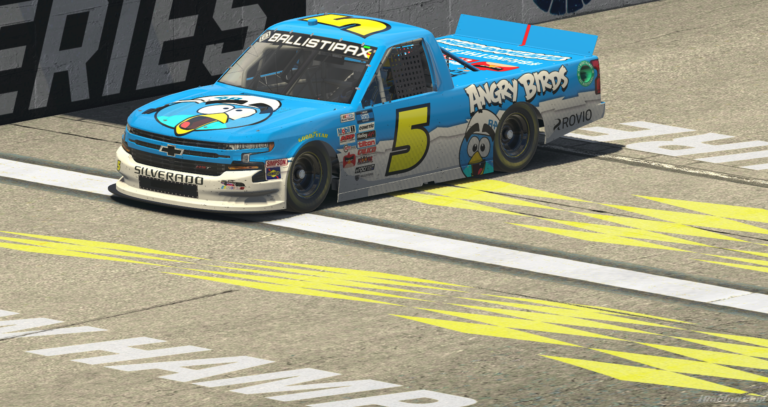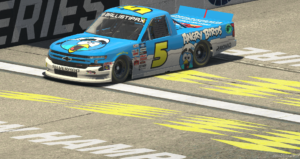 David Grantham and Christopher Colon filled out the podium positions in the Ballistipax C Class division. Grantham briefly went off track early in the race after starting first in class. He recovered to battle with Colon and ultimately take second in class.
The next roval that the eRacr Roval Racing Series will compete on is the Auto Club Speedway Roval on Saturday, August 14 at 7:00 p.m. ET.
The results:
1. 55-Vicente Salas (A) [4], 2. 44-Lucas Cram (A) [3], 3. 30-Matt Danson (A) [2], 4. 026-Tyler Garey (A) [5], 5. 24-John Weitendorf (A) [6], 6. 7-Andy Trupiano (A) [1], 7. 8-Matt Taylor (B) [9], 8. 27-Cade McKee (B) [16], 9. 97-Lucas Hoitsma (B) [11], 10. 85-Brian Szabelski (B) [10], 11. 5-Brandon Paunetto (C) [19], 12. 6-David Grantham (C) [18], 13. 07-Gary Weaver (B) [12], 14. 54-Justin Melillo (B) [13], 15. 13-Phillip Bupp (B) [15], 16. 99-Christopher Colon (C) [23], 17. 77-Riley Dunn (C) [26], 18. 74-Jeremy Breault (C) [21], 19. 999-Joseph Selby (B) [14], 20. 26-DG Swiss (C) [22], 21. 1-Dustin Ping (C) [25], 22. 82-James D. Gibson (A) [8], 23. 36-Tyler Stilwell (C) [27], 24. 22-Brandon Watkins (C) [24], 25. 71-Stacy Hunter (C) [20], 26. 72-Michael Gonzales (A) [7], 27. 16-Ben McDonnell (B) [17].
Lead Changes: Three among three drivers.
Lap Leader(s): Andy Trupiano 1-12, Vicente Salas 13-26, Lucas Cram 27-29, Vicente Salas 30-49.
Laps Led: Vicente Salas 34, Andy Trupiano 12, Lucas Cram 3.
Caution Flags: One for four laps.
Margin of Victory: 17.759 seconds.
Time of Race: One hour, 51.877 seconds.
Average Speed: 76.803 MPH.
Pole Winner: 7-Andy Trupiano, One minute, 9.449 seconds (82.420 MPH).
Featured Photo Credit: Photo by Seth Eggert / Kickin' the Tires.