By Seth Eggert, Staff Writer
After surviving the chaos that is superspeedway racing, David Schildhouse broke through to earn his first victory in the Monday Night Racing Rowdy Energy Pro Series.
The Kligerman Sport Community Manager and driver bookended the Rowdy Energy 225 at the virtual Daytona International Speedway. Schildhouse led the first five laps in the virtual No. 20 Advanced GG Chevrolet Camaro SS as well as the final six laps.
With 13 laps to do, Schildhouse restarted 30th after using his fast repair. He was swept up in an incident with several other drivers including NASCAR drivers Dale Earnhardt Jr, Rajah Caruth, Ryan Vargas, and others. Schildhouse worked his way forward with Mazda Miata driver Preston Pardus, retaking the lead with five laps to go in the scheduled distance.
Another late-race caution lined Schildhouse up alongside Pardus. On the restart Podium eSports' Gary Sexton pushed Schildhouse while NASCAR driver Garrett Smithley pushed Pardus. The two tandems stayed in lock step as Kickin' the Tires Staff Writer Seth Eggert and Adam Cabot were left to choose which line to follow. Both Cabot and Eggert ducked to the inside. Sexton, meanwhile, jumped to the outside lane once clear of Pardus.
"It's all about the restart when you're the leader," explained Schildhouse. "Preston and Garrett didn't get as good of a launch as Gary, and I did. When I saw that I knew that Gary was going to have the opportunity to jump up to my outside off of two because he was clear of Preston. Big shout out to 'P-Money' (Pardus) by the way. Could not have (gotten to the front) without him."
In Turn 4 Earnhardt surged forward, out of the pack and towards the front with a push from Brandonbilt Motorsports' Team Manager Collin Fern. Sexton's move to the outside line blocked the run, cutting off the momentum that the NASCAR Hall of Fame driver had.
With the inside line now three cars strong to the outside's two, Schildhouse broke free of the side-by-side battle. As Cabot moved up to side-draft Pardus, Eggert ducked to the inside and made it a three-wide battle for second. Schildhouse cruised to the checkered flag as chaos broke out further back. Cabot and Pardus collided, sending the No. 17 Chevrolet down into Eggert.
The trio crashed across the line 0.088 seconds behind Schildhouse collecting Smithley, and others.
"I spent the whole off-season wondering what it would feel like to be a winner in the series and all I had to do was move to Charlotte, N.C. to find out," joked Schildhouse. "One race, we got the win. It feels so good. I've been trying so hard, tried so hard last season to win a race. Kept coming up short, stupid things would happen to take me out of these things.
"There was a part of my brain that was wondering over that green-white-checkered about what stupid thing was going to happen to take this race out of my hands. I've been in this situation a lot in other leagues and superspeedway series. I just put it all to work, and I finally got it done, finally got that checkered flag and it feels good.
"Not going to have a voice tomorrow, I work remotely, I don't care. We're a Monday Night Racing winner!"
While Eggert, Pardus, Cabot and Smithley completed the top-five by crashing across the line, others took the checkered flag unscathed. Earnhardt was the Monday Night Racing 'Rookie of the Race' as this is his first season with the iRacing league. Fern, Sexton, NASCAR Pinty's reporter Steven Ellis, and NASCAR's DJ Cummings rounded out the top-10.
Both Kyle Busch, the league's premier sponsor with Rowdy Energy, and Earnhardt are competing in the full season.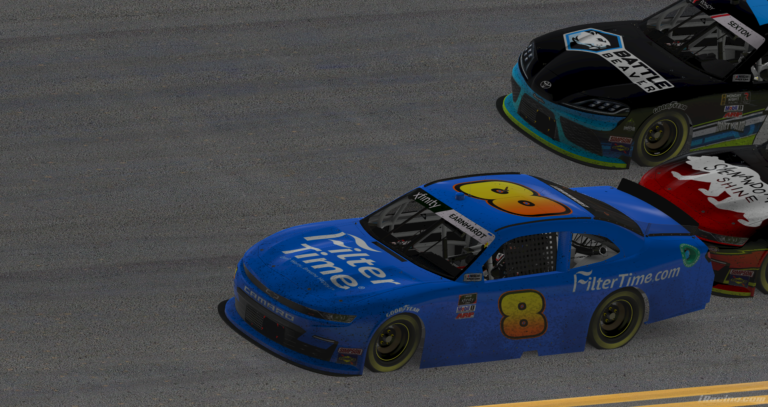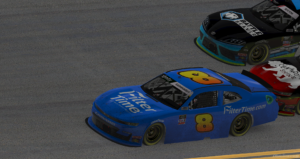 Earnhardt is not the only driver that is new to the league for Season 4. Fern, Joe Gibbs Racing's Bryan Boris Cook, and country music star Tim Dugger joined in the fun. With the exception of Fern, all of the new drivers competed in the Leaf Filter Gutter Protection Replacements Series during the Covid-19 shutdown. Also new to the league is Oakland Athletics pitcher Cole Irvin.
Defending champion Robby Lyons finished 16th. Season 2 champion Will Rodgers finished 14th. Other returning drivers included NFL Super Bowl Champion Bernard Pollard Jr, Cup Series driver Anthony Alfredo, Motor Racing Network's Chris Wilner, and 'eBob Pockrass' Justin Melillo.
The race was slowed six times for a total of 18 laps. Five of the six cars were for 'the big one.' The league utilized the virtual NASCAR Xfinity Series cars at Daytona. With the pack racing most incidents involved 10 or more drivers.
Despite the wrecks, only three drivers failed to finish the race. NASCAR Cup Series spotter and Crypto Autosport driver T.J. Majors, Travis Brown (Moonhead), and Stefan Wilson were all left with too much damage and no fast repairs remaining.
All drivers in the league are either pro athletes, real-life pros in motorsports, crew members, or motorsports media members.
Race two for Monday Night Racing will use the current NASCAR Cup Series cars at the virtual Las Vegas Motor Speedway on Monday, November 8.
The results:
1. 20-David Schildhouse [4], 2. 57-Seth Eggert [32], 3. 42-Preston Pardus [13], 4. 17-Adam Cabot [2], 5. 52-Garrett Smithley [6], 6. 8-Dale Earnhardt Jr [16], 7. 68-Collin Fern [14], 8. 13-Gary Sexton [3], 9. 46-Steven Ellis [25], 10. 10-DJ Cummings [22], 11. 50-Gabriel Wood [23], 12. 12-Brandon Brown [10], 13. 38-Anthony Alfredo [7], 14. 24-Will Rodgers [5], 15. 29-James Bickford [17], 16. 19-Robby Lyons [15], 17. 44-Rajah Caruth [38], 18. 91-Cole Irvin [26], 19. 11-Steve Auffant [31], 20. 41-Matt Stallknecht [20], 21. 77-Devon Henry [19], 22. 33-Tim Dugger [36], 23. 26-Chris Wilner [28], 24. Max Kennon [11], 25. 51-Kyle Busch [18], 26. 53-Justin Melillo [9], 27. 6-Ryan Vargas [12], 28. 07-Ford Martin [34], 29. 14-Dillon Welch [35], 30. 4-Brett Baldeck [33], 31. 99-Mark Rebilas [27], 32. 27-Michael Massie [39], 33. 31-Bernard Pollard Jr [40], 34. 84-Kase Kallenbach [24], 35. 63-Bryan Boris Cook [1], 36. 36-Garrett Miller [37], 37. 64-Drew Welker [30], 38. 2-TJ Majors [21], 39. 01-Travis Brown [8], 40. 25-Stefan Wilson [29].
Lead Changes: 29 among 12 drivers.
Lap Leader(s): Bryan Boris Cook Pole, David Schildhouse 1-5, Travis Brown 6-9, David Schildhouse 10, Ryan Vargas 11, Travis Brown 12-16, Ryan Vargas 17-18, Garrett Smithley 19, Ryan Vargas 20, Garrett Smithley 21, Ryan Vargas 22-23, DJ Cummings 24-27, Preston Pardus 28-34, Garrett Smithley 35, Preston Pardus 36-37, Matt Stallknecht 38-39, Preston Pardus 40-41, Matt Stallknecht 42, Ryan Vargas 43, Rajah Caruth 44-49, Adam Cabot 50-52, Ryan Vargas 53, Adam Cabot 54, Preston Pardus 55-57, Adam Cabot 58-65, Gary Sexton 66-67, Collin Fern 68, Adam Cabot 69-85, David Schildhouse 86, Preston Pardus 87, David Schildhouse 88-93.
Laps Led: Adam Cabot 29, Preston Pardus 16, David Schildhouse 13, Travis Brown 9, Ryan Vargas 7, Rajah Caruth 6, DJ Cummings 4, Garrett Smithley 3, Matt Stallknecht 3, Gary Sexton 2, Collin Fern 1, Bryan Boris Cook 0 (Pole).
Hard Charger(s): 57-Seth Eggert, Racing Reporters eRacing (+30).
Rookie of the Race: 8-Dale Earnhardt Jr, JR Motorsports, Sixth.
Caution Flags: Six for 18 Laps.
Margin of Victory: 0.088 seconds.
Time of Race: One hour, 31 minutes, 40.984 seconds.
Average Speed: 152.155 MPH.
Pole Winner: 63-Bryan Boris Cook, Joe Gibbs Racing, 50.832 seconds (177.054 MPH).
Fastest Lap: 07-Ford Martin, Crypto Autosport, Lap 25, 46.552 seconds (193.332 MPH).
Featured Photo Credit: Photo by Seth Eggert / Kickin' the Tires